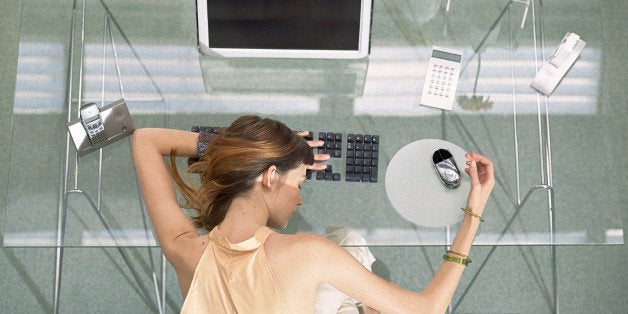 I had a good income, holidays off, and full health insurance. My career helped me afford a reliable car, a drink in my hand by 5:00pm, and all the stability and safety I was always told to go after. But I wasn't happy.
I worked in marketing and PR for fashion brands around Los Angeles, a role I'd worked hard to prepare for. My career wasn't bursting with success, but it was exciting and it had perks: sample clothing, fashion shows, working with designers, enough money to vacation in Hawaii every year. Still, something was off. I wanted more from my own life. I wanted more from and for myself.
I should disclose that I'm a 10 year cancer survivor. In some ways, this is a catch 22: I want life to be both exciting, thrilling, and full of adventure, and also simple, peaceful, and stable. The big things, like seeing the world, matter just as much as the little things, like having hair again or the freedom to live without fear of needles.
I want to see the whole world and all it's wonder, but also see the magic of the afternoon glow through my bedroom window. The pressure to live fully after surviving never really goes away, because I never forget how lucky I am, and I don't want to take anything for granted. And most pressing of all, I don't want to waste any time.
That's just the thing: Am I moving backward if I start over at the beginning? I used to think so, but not anymore.
When I started waitressing it was justified in two fold: I needed an income, and I wanted all my mental energy to go toward figuring out what path to take next. I needed to save all my emotional and intellectual awareness for the quest of my true purpose, and I needed to make sure none of my creative juice was drained in the name of income.
Waitressing is hard work. It's physically demanding and customers are very often degrading, condescending, and impatient.
It's a beautiful study in human behavior and compassion, and I now whole-heartedly believe that every person should be required to work in the service industry for at least a month. If they did, they'd realize the importance of kindness and mutual respect. And it wasn't easy to work all day defining what wanted to create and contribute, and then work all night selling beers to successful young entrepreneurs. But I did it. And a few months after starting, I realized the destiny of my creativity and passion.
And then I kept waitressing for over two years to get the required clarity and conviction to answer my calling.
There's a phenomenon sparking many people in my generation to desire total independence; they don't want to work for anyone else, and they don't want to have to compromise anything. This is the 'hustle' generation, the get-sh#t-done-coffee-mug era, and we're obsessed with ruthlessly attaining, accomplishing everything in a single day, being rich and successful and to give zero f#cks while we do it. We can hardly be bothered to use more than three words when describing our mentality (see previous sentence).
I started writing, blogging and freelancing with a little of that intention too. I didn't want someone else to tell me what to write, and I didn't want to sacrifice a single bit of my voice, or personal views in the process. But I also wanted to be successful. Chasing success in something I love taught me that there's no such thing as total independence. I now know it's one of the many reasons so many start-ups go under and so many entrepreneurs fail; they just don't value the other person enough.
We can't offer anything of deep and lasting value to anyone else without being both the best version of ourselves, and compassionate to the beliefs and needs of others.
We're all in this together. Waitressing is a first hand lesson in the importance of what we give to others. It's taken for granted, but a waitress is the person who listens to all your wants and needs, makes sure they happen, and gives you a vital element of survival: food.
The realization that I'm only as successful as the quality of what I offer to others has helped me grow in every way: as a person, a writer, as a member of society. What I create is of more value, and I get back what I give. But I can only give to others what I give to myself; I can only be as kind, compassionate, and empowering to them as I am to myself.
I had to work very hard to make waitressing work, and I'm sure at many stages it would have been easier to just go back to safe desk jobs where I didn't have to pay separately for health care or work two back-to-back ten hour shifts. There were times I went through severe depression, and thought I'd taken too big of a risk and sacrificed my own health and potential. But there were times I felt proud to have committed so fully to honoring my creative hunger. And in the end, I'm so glad I followed that little whisper of intuition telling me to seek my personal best.
I'll never regret doing what it took to test myself, and find what it is I wanted to do most with this second chance at life. Challenge has more to teach than success ever has, and the more we honor our challenges as teachers and value each other, the more we can create a much brighter future for all of us.
Rachael Yahne is an award winning blogger, writer and cancer survivor. See her lifestyle articles about purpose, passion, well-being and asking life's biggest questions on HerAfter.com

Get copies of Rachael's Healthy Living Ebooks for Kindle Here.