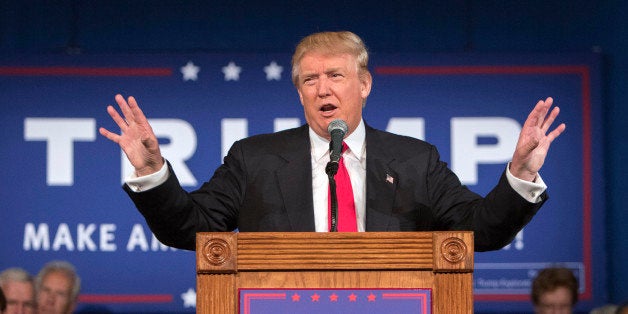 Don't get me wrong. I like business leaders. But Donald Trump is considered a business leader only because he's been able to declare corporate bankruptcy multiple times, shift debt obligations, and get more money. I like business leaders who don't declare bankruptcy multiple times.
Since announcing his candidacy, Trump has ticked off people who have emigrated from Mexico and belittled the service of a man most consider to be a war hero, with comments coming from a man who never served in the military. Yet supporters and sympathizers were quick to note that this is all helping Trump's candidacy, that the comments aren't hurting him in the polls.
"Most of the media seems perplexed, baffled, even annoyed that Trump has garnered so much attention with no sign of wearing out his welcome with the public. Why is Trump confounding to reporters, editors, and cable-news outlets? Because he does not back down. Because he does not apologize. Don't underestimate the appeal of this. We live in culture now where everyone is hyper-aware of giving offense. It is commonly thought that if you hurt any citizen's feelings or if your comment is perceived as insulting by someone else, you are at fault, and you must apologize as soon as possible."
Actually, there are plenty of liberals and conservatives that won't apologize for anything.
And while Donald Trump may doing "great," according to admirers, that means he's getting better numbers in a very crowded GOP poll, while having more money and name recognition.
Meanwhile, he's ticking off Hispanics with his comments, a group that Republicans are desperate to win since Bush got 40 percent of them in 2004, the only year since 1988 that the GOP won the popular vote.
And by insulting a decorated veteran, Trump seems to think he's reenacting the "Swift Boat Veterans for Truth" campaign against John Kerry. But in reality, it's more like the Romney 2012 nomination speech that ignored the military, as well as the former CEO's ineffective battle against McCain for the nomination.
These are unforced errors. The GOP is well aware of their weaknesses in trying to recruit Hispanics. And McCain's not the Democratic nominee. McCain did something rare for a Republican...led the race against a popular opponent for a long time, despite being underfunded and dealing with an unpopular George W. Bush. Without the recession and the selection of Sarah Palin, McCain would probably be president right now.
John A. Tures is a professor of political science at LaGrange College in LaGrange, Ga. He can be reached at jtures@lagrange.edu.
REAL LIFE. REAL NEWS. REAL VOICES.
Help us tell more of the stories that matter from voices that too often remain unheard.