If one searched for the polymaths who made the greatest contributions to opera during the second half of the 20th century, two names would instantly come to mind. Both were talented stage directors, set designers and costume designers who also filmed some of the operas they had mounted on stages around the world.
Known for his cinematic achievements as well as his stage spectacles, Franco Zeffirelli created landmark productions of La Bohème, Tosca, Turandot, Don Giovanni, Antony and Cleopatra, Carmen, Cavalleria Rusticana, Pagliacci, Falstaff, Otello, and La Traviata for the Metropolitan Opera. Zeffirelli also directed film versions (and/or television broadcasts) of La Bohème, Carmen, Otello, Don Carlos, Don Giovanni, Turandot, Aida, Madama Butterfly, and La Traviata.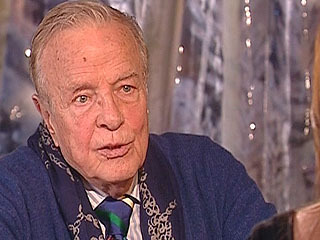 Equally talented, but perhaps less well-known because he died at age 56, Jean-Pierre Ponnelle's productions of La Clemenza di Tito, The Flying Dutchman, Idomeneo, L'Italiana in Algeri, Manon, and Le Nozze di Figaro graced the stage of the Metropolitan Opera House while the War Memorial Opera House in San Francisco also played host to his productions of Carmina Burana, Die Kluge, Die Frau Ohne Schatten, Cosi Fan Tutte, Otello, Tosca, Rigoletto, Gianni Schicchi, Pagliacci, Idomeneo, La Boheme, Cavalleria Rusticana, Falstaff, Carmen, Lear, and L'Italiana in Algeri, YouTube hosts his film versions of Carmina Burana, Rigoletto, Tristan und Isolde, Le Nozze di Figaro, L'Orfeo, L'incoronazione di Poppea, and Madama Butterfly. Other film adaptations directed by Ponnelle include Mitridate, La Clemenza di Tito, The Magic Flute, The Barber of Seville, Manon, L'Italiana in Algeri, Carmen, Il ritorno d´Ulisse in Patria, and Falstaff.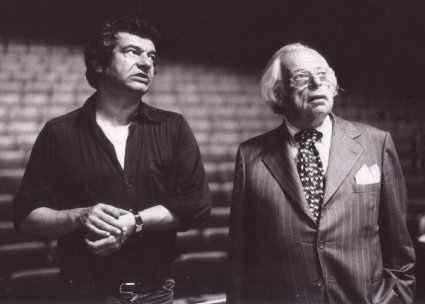 Jean-Pierre Ponnelle with Kurt Herbert Adler (Photo by: Robert Messick)
Like the awe inspired by a solar eclipse, sometimes a 400-year-old art form can pull itself together to stunning effect. Without doubt, it's cause for celebration when all of the diverse creative elements unite to deliver a thrilling performance of an opera that, to many, has become an old chestnut with a reliable track record at the box office. When the same thing happens simultaneously with a less familiar work written in a completely different style, even the most cynical opera queen should be impressed.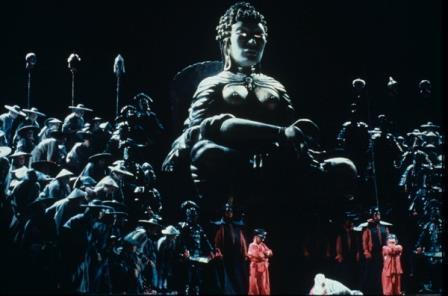 Act I of Jean-Pierre Ponnelle's landmark 1977 production of
Turandot at the San Francisco Opera (Photo by: Ron Scherl)
The San Francisco Opera's Fall 2014 season was remarkable for the consistency of its high artistic standards as well as the fact that, out of seven productions (ranging from operas by George Frideric Handel and Carlisle Floyd to works by Vincenzo Bellini and Giuseppe Verdi), not one was a disappointment. To have two of the strongest presentations be the final entries in the season's lineup shows a major international arts organization that is on fire rather than burning out; a company that is really cooking rather than coasting on its laurels. What was particularly striking was that neither production had a box office star. In total, both shows boasted eight singers who were either Adler Fellows or graduates of the Merola Opera Program.
While watching the San Francisco Opera's revival of Ponnelle's 1969 production of La Cenerentola, it was difficult to believe that the production was 45 years old. In 1981, Ponnelle filmed the production with a cast headed by Frederica von Stade (Angelina), Francisco Araiza (Don Ramiro), Paolo Montarsolo (Don Magnifico), Claudio Desderi (Dandini), Paul Plishka (Alidoro), and the orchestra and chorus from Teatro alla Scala in Milan. In the process of adapting his stage production for the screen, Ponnelle decided to employ some shadow play for the Act II ensemble "Questo è un nodo avviluppato."
Ponnelle's sets and costumes have retained every ounce of their original charm. As directed by Gregory Fortner, the staging has lost none of its comic punch. Based on the legend of Cinderella, Gioachino Rossini's delightful comic opera seemed as fresh as a lemon soufflé and (under the baton of Jesus Lopez Cobos) almost as light and airy.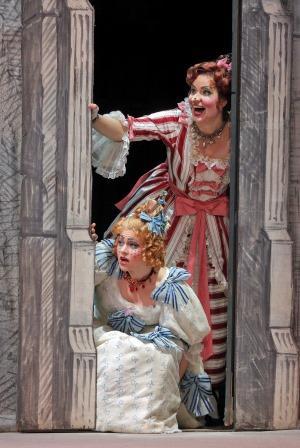 Zanda Švede (Thisbe), Maria Valdes (Clorinda in
Rossini's La Cenerentola (Photo by: Cory Weaver)
Veteran buffo Carlos Chausson delivered a stunningly sung and hilariously acted Don Magnifico with Maria Valdes (Clorinda) and Zanda Svede (Thisbe) providing comic support as Cinderella's two ugly stepsisters. Christian Van Horn's Alidoro was a towering delight with the men's chorus doing fine work under the guidance of Ian Robertson.
Efraín Solís (Dandini) and René Barbera (Don Ramiro) in
Rossini's La Cenerentola (Photo by: Cory Weaver)
René Barbera brought his bright and focused tenor to bear on Don Ramiro's music. Replacing Fabio Capitanucci in the key role of Don Ramiro's servant, Dandini, Adler Fellow Efrain Solis scored a major triumph in a role filled with lots of coloratura and comedic bits.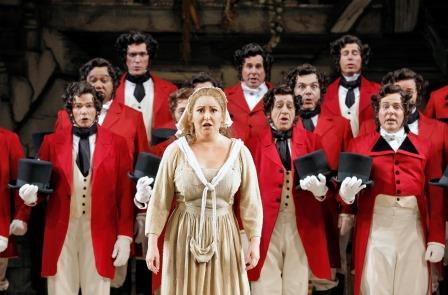 Karine Deshayes (Angelina) and the San Francisco Opera Chorus
in Rossini's La Cenerentola (Photo by: Cory Weaver)
The big surprise of the evening, however, was mezzo-soprano Karine Deshayes (who has sung the role of Angelina all over France). A seasoned performer who had no trouble bringing her rich voice to bear on the role's fioritura (she delivered a sparkling rendition of "Nacqui all'affanno... Non più mesta" to top off the evening), although one could clearly see her working very hard it was surprisingly difficult to hear Deshayes during the Act I finale ("Signora è pronto in tavola").
Whatever caused that momentary problem failed to make a dent in the evening's merriment. With its bubbly score, La Cenerentola has always been one of my favorite operas. I can assure you that a good time was had by all. Here's some footage from the production:
Cleverly and economically designed by David Farley, I like to think of the San Francisco Opera's new production of La Bohème as one of the rare instances in which the sky's the limit. Why? As seasoned operagoers will instantly notice, the set for Rodolfo and Marcello's famous garret overlooking Paris has no ceiling.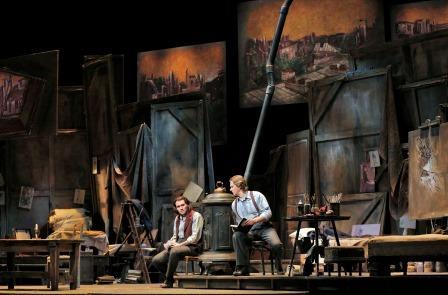 Michael Fabiano (Rodolfo) and Alexey Markov (Marcello) on
David Farley's Act I set for La Bohème (Photo by: Cory Weaver)
When I first started attending opera back in the 1960s, La Bohème was routinely presented in four short acts separated by three intermissions. Each act was followed by a string of curtain calls as stagehands began to dismantle or reconstruct the living quarters for Puccini's male leads. Those three intermissions added nearly an hour's running time to each performance.
Things have changed. One rarely sees principal artists taking bows after each act anymore and, with a keen eye on the clock and union demands, today's operatic impresarios are constantly looking for ways to cut production costs. Farley's easily loadable and eminently rentable solution (a co-production between the Houston Grand Opera, Canadian Opera Company, and San Francisco Opera) uses an array of hanging drops, paintings, and canvases combined with two rotating wagons to speed up set changes in a way that keeps the dramatic action wonderfully fluid.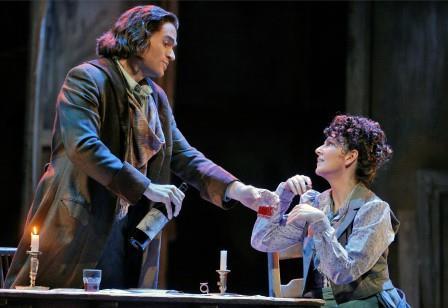 Michael Fabiano (Rodolfo) and Alexia Voulgaridou (Mimi)
in Act I of Puccini's La Bohème (Photo by: Cory Weaver)
Add to that John Caird's acutely sensitive stage direction (in which the principals actually keep looking at and reacting to one another instead of merely facing out toward the audience) and you get a production in which Puccini's lovers became more human than usual. This is aided immensely by the use of Supertitles and the work of conductor Giuseppe Finzi. In his program note entitled "La Bohème and the Comédie Humaine," Caird writes:
"The lives of so many artists start out in desperation, poverty, and disappointment before they realize their full potential. Their intimate friends and muses, if they survive, can bear witness to the reality of their early struggles. For this production, we have chosen to imagine that the characters of the opera may act as our interpreters. If Schaunard, the composer, is represented in the pit by Puccini himself, the scenic world that the students inhabit is as if painted by Marcello. Every surface of the set is a canvas drawn from the same rich and chaotic pictorial world as that of Toulouse-Lautrec -- a contemporary of Puccini and an artist who was also obsessed with Paris's bohemian underworld.

The essential tone of La Bohème is comedic. Although dirt poor and struggling artistically, these students take life in its stride. They are witty, ironic, mocking and irreverent, dismissive of authority, and caustic about middle class values. Were it not for the intensity with which they suffer emotionally, Bohème would be an outright comedy with a sad ending. But this is comedy with a distinctly French ingredient, the same essential mixture of emotions that Balzac achieved in his Comèdie Humaine: genuine laughter, sometimes angry, sometimes joyous, but always mixed with tears. Just beyond every sad thought, a joke is waiting to assault us; just behind every joyful experience lurks a bitter regret. Herein lies the true genius of Puccini's achievement. He has managed to find a musical language that perfectly reflects [Henri] Murger's comedic world. Puccini has given every one of Murger's characters a musical specificity that allows them to move from laughter to tears and back again with effortless ease. And the orchestral background is full of the most lovingly crafted detail in support of their emotional journeys."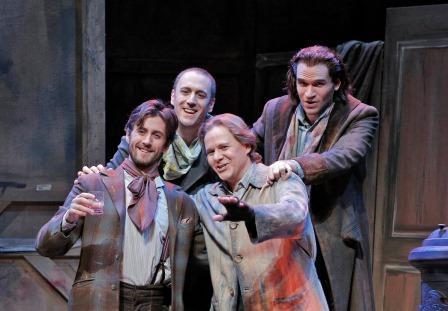 Hadleigh Adams (Schaunard), Christian Van Horn (Colline), Alexey
Markov (Marcello) and Michael Fabiano (Rodolfo) in Act I of
Puccini's La Bohème (Photo by: Cory Weaver)
It's so refreshing to attend a performance of Puccini's classic in which the audience's focus is on the characters rather than a superstar tenor or soprano. With an impassioned radiance befitting young lovers and the eagerness of four young, impoverished male students, the cast for 2014's revival proved to be exceptional. Tenor Michael Fabiano, who has been attracting increased attention in operatic circles (as well as winning both the 2014 Richard Tucker Award and 2014 Beverly Sills Artist Award) proved to be a tender and attentive Rodolfo. As Marcello, Alexey Markov delivered a solid performance (both vocally and dramatically). As Colline, Christian Van Horn excelled in his Act IV "coat" aria.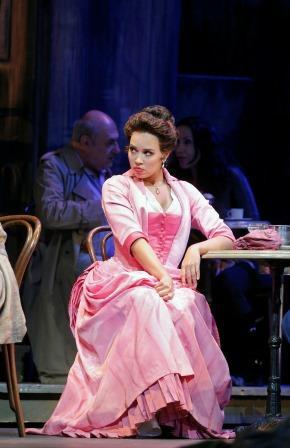 Nadine Sierra as Musetta in Puccini's La Bohème
(Photo by: Cory Weaver)
It was gratifying to see three graduates of the Merola Opera Program in key roles. Soprano Nadine Sierra was a spitfire Musetta with veteran Dale Travis providing comic relief as both Benoit and Alcindoro. However, it was the fluid and touchingly attentive performance by Hadleigh Adams as Schaunard which completely captivated me (it's rare to encounter a Schaunard who can demonstrate so much genuine charisma and communicate so much compassion).
Greek soprano Alexia Voulgaridou contributed a tender and vulnerable portrayal of Mimi. If Puccini's young lovers and their friends did not always seem hungry for love, there was never any doubt that they were all starving for an as-yet unrealized future. Here's some footage from the production:
Calling all HuffPost superfans!
Sign up for membership to become a founding member and help shape HuffPost's next chapter