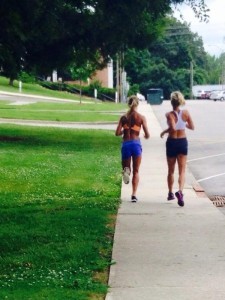 It was summertime, and the house was abuzz with kids.
I remember standing in my kitchen, so frustrated with my husband. We were arguing about God knows what and getting nowhere. I glanced out the kitchen window and knew what I had to do. I quickly changed clothes, grabbed my Nike shoes and raced past my spouse.
"Where are you going?" he asked.
I was going to my happy place. I was simply running around my neighborhood. Even though I was so close to home, I'd really be a million miles away. That's what happens when I exercise, and that's what keeps me doing it every day.
"Did I put the clothes in the dryer? Is that bill due today or yesterday? Why did he say that to me? Does she have practice this afternoon? Why did I eat all those donuts?"
All the clutter in my head goes out the door when I start exercising. It's the best feeling and probably the single most thing I love about what exercise does for the body. I almost feel an instant sigh of relief when I enter my fitness room. The music comes on, I start moving and everything fades away. It's just me in that room, sweating, living in the moment, jumping up, thankful I'm alive, and happy.
I have gone to run or exercise in many moments of stress in my life. Some people drink alcohol, smoke, or eat to deal with their problems -- I go sweat and it helps. Almost always I can go to the gym mad, livid, upset that someone or something hasn't gone my way and after my workout, like magic, the problem doesn't seem that big anymore. Often, I have such clarity after working out that I see it wasn't even a problem to begin with. Other times, I've gotten lost in my exercise almost like a dream, just to finish and wake up and see that I still have a big issue to deal with, but I'm much more ready to do it.
This explains why exercise is great for de-stressing. Regular exercise has been proven to help reduce stress and ward off anxiety and feelings of depression. We all have so many things going on in our world. No matter who you are, there are texts, emails, Facebook, credit cards, work, and kids waiting on your response and sometimes it's just too much. We all need a break, a happy place where we can go and for a few minutes get away from it all, and that's what exercise can do. I encourage everyone to find their "happy place." It may be running, Zumba class, insanity, or playing a sport. Find "your" happy place. Have an outlet that you can go to it when the day has been too long. I think this is the key to making exercise a habit -- time you look forward to for "you." The happy place making you physically fit will just be an added bonus!
On that particular summer day, I must have reached my limit because I flew around the block once, passing my house for another round when I saw my husband standing in the yard and he yelled, "You must be really mad because you're flying!" To this I smiled, and instantly was already in a better place mentally and with him. Yes, I basically run away from my problems and more times than not, that's a great thing to do!