I'm From Driftwood is a 501(c)(3) nonprofit archive for lesbian, gay, bisexual, transgender, and queer stories. New stories are posted on the site every Wednesday.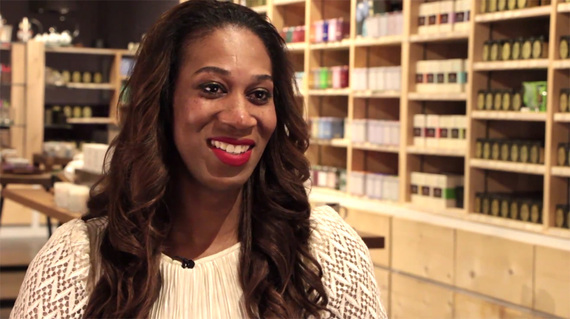 Sometimes it takes having it all to realize exactly what you're missing. That's just what happened to musician and artist Mila Jam. Mila recalls the fame and celebrity status she once enjoyed as "Britney Houston," the self-proclaimed "pop parody princess of music videos":
I got to go to London for two days, all expenses paid. They had a driver for me, waiting for me; my own hotel accommodations; a trip around London, going to the London Eye. I had back-up dancers that we were not told I was going to have, and I was performing with Grammy Award-winning producer Mark Ronson. ... And I'm feeling it, and I'm into it; we have choreography and dancers, and the crowd is loving it.
It was right at that moment that Mila had an epiphany about what was missing in her life:
I was like, "This is the moment that I'm able to see I can achieve my dreams, and I can be in front of people and successful and amazing." And I just felt like there was something missing. That was my transition.
Mila decided to sacrifice all she had worked so hard to achieve -- she deleted her YouTube channel, lost all her subscribers, and gave up her fame -- so that she could focus on finally becoming the woman she had been hiding:
I told all my friends. I told my family, who was very supportive of "Britney Houston," and I officially came out to them, saying, "You know, I'm a woman. I've always been a woman, but that's just not been the shell, and it's time to catch up with that. It's time to make sure the shell reflects who I really am on the inside."
That didn't mean Mila was finished, though; it just meant she had a new beginning. Soon enough, Mila had signed with a label, recorded a new single, and started all over by performing in front of just 30 to 50 people in a small venue in New York City, happier than she'd ever been in her life:
[I]t didn't matter to me that there weren't that many people in the audience. It didn't matter to me that I wasn't on a hit TV show. I was just entering my truth, and I was starting the foundation for all the great things that are supposed to come for me later on.
Mila just released a new single inspired by sharing her story, called "SNCRLY." You can download it here.
Calling all HuffPost superfans!
Sign up for membership to become a founding member and help shape HuffPost's next chapter