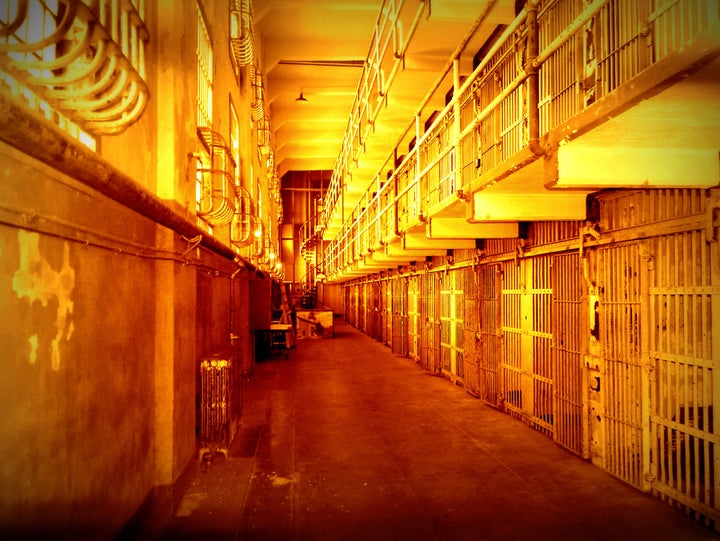 It does not look like the school that I teach at but it is still a school. I step out of the car and walk past the chain link fence, nervously kicking the dirt beneath my feet. The prison guards are excited by the visit and shuffle me to the padlocked door that they swing open. I walk through and am immediately hit by the sun and a wave of boys glancing at me curiously. There are about 90 of them in ripped clothing, barefoot, with wide eyes and bright smiles. Their uniforms are the clothes they came to Kachere in many months ago, while some have "Malawi Prison Service" shirts provided to them from the authorities. The teachers call the students to attention; they sit down and look at me, ready to find out who I am.
I go to every class to meet the students of our educational program. They ask me questions- where do I come from, what do I do, is Barack Obama the President of America, how did he get elected, do I like Malawi? These boys (ages 13-19) show me their art, put me to mathematic shame in graphing coordinates and ask if I can record them rapping as it is their dream to be a hip-hop performer.
I watch these kids from a distance, filming, slowly becoming cognizant of the fact that I just arrived in Malawi, Africa and am now at Kachere Juvenile Prison. There, I am meeting with the teachers and students of the school that I have helped run as the Co-Director of I Live Here Projects for two years now. Somehow, I thought that weekly emails and Skype calls gave me an idea of what our program was and how it was being implemented, but I realize now how naïve that was, how I could not fully fathom what we were doing until my feet were on the prison ground. So now, I'm lost in the moment as these beautiful boys sing with such spirit during church services, read poetry at the school assembly and ask the teachers questions about the Shakespeare Play: Romeo and Juliet that they are studying.
As an educator (a teacher and administrator at Los Angeles Hebrew High School), there is something so magical about watching students become passionate about their education. It has always filled me with a strong sense of accomplishment and pride that I, in some small way, could be a catalyst for their learning and personal growth. One student, named Robin, thanked me. While that's always nice to hear, what gave me chills was how this 17 year old who has been in prison and hasn't seen his family in 31 months, thanked me so earnestly for the opportunity to go to school. He said that sometimes he feels powerless, like life doesn't belong to him in there but "education is power". That is what I Live Here hopes to provide for the boys of Kachere -- a sense of empowerment and inspiration for them to continue their schooling when released from prison.
Mia Kirshner, I Live Here Projects Founder and Co-Director, and I decided to make video diaries during our trip in June to record our program's progress and give our supporters the opportunity to see the school that their donations help to create. We had finally received permission from the Prison Authorities that had previously not allowed us to photograph or video the Kachere Juvenile Center. It is an important triumph as the freedom to document the conditions that these boys live in and the school that we run to explain the work that we do more powerfully than we could ever articulate. The video diaries will introduce you to the boys, their stories, hopes and dreams for their future once released from prison. We thank you for listening.
As you can see from the videos, our work is not done. Improvements can and should be made to the Kachere School. We plan to build an actual school structure to provide the students with proper shelter from the rain and sun and an adequate learning environment. Every day there are challenges and successes. We hope that we help and provide a good deal of technical support but it is our Malawian teachers (Japhet, Yohane, Kennedy, Sydney and Atupele) that are on the ground every day doing the hard work.
In order to support this program, we are holding a fundraiser next month. The "I Live Here Projects Rocks: Benefit for the Boys of Kachere Juvenile Prison School" will be held at the Bootleg Bar in Los Angeles on Sunday, August 28, 2011. The event will be MCed by comedian Tig Notaro and will feature musical acts by Uh Huh Her, Holly Miranda and KCRW DJ Chris Douridas. We are very excited and hope that you will join us in continuing to build our project.
Please see the poster below for more details and purchase tickets at Ticketfly.
If you are unable to attend but would like to support our work, please visit our donation page.
About I Live Here:
I LIVE HERE is a paper documentary, in which the lives of refugees and displaced people become at once personal and universal. It is a raw and intimate journey to crises in four corners of the world: war in Chechnya, ethnic cleansing in Burma, globalization in Mexico, and AIDS in Malawi.
Following the reception of the compilation, Mia Kirshner founded I Live Here Projects--a space to fight the silencing of victims of human rights violations. I Live Here Projects believes in the power of individual expression to transform the lives of people living in extreme poverty and isolation. Working with local partners, their projects are centered on permaculture, art and education. Coming full circle, the stories gathered are then shared through books and other media designed to encourage the global community to learn, be inspired and take action.
Calling all HuffPost superfans!
Sign up for membership to become a founding member and help shape HuffPost's next chapter