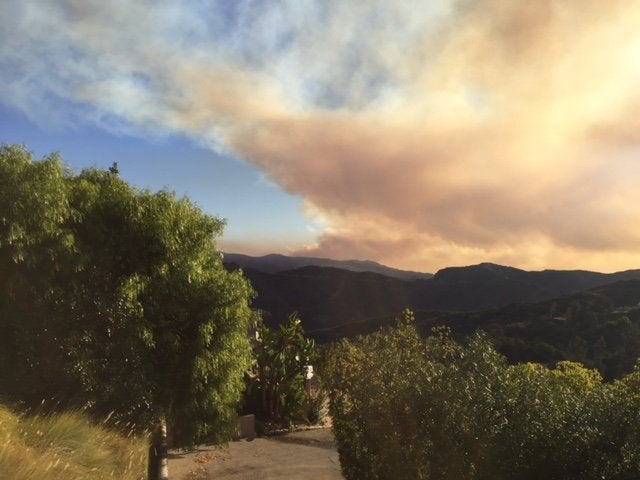 Ann Brenoff's "On The Fly" is a weekly column about navigating growing older ― and a few other things.
I live in the Santa Monica Mountains of Los Angeles County. There is a strong chance that by now, you've seen aerial views of my house shot by the news helicopters covering the California fires. The current crop of fires surrounding me have shrouded our house in thick smoke and covered the deck with chalky ash. Our eyes sting when we walk the dogs and the gusty winds that have been fueling this latest round of infernos are so strong that I fear my roof may fly off.
But the sound of the choppers, especially the ones making water drops, are music to my ears. When the sky is silent is when I worry the most. I fear it means that the winds are too fierce or the night sky too dark for those firefighting helicopters ― our best defensive weapon ― to be employed. And that's never a good thing.
Thursday, we broke into unprecedented fire danger territory: We are purple, for the first time ever. The state's color-coded system that indicates the strength of the winds driving the region's fierce wildfires has pushed past red, which means "high," into the color that means "extreme."
"The forecast for tomorrow is purple," Ken Pimlott, director at the California Department of Forestry and Fire Protection, told Time on Wednesday. "We've never used purple before."
OK, that got my attention. I have lived in my mountain community of Topanga for 25 years and been evacuated for fires multiple times ― including once for five days as flames lapped dangerously close to where I lived. At the risk of sounding cocky, or like Kenny Rogers singing "The Gambler," I like to think that I know when to hold 'em and when to walk away when the fires come.
At this moment, I am taking a much-needed break from watching the continuous TV coverage with breathless on-camera reporters who offer little useful information and mostly just raise my stress level. Half the time, I'm not even sure which fire they are showing me. There are so many.
The Skirball fire is the one closest to me as the crow flies, and it's about 20 percent contained at this writing. In terms of size, it's a relatively small fire ― 475 acres, which of course could grow. But it is fierce. It walloped a big punch to the city's gut as it blasted through one of the densest areas of Los Angeles and forced the closure of one of the mostly highly trafficked freeways in the nation, the 405. It's also taught Rupert Murdoch that there are some things money can't buy, fire immunity being one of them. Sorry about the loss of the wine cellar, Rupert.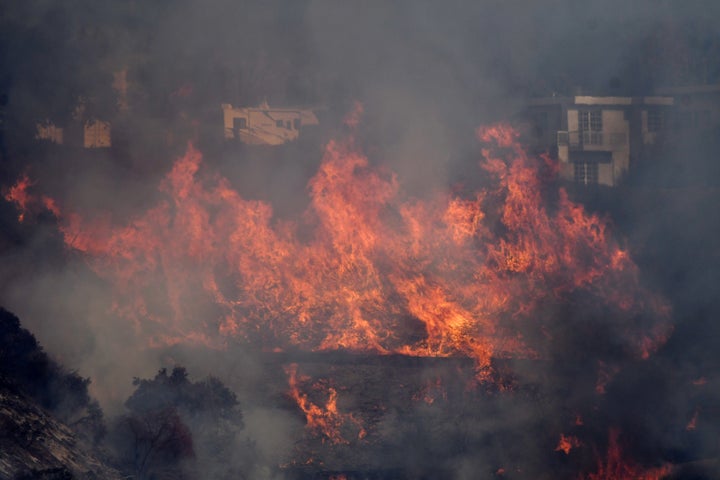 Then there is the Creek fire in Sylmar, which has so far evacuated 100,000 of my San Fernando Valley neighbors and caused a run on the sale of face masks. Even the UPS driver who delivered a package to us yesterday wore one. I think he wished us "happy holidays," but it was hard to hear his words between the mask and roaring winds.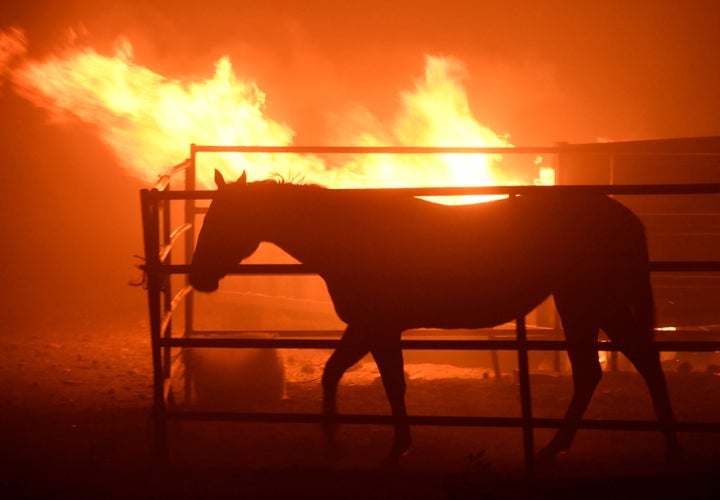 The 96,000-acre Thomas fire to the north of me in Ventura County is the Godzilla fire ― devouring an area said to be bigger than the city of Detroit ― and has forced more than 50,000 evacuations, burned a 20-mile swath to the ocean and closed a 20-mile stretch of the 101 freeway overnight. Not even tony Santa Barbara has been spared, getting so much smoke that its air quality was determined to be too unhealthy to breathe.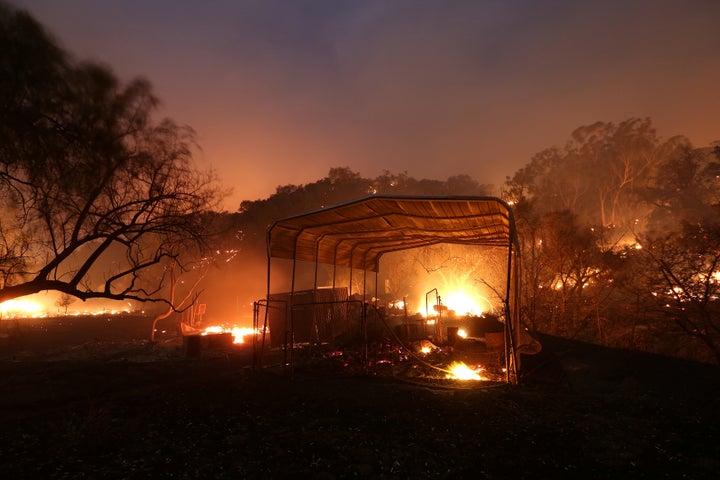 The Rye fire, which is threatening more than 5,000 homes, started on Dec. 5 and isn't expected to be contained until Dec. 15th. It's in Santa Clarita, and other than the brown horizon that is visible from my house, isn't a threat here. Some neighbors are sheltering displaced horses from the Rye fire. Other livestock are being corralled at Pierce College, but I'm told there is no more room at that inn ― a horrific thought, since the deaths of about 40 horses from the Creek fire informs us all too clearly what happens without adequate preparation or time.
More than once, people have suggested I'm crazy for living here in the canyons above the ocean where vegetation and wildlife sometimes turn into our mortal enemies. Truth is, I wouldn't trade the beauty that surrounds me for anything, and as a result have become a wily old veteran of wildfires (and coyote kills, and mountain lion attacks — and I know what to do if I see a loose alpaca running down the road).
Yes, I keep an emergency supply bag at the ready for fires and, because this is California, also for earthquakes and any other disaster that befalls us. In the bag, I keep clean underwear for everybody, a few days' supply of medication and an extra set of leashes for the dogs. We have all our important papers in one place ― passports, my kids' adoption records, car titles, insurance information, and photocopies of our driver's licenses and credit card/bank information. At the suggestion of a friend, I also recently put in some cash. When electricity fails, ATMs don't work. We keep bottled water and dog food near the box of important papers.
I know everyone makes a big deal about losing old photos to fire. I'm not dismissing their sentimental value, but my mandatory evacuations from wildfires has convinced me I would never turn around to save anything that didn't breathe.
Perhaps because I'm a reporter who learned the hard way during the 1994 Northridge earthquake, I also now keep a pair of sneakers in my car at all times. Nobody can run fast or climb over fallen debris in heels or sandals — trust me, barefoot is not the way to go.
We park our cars in the driveway facing out for a quicker escape, because seconds matter in a fire. We know where to go, what routes are closed or open, and we know that nothing is more important than saving ourselves, pets included. I carry a small card in my wallet with every neighbor's landline and cell phone numbers, just in case I'm trapped outside the canyon and can't get home to rescue my dogs. Yes, those numbers are also in my cell phone, but paper doesn't ever run out of a charge.
My kids and I subscribe to so many alert systems that our phones have been pinging all day and night long. I love the free PulsePoint app, which notifies us when first responders are being called to a location near us. It reports fires, traffic accidents, and medical emergencies in real time. Because of where we live, we also have text alerts coming from the Los Angeles Fire departments ― both city and county ― the city of Malibu, and Topanga T-CEP. Text alerts inform us if we need to prepare to evacuate or evacuate immediately. And we listen. If they say go, we go. If there was an Olympic category for "packing up the cars really fast," I'm pretty sure we'd medal in it.
My NextDoor community is a strong one, and one of the first places I go to check for emergency updates. It also reminds me that I have neighbors who may be ill and need help. Fire season ― generally August through late November ― for us means nobody gets left behind. Our strong community is a big reason why I love living here, and there is nothing like a fire to bring us together. My community also has a volunteer emergency notification group that has organized evacuation plans. The Topanga Emergency Management Task Force prepared a 113-page disaster survival guide in an 1.5-inch binder. And yes, I read it. Every page. It designates where I should go if I can't get out, generally open spaces where others in the same boat will be. And where do those of us go when we do flee the fire? Anywhere we can ― friends' and relatives' homes or even hotels ― just as long as we are out of the evacuation zone.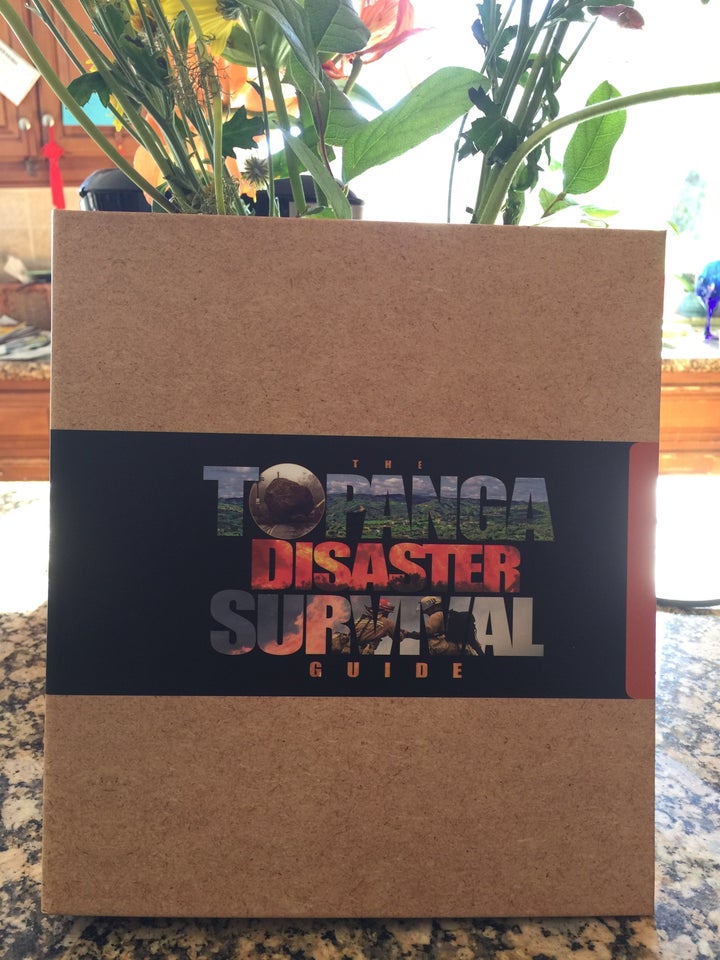 And the other thing I do is send cookies to Fire Station No. 69, the Topanga-based firemen who make it possible to live here. Stay safe, guys ― chocolate chip OK?
Related