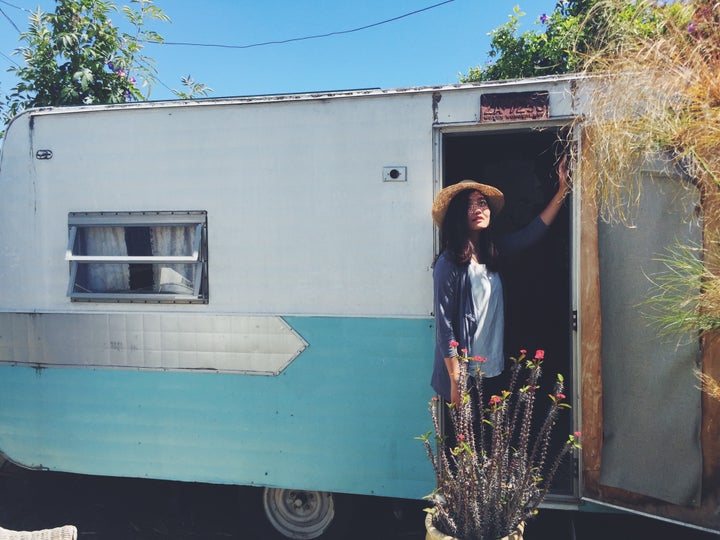 In October 2015, I returned from Shenzhen to Los Angeles for work. As a New York transplant, I had lived in LA before, but struggled with the urban sprawl, endless car time and Hollywood seemed as distant as before. Los Angeles would never be a place to call home.
I arrived in Los Angeles with two suitcases and all other belongings were in storage. This removed the biggest hurdle to start an urban nomad life.
Affordability is another critical factor. As a blogger in China, I had written a guide "How to Use Airbnb", with practical tips about how to pick neighborhoods and how to increase acceptance rate as a foreign guest. I threw in my referral code. When summer travels kicked in, my Airbnb account accumulated a few thousand dollars.
With only two suitcases and the referral credit, I remembered all the stylish houses in Venice Beach. What if I can live inside and meet the artisans who built the house?
A five minute quick search on Airbnb turned into a 5 hour research — I compiled a long Wishlist of Airbnbs: a photographer's house in the Venice Canals, a pilot's vegetarian home in Santa Monica, a vintage camper off Abbot Kinney to name a few.
The Los Angeles I fancied on Airbnb was a total upgrade. It reminded me that "We are only limited by our own imagination."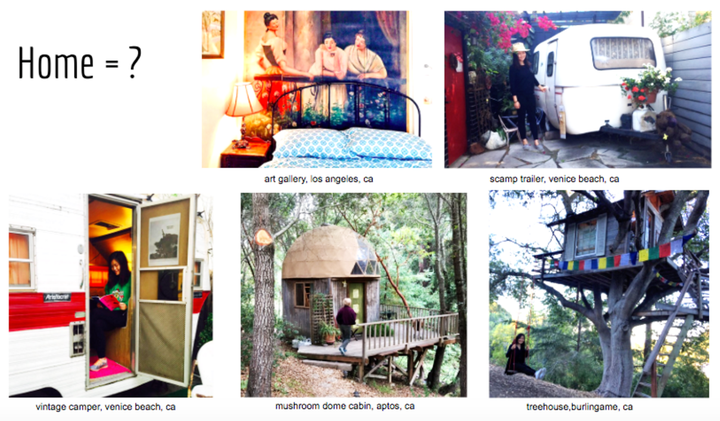 From Venice Beach, I ventured out to live in 15 neighborhoods. From Monday to Thursday, I would stay in Airbnbs within 15 minutes' commute to my office (via bikes or Uber Pool). On weekends, I'd live as far as Pasadena, Downtown LA, and Lincoln Heights.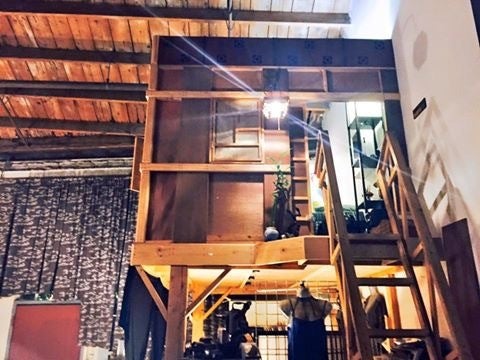 Who are my hosts?
The demographic of Los Angeles is as diverse as the city itself: filmmaker, architect, photographer, meditation master, vintage store owner and etc.
"Superhost" (those experienced hosts with 5 star ratings) was my No. 1 criteria to search for hosts. I crafted an inquiry template and messaged hosts on my Wishlist.
I was exposed to 100+ ways to live a life and unimagined experiences - including a ticket to Burning Man and a spontaneous road trip to Arizona.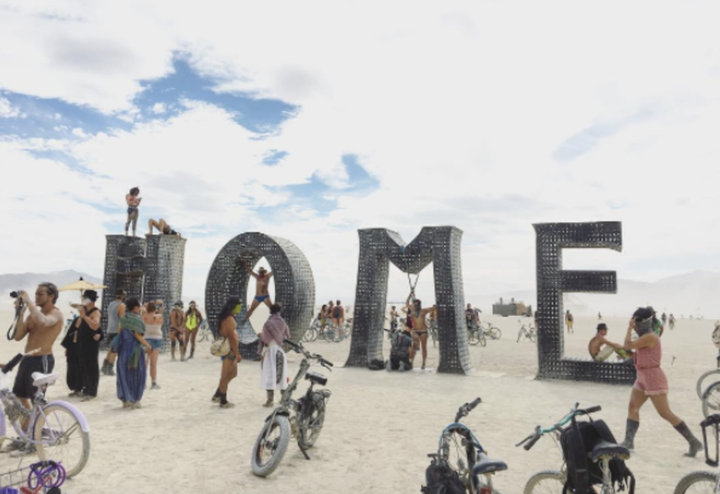 Some of the best hosts are at the age of my parents - who possess twice as much life wisdom as I do. Quickly, I entered a field "school" to study life hacks and hospitality, from using a squeegee to prevent water stain to brewing bulletproof coffee, from home decoration to emotional management.
Upon arrival of a beautiful Airbnb, I observe every detail of the interior: fridge magnet, family portraits, succulents, and bookshelf. It is like going to a buffet, I want to taste all the dishes. Their collective wisdom and zest for life touched my soul and made me a better person.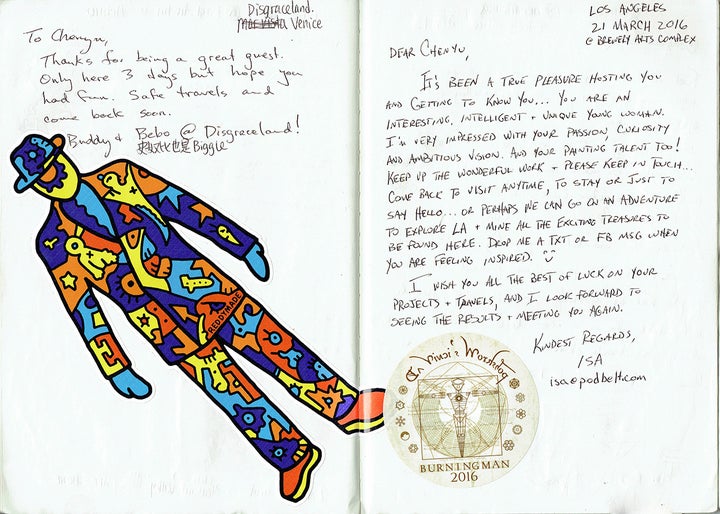 The Challenges
Every coin has two sides. My lifestyle came with uncertainties, constant packing and unpacking, and reduced social time with old friends. I struggled to have a "permanent" mailing address and a place to do laundry. Consequently, I grew into a desert plant resilient to stressors in life. When the blizzard in New York City resulted in a flight cancellation, I searched for last minute accommodation in LA with calm.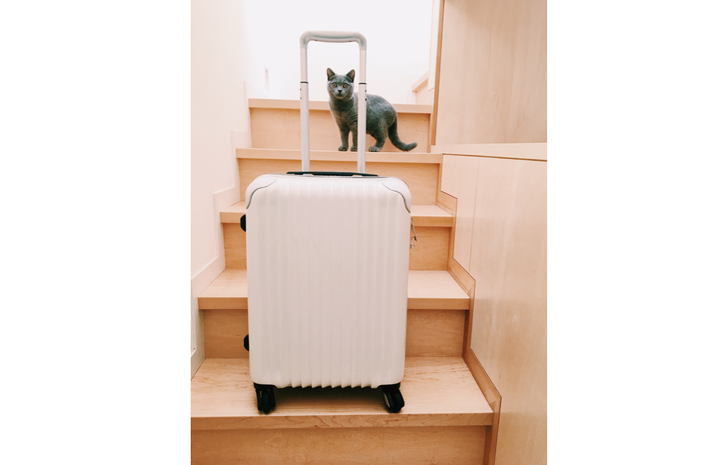 I became a minimalist, out of necessity, not to be cool. To travel light, 1 suitcase per week was part of my discipline. That means 3 pairs of clothes: non-wrinkle, quick dry; 3 pairs of pants: versatile for both yoga and fashion, and 2 pairs of shoes: a Nike, a TOMS or a Stan Smith. To allocate brain space for check-in logistics and a full time job, I reduced the colors of clothes to only navy blue, black and white. Another lesson is "everything will be ok": to attend a wedding with no proper inventory, I shipped a dress directly from Rent the Runway to the next Airbnb while checking out from the current one.
Some may not like the intense hustle, but to me, this adventure was the best entrepreneurship bootcamp.
A Transformed Self
In April 2016, when it was time to move to Silicon Valley for a dream job. My heart ached because I fell in love with Los Angeles. The kindness and inclusion I experienced made me belong and proudly call home. I can name that secret staircase in Echo Park, recount the gentrification of Rose Avenue, explain the obscure snacks in Erewhon market, and show you the flourishing art scene in Chinatown.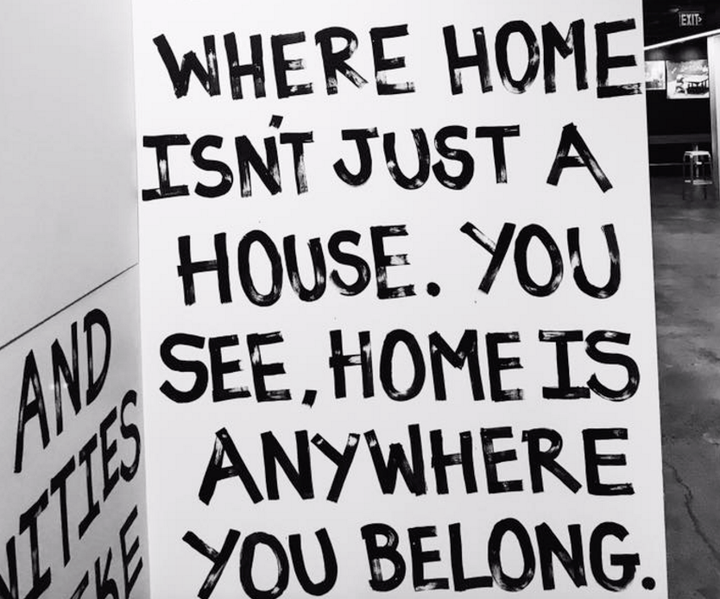 My understanding of "home" has deepened:
Home is not only our most intimate space, it is also an extension of our soul and manifests who we are. Regardless of our race, language, or culture background, people who are curious and open minded, who share similar hearts will connect. Yet, the Internet makes it so much faster. In a world that is increasingly separated by social media and misunderstanding, Airbnb hosts collectively showed me human kindness. They picked me up when I was stranded in an airport and opened the door to me when another booking fell through.
What's next?
During the year, I wrote a Thank-You note to each host, often with a sketch of their pets. The joy and love on their faces reminded me of my unique contribution to this world. My lifestyle did not afford me a pet, but simultaneously I had 100 pets, a beagle in Mar Vista, a British shorthair in Tokyo, and a mini pinscher in Las Vegas. I reconnected with my passion and left the "dream job" in Silicon Valley to paint pet portraits full time. Occasionally, I exchange pet portraits for Airbnb stays in the spirit of the ancient barter system.
606 days later, I still don't have a permanent mailing address.