You might have seen her face on San Francisco's transit system. Or, as of yesterday, you might've spotted her on Twitter.
Isis Wenger is one of the faces for a recruiting campaign launched by OneLogin, the cloud computing company where she works as a platform engineer. When she was asked, along with four other employees, to represent the company in a series of ads intended to recruit more engineers, Wenger could not anticipate the backlash her image would receive.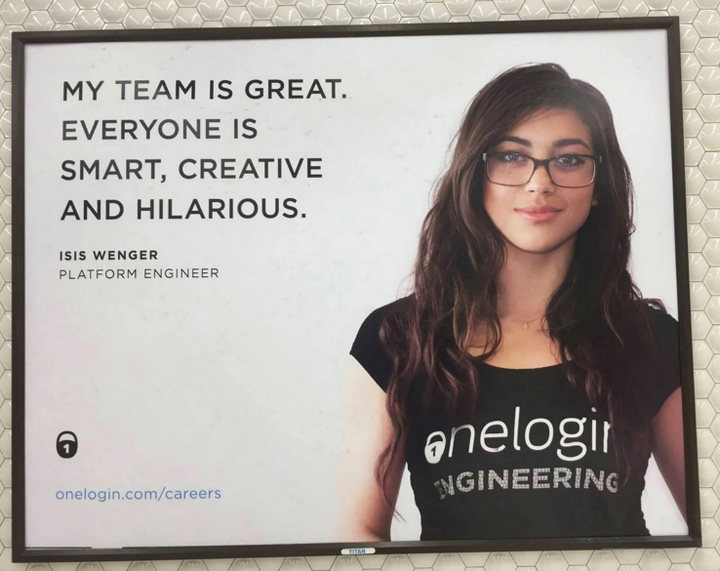 The ads were put up in Bay Area Rapid Transit and Muni stations across San Francisco. The one featuring Wenger's face (pictured above) attracted a cascade of negative comments on social media.
She addressed the situation Aug. 1 in a Medium blog post titled "You Might Have Seen My Face on BART" and uploaded screenshots of social media reactions to the poster, highlighting some that criticized her appearance. One Facebook user in particular doubted whether Wenger is really an engineer.
The negative comments, she wrote, perfectly illustrate the sexism that still permeates the tech industry:
Some people think I'm not making "the right face". Others think that this is unbelievable as to what "female engineers look like". News flash: this isn't by any means an attempt to label "what female engineers look like." This is literally just ME, an example of ONE engineer at OneLogin. The ad is supposed to be authentic. My words, my face, and as far as I am concerned it is.
It's no secret that Silicon Valley companies suffer from a gender gap in employment. (Last summer, a series of diversity reports released by tech giants including Google and LinkedIn revealed that women fill fewer than 20 percent of their tech positions. And out of 84 major startups, there are only two women serving as CEOs.) But the backlash to Wenger's ad goes beyond the standard discussion of diversity balance, or the gap in salaries between men and women. The comments she posted on Medium expose the all-too-common biases people have toward female engineers. These biases hold back women in computing and engineering, according to a 2015 report by The American Association of University Women.
"Women from our community have (very) often told me stories of being at tech events and told they didn't look like an engineer," said Alaina Percival, the CEO of Women Who Code, a global nonprofit dedicated to empowering women in the tech industry.
Percival added that she hopes Wenger's story "will help underrepresented groups in tech better feel as though they belong and inspire more women and girls to enter careers in software engineering."
In a Facebook post, OneLogin Director of Design and Brand Experience Chloë Bregman, who was in charge of the campaign, contrasted the OneLogin ads with the all-male billboards for Dice.com, a tech jobs platform which last year posted ads featuring boxer-clad employees.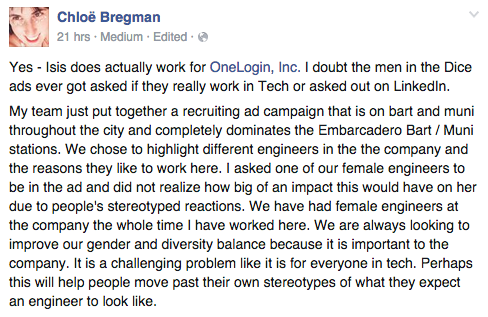 After the publication of her blog post, Wenger launched the hashtag #ILookLikeAnEngineer to challenge stereotypes of what engineers look like. As Wenger explained on her Twitter, the hashtag is "intentionally inclusive" of people across the gender and racial spectrum. "There are no limits on diversity," Wenger tweeted.
Here are just a few of them:
And let's not forget tech pioneers like Grace Hopper, a computer scientist and U.S. Navy rear admiral who invented the first compiler for a computer programming language:
Related
Popular in the Community