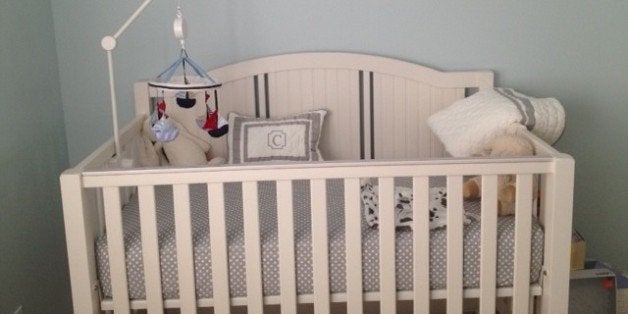 I couldn't believe I was going to be a mom. That was all I'd ever wanted. I pictured myself as the PTA mom or the mom who brings all the snacks and drinks to soccer practice. I finally would have it all... a loving husband and a bouncing, beautiful baby. But one day, my life turned upside down and everything was taken away from me in an instant.
My husband Chris and I had been trying to get pregnant naturally for a year, and then, when unsuccessful, we started the fertility process. We had every part of us pricked and probed. I had so many vials of blood taken from my body, and even an MRI to see if I had a heart-shaped uterus that was making getting pregnant difficult. My body and mind went through so much during this time. I tried to stay positive, but my fear was... what if I can't get pregnant with IUI? What if I have to do IVF, and what if that doesn't work? Going to a place of doubt and disbelief was easy for me.
We had one IUI in September 2013, and unfortunately, it was unsuccessful. Then we tried again in October, and, to our surprise, it worked. I was going to be a mom. I couldn't stop smiling. The thought that I was carrying my baby was the greatest gift I could have. A few weeks after I got the positive pregnancy test, we went back to the fertility doctor to listen to the heartbeat. The doctor looked at us and said unfortunately the heartbeat was very low, and our baby might not make it. We had a vacation planned a few days later, so we went to Kauai and tried to relax, knowing that our baby might not survive. When we returned from Kauai, we went to the doctor and, to our surprise, the heartbeat was strong. Again, I felt full of happiness and hope and couldn't wait to meet my baby.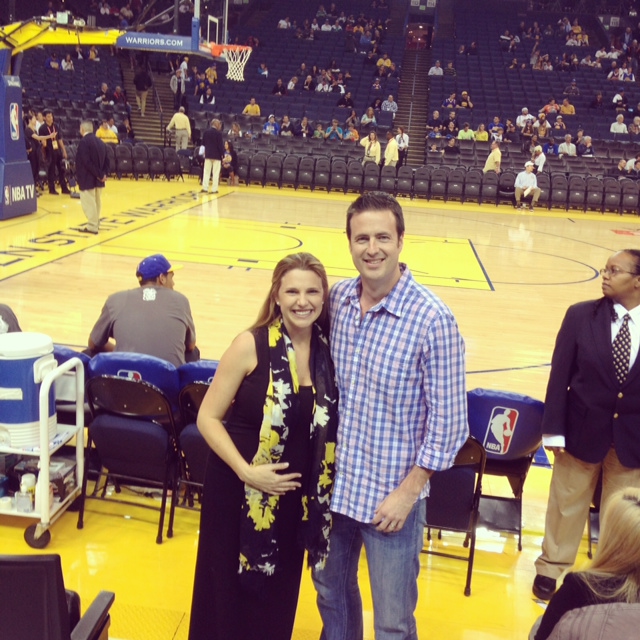 Chris and me at a Warriors game, when I was six months pregnant.
"You are having a boy" were such amazing words to hear from the doctor. I pictured our son as a mini version of his handsome father. I felt like I was on top of the world. We decided to name him Connor Scott Kelly -- Baby CK. We talked about Connor all the time: things we would do with him, and what his personality would be like.
Our friends and family showered me and Connor with so much love. I had my work shower on my birthday, June 18th. It was such a happy day. I was going out on maternity leave the following week. The day after my shower, I had a routine appointment with my doctor to see if Connor was breech; if he was, we would schedule something for the following week to try and turn him. Chris didn't come to this appointment, since it was so routine. My doctor was on vacation, so it was just the nurse practitioner and me seeing if Connor had turned or not.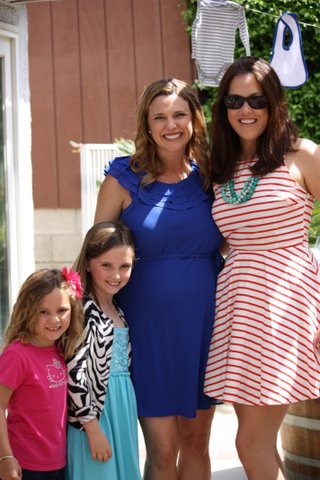 At my baby shower, with my best friend Kelly
and my nieces Kate and Natalie (April 2014).
The nurse came in and she put the stethoscope on my belly, like she had done a million times before. She kept moving the stethoscope to different areas of my belly, and the silence was deafening. She quietly told me she would be right back, and she might move me to another room where there was better equipment. At that moment I went straight into disbelief. Connor was fine, I thought -- he is due in two weeks, of course he is fine, it has to be something wrong with the equipment.
They took me down a hallway to another room and felt around again. This time another nurse was in the room. They turned to me and said words I'll never in my lifetime forget: "There isn't a heartbeat." The next hour is a blur. I called my husband in a panic and it took him an hour to get to me from work. Why me? How did this happen? I was living in a nightmare.
They sent me home that night. To this day, I am unsure how I survived that long, lonely night. I was curled up in a ball, crying hysterically. My head was aching; I could hardly see because my eyes were so swollen from crying. Nothing could comfort me, yet I had to begin telling my friends and family what had happened to avoid them asking, "How is the baby?" My mom arrived at 8 a.m. the next morning to go to the hospital with us. I had surgery prep at 10 a.m., and my C-section scheduled for 12 p.m.
We arrived at the hospital and Chris and I had to deal with things we could barely comprehend. Instead of teaching me how to breastfeed or bathe my new baby, the nurse came in to ask questions like, "Do you want to hold your baby after he is born?", "Do you want to cremate or bury your baby?", and "Do you want his footprints or pictures of him?"
She fired off questions, and my first reaction was: Of course I don't want to hold him. I want the doctor to deliver him and just take him away. The thought of seeing his face made me want to die. My mother turned to me and Chris and said softly: I think you will want to hold him. He is your baby and he is 8 months old. You will regret it if you don't do it. Just think about it. She also said she wanted pictures of Connor and his footprints, and that she would store them at her house until I was ready. I thought about it for the next couple of hours, and my mom was so right. He was my beautiful child that I had carried for eight months. Of course I needed to hold him and see his face.
It was time. The nurses wheeled me into a cold surgery room, and there I lay with tubes coming out of my body, holding Chris's hand. I had a large needle pierce my back and I felt numbness, and in that moment it felt good. I wished my mind could be numb. They lifted Connor out and cleaned him off and handed him to Chris and me in a fresh white blanket with a little hat. To this day, he is the most beautiful baby I have ever seen. He was so tiny: 4 lb, 3 oz. He had light brown hair and looked like his dad. He looked so peaceful in my arms, like he was sleeping. I wished with all my heart that he was sleeping and would wake up in my arms, but that didn't happen. The next three hours I will never forget -- the only time we were able to spend with Connor after his "birth." I held him, Chris held him, and both our parents were able to hold him. Precious. Beautiful. But heartbreaking. Three hours of tears. Nurses came in to take pictures and footprints of my little guy. Then they wheeled him away and that was it. A mother no more. Pain from my surgery. A broken heart and spirit. Milk coming in my breasts. An empty baby blue nursery at home. Where do I go from here? How would I survive?
Four months have passed since losing Connor, and last week, Chris and I went to Maui to spread his ashes. It was very healing, and we finally felt some peace. I know that Connor is in our happy place forever, and we will visit him at least once a year. I think about Connor every moment of every day. When I see a mother with a baby around the same age as Connor, I cry because that should be me.
What I have learned from this horrific loss is that I am stronger than I ever knew. I have learned not to take life for granted, and that every moment with loved ones is a gift. I have learned to be a better friend to people going through hardships. I have learned that I want to share my story with people, so others don't feel as alone as I did going through this. Losing a baby at eight months isn't normal, thank God, but there are women going through this and I want them to know they aren't alone.
I have learned that I have amazing friends and family. I have learned to have hope and to believe that I will get pregnant again. I have learned that I will have a child one day, biological or not. I have learned that I am a mother. Losing Connor didn't make me a mother no more. I will always be a mother to Connor, and will celebrate his spirit every day. I have learned that I am lucky to have a guardian angel named Connor looking out for me all the time. I am blessed to be the mother to such a beautiful baby boy.