This article was originally published on Healthline.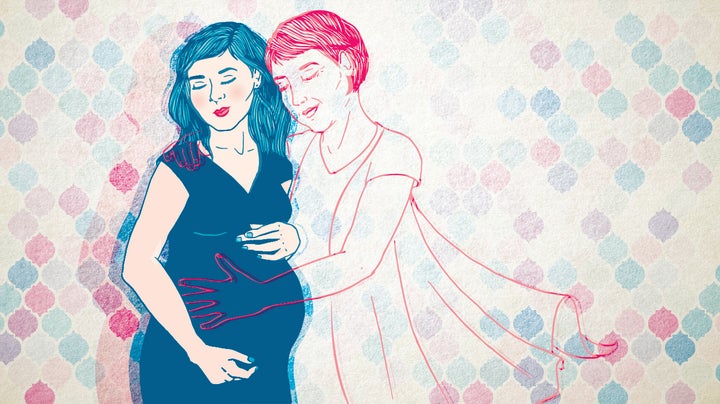 He asked it again: "How did your mom pass away?"
And again I tell my son that she was sick with cancer. But this time that doesn't appease him. He fires more questions:
"I remember your dad, but why don't I remember your mom?"
I'm not sure how much longer I can dodge his curiosity. After all, Ben is 9 years old now, and he's as inquisitive and attentive as they come.
I reveal the truth: She never got to meet him.
I hope that's enough for now. His eyes fill with sadness as he walks over to hug me. I can tell he wants more information. But I just can't do it yet. I can't tell him she died when I was three months pregnant with him.
Never good timing
On my 21st birthday, my mom told me about a time when I was 3 years old and I kicked her so hard that I bruised her chest. After weeks of pain, she visited a doctor. An X-ray led to other tests, which revealed that she had stage 3 breast cancer.
She was 35 years old, the same age her mother was when she was diagnosed with breast cancer, and the same age her younger sister would be when she'd also receive a diagnosis. My mom had a double mastectomy, participated in a drug trial, and survived a few reoccurrences over the following 26 years.
But just hours after I discovered I was with child for the first time, I learned that her cancer had spread.
For two months, I reassured my mom that she'd live long enough to meet my baby. "You've beat cancer before. I know you can again," I told her.
But as the cancer progressed, it became clear to me that she would pass away before the baby arrived. I felt selfish for hoping she would continue to fight so she could witness my stomach grow, be with me in the delivery room, and guide me through motherhood. Then, suddenly, the selfishness was replaced by mercy. All I wanted was for her pain to go away.
When I hit the three month mark in my pregnancy, I was excited to tell my mom, but I also dreaded it. When she heard the news, she looked at me with a mix of relief and anguish. "That's wonderful," she said. We both knew she really wanted to say: "I have to leave now."
She passed away a few days later.
Finding reasons to be joyful while grieving
The remainder of my pregnancy was a roller coaster of ups and downs as I waited for my baby's arrival and grieved the loss of my mom. Sometimes one was more on my mind than the other. I was thankful for the support of my husband, family and friends. I even found comfort in the great city I lived in — Chicago's vibrancy kept me moving, thinking and avoiding self-pity. I was able to think through my pain in privacy, but not in seclusion.
When I was six months pregnant, my husband and I went to our favorite place, the comedy club Zanies. It was the first time I realized the baby and I had a strong bond. As the stand-up comedians took to the stage, each funnier than the last, I laughed harder and harder. By the end of the night, I laughed so hard that baby took notice. Each time I laughed, he kicked. As my laughs got more intense, so did his kicks. By the end of the show, it was like we were laughing in unison.
I went home that night knowing my baby and I were connected in a way that only mothers and sons could understand. I couldn't wait to meet him.
All I can give them are my memories
During my final trimester, planning for baby's arrival consumed me. And before I knew it, Ben was here.
I'm not sure how my husband and I got through those first few months. My mother-in-law and sister were a huge help, and my father was willing to let me vent anytime I needed to. Over time, we learned how to function, like all new parents somehow do.
As the years passed by, Ben, and eventually my daughter, would ask about my mom and my dad. (He passed away when Ben was three and Cayla was one.) I'd tell them little things here and there — like how funny my dad was, and how kind my mom was. But I accepted the fact that they'd never really know my parents. They'd have to settle for my memories.
"I don't want to talk about when and how she died — I want my kids to know how she lived."
As the 10th anniversary of my mom's death approached, I struggled with how to react. Rather than hiding in my room all day, which is what I really wanted to do, I decided to be positive — like she always was.
I showed my kids my favorite photos of her and funny home videos from my childhood. I made them her recipe for homemade pizza, something I miss so much. Best of all, I told them about the ways in which I can see her qualities and characteristics reflected in them. In Ben, I see her innate compassion for others; in Cayla, her enchanting big blue eyes. They beamed at the realization that she is part of them, despite her absence.
As Ben began asking questions, I answered them the best I could. But I decided to hold out on the timing of her death, which he asked about yet again. I don't want to talk about when and how she died — I want my kids to know how she lived.
But perhaps I will tell him the whole story, one day. Maybe on his 21st birthday, just like how my mom told me.
Cathy Cassata is a freelance writer who writes about health, mental health, and human behavior for a variety of publications and websites. She's a regular contributor to Healthline, Everyday Health, and The Fix. Check out her portfolio of stories, and follow her on Twitter @Cassatastyle.
Related