ALD. Adrenoleukodystrophy. It's the deadly disease you've never heard of afflicting one in 17,000 people, mostly boys and men, including my son Aidan. He passed away four years ago, on April 29, 2012. He was 7.
This brain disorder destroys myelin, the protective sheath surrounding the brain's neurons - nerve cells that literally control our thinking and movement.
Initial symptoms are as common as withdrawal, loss of appetite, difficulty concentrating. Eventually, ALD results in blindness, deafness, seizures, dementia, and then permanent paralysis or death. By the time symptoms appear, ALD strikes fast; Aidan died 11 months after diagnosis.
A baby is born with ALD every 36 hours in America. The tragedy is most parents won't know it. Currently, newborn screening is a state-by-state matter. In 2013, New York became the first state in the US to test all newborns for ALD.
And if I can help it, it won't be the last.
Aidan's Law is a pair of companion bills (S. 2641 and H.R. 4692) introduced to both houses of the U.S. Congress in March, sponsored by Sen. Chuck Schumer, D-NY, and Rep. Yvette Clarke, D-NY. If enacted Aidan's Law will require (and fund) newborn screening of ALD in all 50 U.S. states.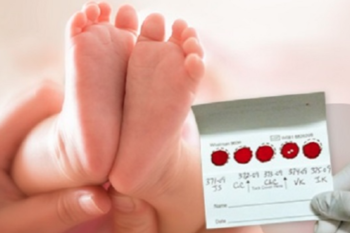 Newborns are tested for ALD by taking a drop of blood from the baby's heel for a lab test.
It's the same way infants are screened for cystic fibrosis, congenital heart disease or sickle cell anemia.
In a little more than two years of testing, 46 New York newborns have been diagnosed with ALD. Contrary to what you might think, that's something to celebrate. That's 46 lives saved!
Like all rare diseases, knowledge is king when it comes to ALD.
Knowledge means parents of diagnosed babies know to get bi-annual MRIs to scan for lesions on the brain, signaling the start of onset ALD. Knowledge means parents know what symptoms to look for, and when. (In Aidan's case, it was vision problems at age 6.) And knowledge means pre-symptomatic boys can keep onset ALD at bay for years by drinking something as simple as an extract of rapeseed and olive oil.
If you saw the film Lorenzo's Oil, starring Susan Sarandon, you might be familiar with this treatment.
When given to pre-symptomatic boys, Lorenzo's Oil can halt the onset of ALD, according to leading research by John Hopkins University's Kennedy Krieger Institute. The film Lorenzo's Oil charts a real-life family's discovery of the treatment, and it pushed ALD into the national spotlight. That was 1993.
Now, ALD is getting a second close up.
After two years of moms like me lobbying the Department of Health and Human Services, Secretary Sylvia Burwell added ALD to the federal Recommended Universal Screening Panel in February. The key word? Recommended. The RUSP is only a guideline. Still, the RUSP is a lifesaver for future ALD families.
That's because three states already had laws on their books dictating they adhere to the federal RUSP: California, New Jersey and Connecticut. Combined with New York, this means 880,000 annual U.S. newborns will soon be tested for ALD.
That leaves 46 more states - and more than 3,000,000 U.S. babies to test for ALD each year. Aidan's Law will make this a reality.
It's hard to imagine anyone arguing against a law that, based on the first year of ALD testing in New York, will result in the discovery of 235 ALD-positive U.S. babies a year. That could be a life saved every 36 hours.
After I explain this I eventually get two questions: What's the cost? And who pays? I sigh and think to myself: What's the life of a boy worth? Your boy? Then I collect myself and answer.
In its first year of newborn ALD screening, New York spent less than $500,000 to test its 250,000 newborns for ALD. That's less than $2.50 per baby.
Boys who test positive for ALD are considered pre-symptomatic (pre-onset) or symptomatic (onset).
For pre-onset ALD, Lorenzo's Oil is a free treatment. The FDA classifies it as an experimental drug, prescribed, solely, by Dr. Gerald Raymond of the University of Minnesota's Department of Neurology.
Ninety percent of all boys with ALD will also develop adrenal insufficiency (Addison's Disease). It can be treated for pennies a day with hydrocortisone. Insurance plans typically cover this cost.
MRIs cost about $2,000; most insurance covers this cost.
The only treatment for onset ALD is a bone marrow transplant. It can cost $1 to $5 million, depending on how soon treatment follows onset of symptoms - again underscoring the need for early diagnosis.
Diagnosed late, Aidan's medical bills totaled more than $4 million, including the unsuccessful bone marrow transplant. For my family, health insurance paid almost all the bills.
Now consider this. The $2.50 New York spends to test each of its babies for ALD is less than what most of us spend on our morning coffee. A wise investment in public health, don't you agree?
If you're not sure just ask your mother.
Elisa Seeger is the founder of the Aidan Jack Seeger Foundation. You can join her and moms across America in the fight for Aidan's Law by signing this online petition to the US Congress.
Related
Popular in the Community