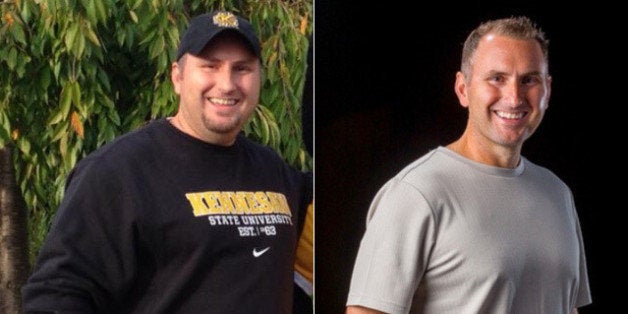 Name: Brad Bishop
Age: 42
Height: 5'11"
Before Weight: 260 pounds
How I Gained It: I've struggled with my weight since the end of my Navy career in 2006. I was eating out at least once a day. My normal lunch was chicken nuggets or a burger, a large order of fries and a large sweet tea with refills. We went out for dinner or got takeout at least four nights a week. I consumed about 10 high-calorie drinks per day, like Coke, beer and Gatorade. I would get more calories from drinks in a normal weekday than I get now from food and drinks together. I would also have at least a few sweet snacks a day, like candy bars, cookies, chocolate ice cream or doughnuts.
Breaking Point: At the beginning of the year, I couldn't run anymore. My clothes didn't fit. My belly had gotten so big I couldn't bend over far enough to clip my own toenails, and I was even having trouble tying my shoes.
How I Lost It: I've tried to lose weight before, but this is the first time I've tried to eat right. My wife convinced me to try Weight Watchers. I stopped eating out for lunch and stopped drinking calories. I only ate out on weekends, and my goal was to weigh less each Friday. I weighed myself daily and tracked it on a graph I posted on the refrigerator.
In July, I started using the MyFitnessPal app. That's when the weight really started coming off quickly. I tried to reach the calorie goal in the app every weekday and stayed reasonably close on weekends. I ate more natural foods, such as vegetables, fruits and nuts, but I still enjoyed my pizza and burgers on the weekend. I cut out sweets except for special occasions, like celebrating at Cold Stone Creamery every time I reached another 10-pound milestone.
For exercise, I started out walking around the neighborhood every day and hiking on weekends. I also walked around downtown Atlanta on nice days during my lunch break. Eventually, I felt good enough to run and started training regularly with the goal of being able to finish a 5K race. In July, I finished my first 5K. I have run several more 5K races since then and have cut my time in each race. In my most recent 5K, I won a medal for finishing first in my age group. Recently, I've started running 10K races. I look forward to each race and work hard to improve. I train every day and switch things up to avoid soreness. Some days I run for speed and on other days I just walk fast or ride my bike. On weekends I take a long slow run and push myself to go farther each time.
It hasn't always been easy: In February, I went on a two-week business trip and gained several pounds. I've found there is no amount of exercise that can overcome the calories you'll take in if you eat out at every meal. By July, I had become much more dedicated to my diet and was able to actually lose weight on a business trip. I found a good place to run and went to a grocery store to stock up on foods to take to work for lunch. I have even taken my bike with me on a business trip to ride after work.
I feel a tremendous amount of satisfaction and pride in this accomplishment. The boost in my self-esteem has been amazing. It is so nice to have family, friends, neighbors and co-workers recognize my improved appearance and comment on it. It happens almost every day now, and I never tire of it. I have posted several times on Facebook about my weight loss and have gotten a lot of motivation by the support that my friends have sent me. I especially enjoy when someone tells me that I've inspired them to lose weight as well.
I've never felt healthier in my life. My blood pressure and cholesterol levels are perfect, and I no longer need antacid medication. Although it has been expensive, I get a big kick out of shopping for smaller clothes every month or so. My waist has gone down over 7 inches. I've had to go to a leather shop several times to cut my belts and punch new holes in them. I needed to have links taken out of my watch. Recently, I became able to wear size 34 pants and large shirts for the first time in 15 years!
Current Weight: 195 pounds. I have recently set a new goal of 185 pounds, which I intend to reach by the end of the year.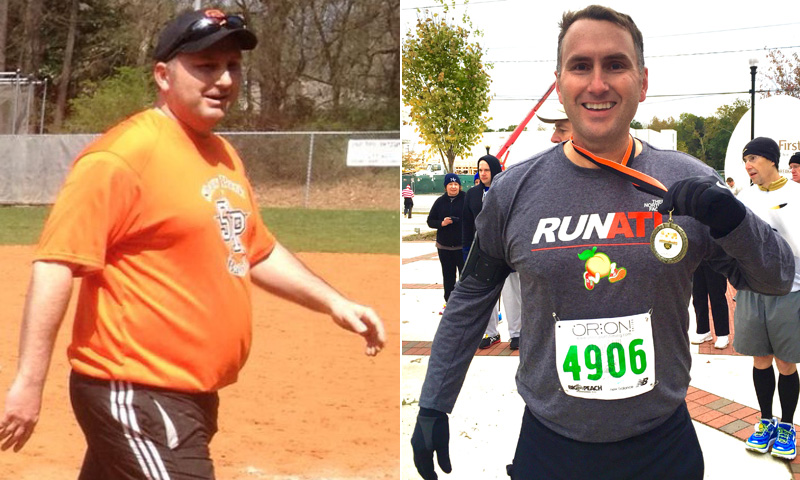 The Huffington Post publishes photographs as they are submitted to us by our readers. As told to Sarah Klein.
Got a success story of your own? Send it to us at success.stories@huffingtonpost.com and you could be featured in our I Lost Weight series!
Check out more of our inspiring weight loss stories below: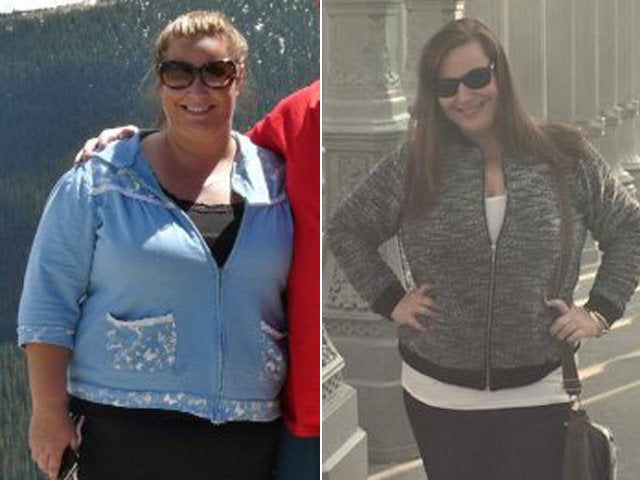 Weight Loss Success Stories
Related