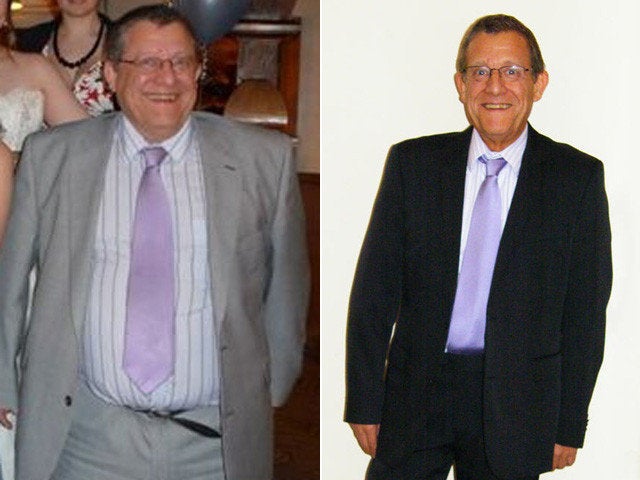 Got a success story of your own? Send it to us at success.stories@huffingtonpost.com and you could be featured on the site!
Name: Chris Naylor
Age: 57
Height: 5'7"
Before Weight: 231 pounds
How I Gained It: My weight gain was a gradual process and probably commenced way back in 1990 when I was about 170 pounds. In 1990 my work required me to make many long trips to all corners of the U.K., so I was sitting in the car for long periods and spending about 20 percent of each year in hotels. To keep me energized for the long trips, I snacked in the car and ate most meals in the hotels. That job lasted 10 years and, during that time, I tried at least three different diets, none of which worked.
When I moved on from that job, I carried on eating in the same manner and, unfortunately, I went through a divorce, which further worsened my eating habits. Rather than having food cooked for me, or cooking it myself, I would have four or five take-out meals every week and often visited the local bar, which added even more calories to my daily intake. In addition, the death of my sister five years ago at the age of 47, which completely devastated me, left me feeling like I didn't care about anything in the world, especially my weight. The anti-depressants that I was prescribed probably didn't help the weight situation either, and food was comforting. I had to keep on buying bigger clothes, going from a medium to an XXL. I was on the verge of having to consider buying XXXL clothing; rather than continuing to grow in size and weight, I chose another option.

Breaking Point: I started getting very bad pain in my back and in my knees. Initially, the doctor thought that it may be the onset of arthritis. I was sent for an x-ray which came back clear. It was then that I knew that I was asking my joints to carry more that they were designed to carry. It was at that stage that I knew I had to lose weight.

How I Lost It: In the beginning, I was concerned how I would go about losing weight. The most important thing for me was that I was not prepared to give up my social life and whatever I ate, I had to enjoy it. I also knew I needed something to keep me focused on the task.
I cut out potatoes, rice, pasta, bread and cheese from my diet first. I also exercised portion control and halved each meal. I ate oats and fruit for breakfast to give me energy for the day ahead, a boxed salad from the local store to take away the hunger pangs at lunch and then usually some kind of meat or fish dish with vegetables and fruit for my evening meal. Every meal that I had, I recorded my calorie intake to ensure that I was on target.
Because I was not prepared to give up my social life and the alcoholic beverages that went with it, I knew I had to burn more calories, so I started to exercise. I started my workouts with 15 minutes on an exercise bike in my house and a 30-minute walk during my lunch break. As I got fitter, the amount of time I was able to spend on the exercise bike increased and, within three months, I was happily exercising an hour a day on the bike while still having my 30-minute walk at lunchtime.
To keep me focused, it was necessary to be able to watch my progress. Since I was using a smartphone, I found MedHelp's mobile diet app, My Diet Diary - Calorie Counter, which tracked my calorie intake and calories burned, in addition to seamlessly syncing with the weight tracker on the MedHelp website; it appeared to be the the perfect solution. Sure enough, every time I ate, I recorded it. Every time I exercised, I recorded it. I could see at a glance how I was doing, and on the occasions I fell off the wagon, such as enjoying myself at parties or weddings where it was impossible to record what I had taken in, I was soon back on track. It was the focus it gave me that prevented me from giving up. Hitting my target in May 2012 was one of the greatest feelings I have had in my life. Maintaining my weight in the months that have followed has given me even more satisfaction, even though I have now re-introduced some of the foods that I banned myself from eating.
Now, my back and knee pain has gone, I am more flexible, fitter and more alert, and I am back to a size medium. For years I had been treated for asthma, using my inhalers many times a day, and the aerobic exercise that I have been doing has made my lungs work much better. In addition to improved lung capacity, the use of my inhalers is almost a thing of the past. All other medication that I had been on, including the anti-depressants, have been discontinued. So, all in all, by losing weight, I have become fitter and healthier that than I had been, probably since my early thirties.
After Weight: 159 pounds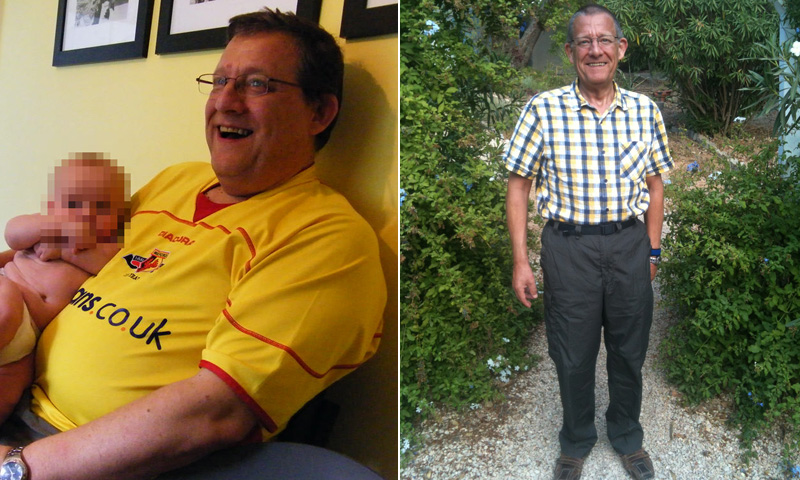 The Huffington Post publishes photographs as they are submitted to us by our readers.
Check out more of our inspiring weight loss stories below: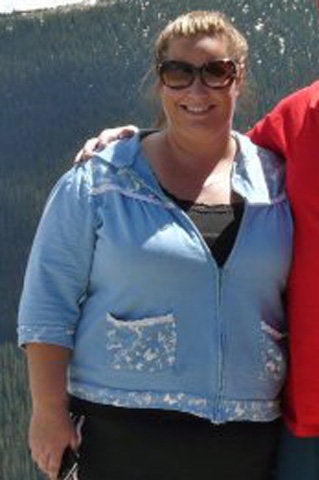 Weight Loss Success Stories
Related