Name: Danny Patton
Age: 27
Height: 6'0"
Before Weight: 395 pounds
How I Gained It: My weight was a big issue, as heart disease, high blood pressure, diabetes and many other health risks run in my family. My girlfriend Kalean and I went years eating takeout, high fat foods, sugary and fried foods. My father passed away about two years ago, which sent me into an eating depression and to my heaviest weight.
Breaking Point: Kalean lives on the third floor, and it got to the point where we would need to take a break and catch our breath before finishing the stairs. I was 26, and she was 21; we should have had no problems with the steps! We knew it was time for the biggest change of our lives.
How I Lost It: It started out by changing the way we ate and cutting down on the soda and fried foods we ate. We cut out soda and started eating a lot of fish, veggies and fruits. We never used to eat breakfast, and now we wake up and have a protein-packed one.
As our weight loss journey continued, we started going to the gym about two days a week to do some basic walking. At first, we were both very discouraged, as we were only able to work out for 20 to 30 minutes. I was only able to walk at a slow pace on the treadmill and lift minimal weights. It was tough those first couple weeks, but as the months passed, the gym actually became something we would look forward to doing. Soon, we were going to the gym five to six days a week. I am now able to run on the treadmill and do about five miles a day.
A year later, we couldn't even begin to imagine that we would be where we are today. I've lost 200 pounds, and Kalean has lost 93 pounds. We have many 5Ks planned for the summer, and we've been talking about doing a 10K. There are many ups and downs, but it's how you deal with the downs that have the biggest effect on the journey.
After Weight: 195 pounds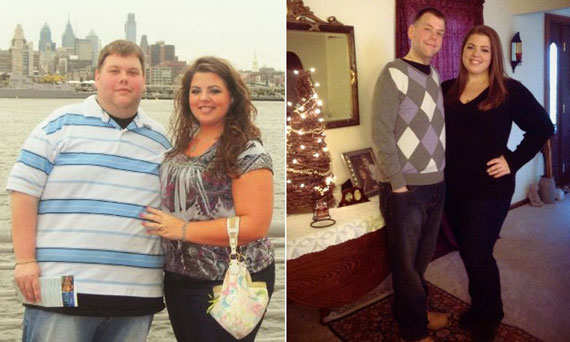 The Huffington Post publishes photographs as they are submitted to us by our readers.