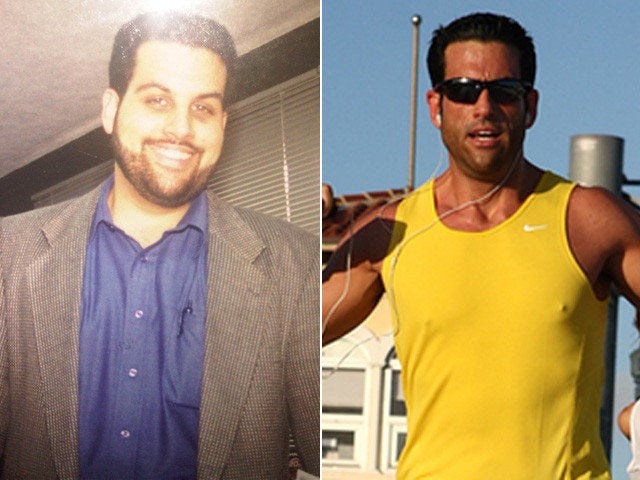 Got a success story of your own? Send it to us at success.stories@huffingtonpost.com and you could be featured on the site!
Name: Eli Sapharti, aka FAT Boy FIT Man
Age: 43
Height: 6'
Before Weight: 290 pounds
How I Gained It: I suffered with obesity much of my life and, like many who have battled with being overweight, tried almost every diet in existence. I "joined" the gym quite a few times, which is not the same as going to the gym and actually exercising. I ate lots of sugary cereals, cookies, fast food, pastries, potato chips, pizza, candy and soda.
I suffered with many ailments associated with obesity, including high blood pressure, pre-diabetes and depression.
Breaking Point: After many failed attempts to lose weight, in 2008 I had an epiphany while traveling on business. I was at the airport in Miami and before boarding my flight, I went to buy a bottle of water. The clerk at the kiosk, a cute girl, said to me, "You're really good looking for a big guy." Most obese guys would have taken that as a compliment. All I heard was "You're FAT!" The entire trip I kept hearing her voice saying, "You're FAT! You're FAT!" I was disgusted with myself. It's not like I didn't know I was fat before, but at that moment it just hit me!
As I thought about all my previous failed attempts, I realized that "dieting" and impulsively joining a gym didn't work and was not going to work ever. That is when I decided to make two small changes to start to improve my life.
How I Lost It: The first thing I committed to was walking for 15 minutes every day. I also committed to stop drinking the two liters of regular soda I was accustomed to drinking everyday for at least one week. At first, 15 minutes of walking was very tough for me. I suffered with shin splints and sore muscles. But at the end of that week, with just those two changes, I lost two pounds. I was ecstatic! Two pounds lost with just these "small" changes? Wow! This is how I came up with my "One Step at a Time" approach to weight loss success. Each week I felt a little better and it became a little easier.
I am now a fit 180 pounds. I have transformed my body from obese and sick to fit and healthy.
My 15 minutes of walking became 20 minutes, then 30 minutes. Walking eventually got boring, so I decided to start "jogging" (many people walk faster than I was jogging). I was only able to manage jogging for a few seconds at a time before I was so tired and out of breath that I had to walk. As soon as I recovered, I would start jogging again for a few seconds and repeated the cycle until my 20 or 30 minutes were up. It eventually became a bit easier to jog for a longer time, and I eventually was able to jog one mile non-stop. This was a major accomplishment for me. At this point, I still could not imagine running a race, but I kept jogging because not only did I feel accomplished, I was also losing weight weekly.
Just as I had gone from barely being able to walk to jogging a mile, the process continued until I was able to run three miles non-stop. That is when I decided to register for my very first 5K race. I finished it in about 37 minutes. (Today my best time for a 5K is 22 minutes.) Having been able to accomplish that, I then decided to train for a 10K months later. After running my first 10K in a time of 58 minutes, (my best time today for a 10K is 46 minutes), I was really hooked on running. I did a few 5Ks after that, and eventually a few more 10Ks in the years to come. It wasn't until last year that I finally took the leap to run a half-marathon. In January 2012 I ran my very first half-marathon in 1 hour and 49 minutes. My goal was to finish in just under two hours; I was stoked with this time. I was so "high" from this race that I immediately registered for another half-marathon the following month.
Running for me is an analogy for life. Although it may be tough sometimes and there are lots of challenges, highs and lows and we must make sacrifices many times, if we stay focused and persistent, we can achieve anything we work toward.
As I became more fit, my nutrition became better. Today, I eat oatmeal with protein powder and berries or egg whites with ezekial bread for breakfast. I snack on Greek yogurt or an apple or a protein bar. Lunch is grilled chicken breast, brown rice, black beans, lettuce and tomato or turkey breast on a whole-wheat wrap with lots of veggies. Dinner is usually grilled chicken breast with sweet potato or brown rice or broccoli, asparagus or cauliflower. Sometimes I will make a big salad with romaine or spinach, green beans, chick peas, tomatoes, olives, chicken and a little feta or goat cheese.
Now, I am no longer sick with high blood pressure, pre-diabetes or depression. I can not only walk a flight of steps without losing my breath, I can sprint a flight of steps without losing my breath. I have found my passion in helping to inspire and motivate others to achieve their own weight loss success "One Step at a Time" through my coaching and motivational speaking. I am now able to be a positive role model for my three children. They now have the best of me, and it is my wish that they learn from my experiences.
After Weight: 180 pounds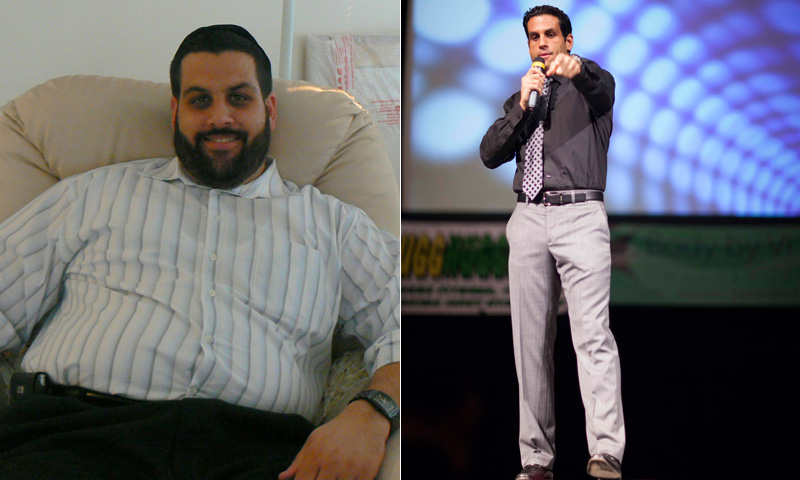 The Huffington Post publishes photographs as they are submitted to us by our readers.
Check out more of our inspiring weight loss stories below: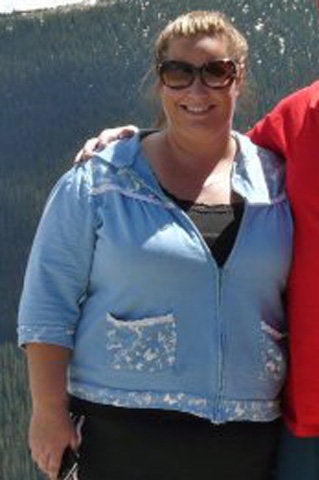 Weight Loss Success Stories
Related