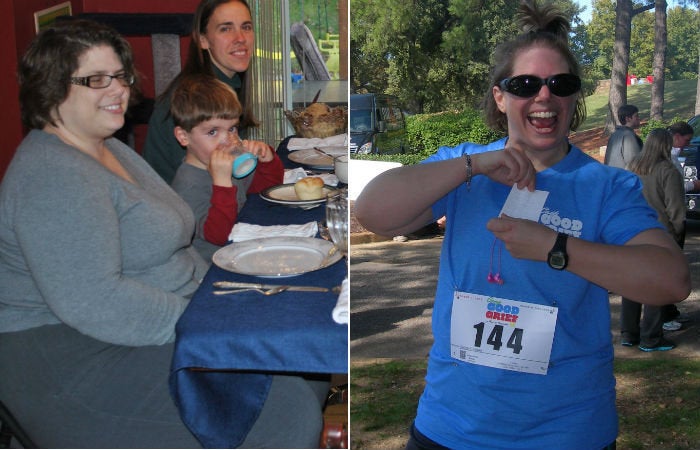 Got a success story of your own? Send it to us at success.stories@huffingtonpost.com and you could be featured on the site!
Name: Jane Hopke
Age: 41
Height: 5'5"
Before Weight: 285 pounds
How I Gained It: My food addiction started when I was very young, about 7 or so. My dad worked a lot and my mom was busy with a lot of community activities and raising my brother and me, so I ended up feeling lost in the shuffle. I turned to food for comfort. I continued to eat to soothe my loneliness during my childhood, as I was a very gawky, geeky kid who related better to adults than children my own age.
I was also a clumsy, awkward kid who was teased quite often. Gym class was a nightmare for me, and I never felt good at anything. I was usually the last one picked for team sports. I was relieved when high school was over and I no longer had to do gym class on a regular basis.
So I entered my adult life being a couch potato and finding comfort in frozen pizzas, Ben and Jerry's ice cream and Oreos and turned to those standbys as a way to deal with stress at work as well as loneliness, rejection and depression. Not only was I gaining weight from all the food, but I was eating so many sodium-laden foods that I was retaining water, especially in my feet and ankles. I did try -- and succeed -- at losing weight twice in the past 10 years, but they were temporary successes, because I realized I was doing it for the wrong reasons: the first time to keep a boyfriend and the second time to get a boyfriend. Both times, the weight came back and then some.
Breaking Point: Two things happened in December 2011. First, I flew to visit my parents for Christmas, and I found it to be agony to sit in the airplane seats I was in. Second, once I got home, I went to the doctor for my regular check-up, since I'm on blood thinners and need my blood checked regularly. That's when I discovered that I weighed 285 pounds. I was stunned that I was that close to 300 pounds! Something had to change ... and fast!
How I Lost It: I immediately turned to SparkPeople.com. I had stumbled upon it and lost 60 pounds in 2010, and so I knew that I could use it again and be successful at losing weight. After all, it was me who failed, not the tool, and I wasn't going to let that happen again, because I was finally on this journey for the right reasons: so that I can live with a healthy body.
I spent about a week eating through all the junk in my kitchen, savoring every bite, because I knew that some foods (my "trigger" foods) were things that I simply was not going to allow back in my mouth again. The next time I went to the grocery store, I had myself armed with a grocery list that had fruits, vegetables, lean proteins, spices, nuts and low/nonfat dairy items on it. I brushed the dust off my slow cooker and got into batch cooking various stews and casseroles on the weekends, so I'd have my own homemade version of frozen meals to eat at lunch instead of resorting to Lean Cuisine, Healthy Choice and the like, which have too much sodium, or going out for fast food, which can be a minefield as well.
With the Nutrition Tracker on the SparkPeople site, I was able to learn about proper portions, input my stew and casserole recipes, and continue to use that tool to keep myself accountable when it comes to my food intake and stay on track with not only my macronutrients (calories, protein, fat and carbs), but other nutrients as well (sodium, calcium, iron, fiber, etc.). I eat mostly whole foods, but due to the blood thinners, there are certain foods that I can't eat, so I do eat an oat-based fortified cereal every day to make sure I get some of my nutrients.
During the first part of my weight loss journey, I exercised at home, using resistance bands for strength training and walking as well as dancing in my living room for cardio exercise. I was successful with my home workouts for the first 60 pounds, but decided that I wanted to take it up a notch and joined a gym in the middle of June. I immediately took to group exercise classes (Zumba, indoor cycling, yoga), swimming and the elliptical. I took up free weights as my main source of strength training, and eventually lost enough weight to try running and was hooked.
Now, I run three days a week and do swimming, Zumba and indoor cycling as cross-training activities. I also take a boot camp class twice a week to do a little more cardio along with intense strength training as well as yoga several times a week to improve my flexibility. I completed my first 5K race at the beginning of October and placed fourth out of women in my age group, eleventh out of all runners in my age group and in the top half of the entire field of 257 runners and walkers! Now that I'm running seven to eight miles on my long runs, I'm training for my first half marathon in March 2013. I would never have dreamed of attempting anything like that a year ago!
I still have about 35 pounds left to go, but even now, I'm happy with what I see and what I'm able to accomplish with my "new" body. It's taking some time to get used to this, so I've slowed down the weight loss process a little; my brain and body image need to catch up a little with where the body is.
When I do reach my goal weight, I know that I'll think of other health and fitness goals to achieve. I'll never stop striving to improve myself, now that I know that I'm truly worth fighting for.
After Weight: 178 pounds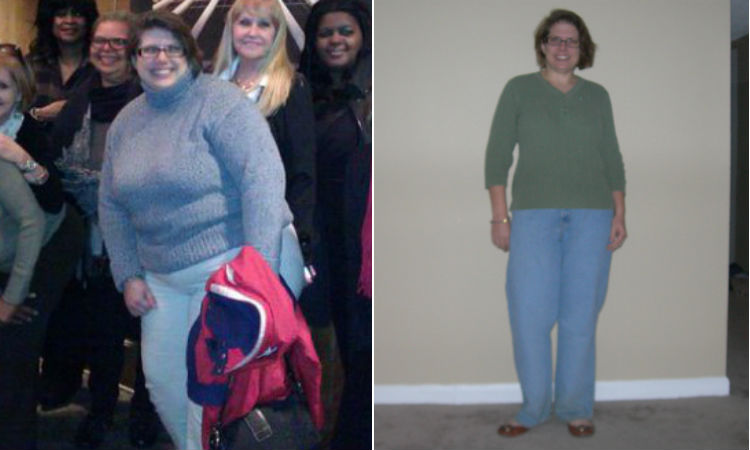 The Huffington Post publishes photographs as they are submitted to us by our readers.
Check out more of our inspiring weight loss stories below: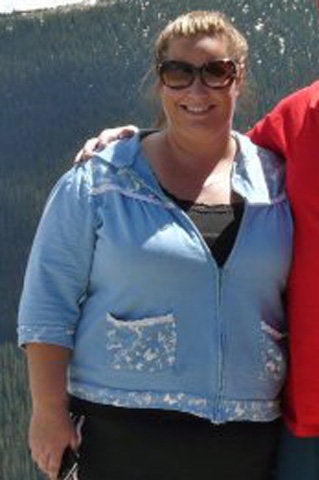 Weight Loss Success Stories
Related