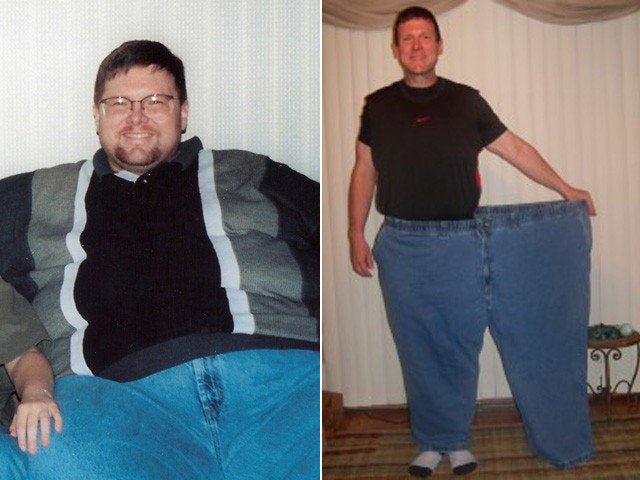 Got a success story of your own? Send it to us at success.stories@huffingtonpost.com and you could be featured on the site!
Name: Jerome Biggars
Age: 49
Height: 6 feet
Before Weight: 493 pounds
How I Gained It: I have always been a bit heavy, but most of the weight came on in 1987 to 1989, right after I got married. I could eat a large Pizza Hut Meat Lover's pizza by myself, but I thought that drinking a diet soda with it make it all right.
I had sleep apnea, high blood pressure, high cholesterol, peripheral artery disease and swollen legs all the time. I could barely walk any distance without needing to sit down to rest! I was worn out all the time!
When I went to Wal-Mart to do the shopping, I needed to lean on the cart the entire trip. By the time I made it to the check-out counter, I was dripping in sweat! I was tired of being pointed at by little kids who said "Look, Mommy, there's a really fat man!" At least some kids didn't know how rude they were, but the adults did. I was at a company golf tournament once when a bike rider rode by and yelled "Oh my God! Get out of that cart and walk!" There is no describing how humiliating that was.
Breaking Point: I was the one responsible for this weight gain, and as I edged closer to 500 pounds the time had come to do something!
How I Lost It: I had witnessed a friend of mine lose 30 pounds in three months on the Medi-Weightloss Clinics® program. I finally decided to corner her to learn about the medically-supervised program she was following and began following a low-carb diet based on real whole foods. I viewed this journey as a long, slow marathon. My initial goal was 90 pounds in 2009. In just two short weeks, on January 6, 2009, I was already down to 478 pounds.

I began the program in mid-January, working with Dr. Jeanine Cobb. The next week, I started to exercise. It wasn't much, just 15 minutes, three times a week on an exercise bike. Fast forward to the present and I take four to six spin classes a week, lift weights three times a week, and walk/jog four miles in 40 minutes three
times a week! In May 2010, I completed my first 10K since 1985 and it was as easy as 1-2-3 (1 hour, 2 minutes, 3 seconds)!
In April 2010, I was 193 pounds, which equates to a loss of 300 pounds. My waist has gone from 72 inches to 38! On October 10, 2010, I completed my first half marathon in under three hours! Just 22 months prior to that, I couldn't have walked a block. Because I was so large for so long, I switched to outdoor cycling and completed my first 100K ride in Dallas for the Make-A-Wish Foundation on October 2011.
I am proud to say I have not had a gain week or even stayed the same during the entire process! That's right, I've had a loss every single week and needless to say, the Wal-Mart trips are a breeze now -- and yes, my wife is even exercising and eating healthy with me and has dropped more than 110 pounds! I had some cosmetic surgery to get rid of a lot of loose skin. My tummy tuck took off nearly 12 pounds of skin!
I got a second chance to be able to live life and I will not let it go! Now, my meals consist of lean meats, fish, lots of green leafy vegetables and fruits, especialy berries and apple slices. And I drink about a gallon of water a day.
This journey has had lots of milestones, but one of my favorites occurred in early August 2009, when I took four large trash bags of all my XXXXL and larger clothes to the Disabled American Veterans and again in December 2009 when I took three more bags of XXXL and bigger clothes to the DAV because I am never going to need them again!
After Weight: At my lowest, I was 193 pounds. After two surgeries in the last year, I am up a bit to 221, but I am working them back off as we speak!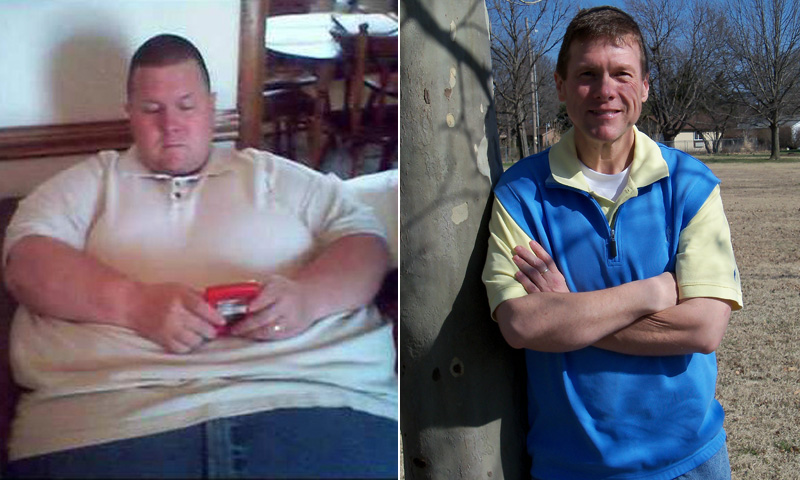 The Huffington Post publishes photographs as they are submitted to us by our readers.
Check out more of our inspiring weight loss stories below: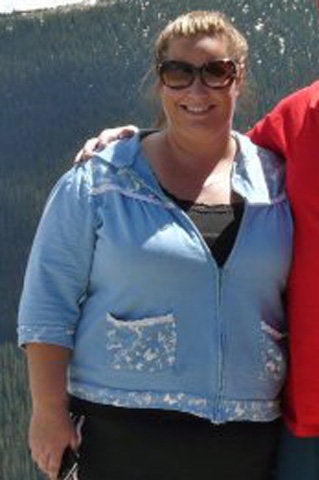 Weight Loss Success Stories
Related