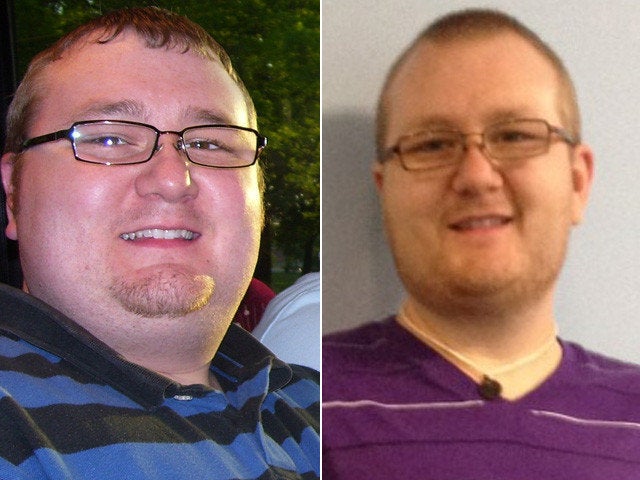 Got a success story of your own? Send it to us at success.stories@huffingtonpost.com and you could be featured on the site!
Name: John Wayne Morris
Age: 27
Height: 5'11"
Before Weight: 260 pounds
How I Gained It: I am an adopted only child, and I was spoiled rotten. My parents' unconditional love and desire for my happiness resulted in a child who could pick his own diet. What does a 9 year old want for every meal? A happy meal with a toy, of course. I can remember days ranging from young childhood through college where I ate fast food for every meal of the day. A typical weekend day in high school might go something like this: A sausage biscuit and deep-fried hash brown (or two!) for breakfast, pizza buffet for lunch (my record high count was 36 slices) and a super-sized extra value meal from the McDonald's down the street from my house (which I consumed, in the car, during the mile drive home), all washed down by several liters of full-sugar soda and not a single glass of water. It's no wonder I was over 200 pounds in high school, a very large amount of weight for my medium build and 5'11" stature. As I continued to grow and complete college and graduate school, I would try to lose weight and get down to about 240 pounds. (One time I hit 235, and I thought I was so successful then!) And then I would be right back to 260. My all-time high weight was 278. I was wearing an XXL shirt and a size 38-40 pant, and it was this way my whole adult life.

Breaking Point: After many unsuccessful tries at losing weight over many years, I finally decided that I did not want to turn 30 being overweight. I decided that after my 27th birthday (which I was celebrating by taking my first cruise to the Caribbean), I would start trying again. I did not know then, but this would finally be the successful attempt. I was done with the seven years of school I completed to earn my dual-major Bachelor's degree and my Master's Degree, I had started my career in the corporate office of a world-wide retailer and I finally had health insurance (a luxury I was unable to afford during school). It was time for a change.
I went to the doctor and had my yearly blood tests and found out that my triglyceride level was about triple the healthy level. I had always been blessed with good health, which I was very grateful to have since I did not have any means to see a physician, should the need arise. This time, I couldn't hide behind being healthy. I was clearly unhealthy, and I vowed to change that.

How I Lost It: I kicked my changes into high gear, focusing on being healthy. I knew this would be a tough journey, so I tried to focus on little changes. I started taking a multivitamin and several supplements I had read about on weight loss blogs, in health magazines and from online resources. I relied on prepackaged shakes, convenience dinners and regular snacks every two hours to boost and maintain my metabolism. I never set out to lose weight specifically. Rather, I set out to lose fat. I did this through eating a healthy amount of calories (focusing on the specific nutrients contained in them) and knew that my weight loss would be a natural result of eating like the person I should be, not the fat person I'd become. I checked my body fat and weight once a week officially, though I couldn't resist hopping on the scale at home most mornings. I couldn't believe how fast the weight poured off of me. Not only that, I couldn't believe how quickly my body fat percentage dropped. This showed me I was making the right choices, and so it was time to kick it up another notch.

I then tried to move away from preprocessed diet food and actually eat fresh foods with as little processing as I could. This was around the end of my second month. I didn't have the luxury of an open schedule, so I still needed things to be quick and convenient. This ruled out meals with several ingredients, or lots of fresh foods that don't keep very long. Through research, I determined that many frozen vegetables retain their nutrients. With this in mind, I started buying frozen vegetables and making meals centered around them. I especially enjoyed the steamer packs, because they didn't require as many dishes to wash after.

A sample day now is drastically different from my young-adult diet. I now wake up and have a full glass of water with my daily multivitamin and fish oil. When I get to work, I have an egg white omelet from the cafeteria. Two hours later I have a mid-morning snack, usually some carrots and celery or fresh berries. I have a healthy lunch, most often either a turkey sandwich on wheat with some baked chips, or a salad from the salad bar (spinach, rotisserie chicken, onion and broccoli!). In the afternoon, I have a snack, such as plain Greek yogurt with a packet of water flavor powder like Crystal Light (I know, it sounds weird! Try it and you won't regret it. No fat, little sugar and so much protein!) or a protein shake if I'm doing strength training that night. I get off work at 5:00 and go home, change and go to the gym. Immediately after my workout, I have a protein shake or other snack, such as toast with peanut butter. Later for dinner I have (for example) a steamer bag of broccoli in a reduced-fat cheese sauce (five minutes in the microwave!) and pair that with a can of all-white-meat low-fat chicken.

I also increased my daily physical activity dramatically. I started working out five days a week, even if I only had time for one 10-minute dance video. I found activities that were active, but so enjoyable I didn't consider them exercise (such as dance video games on my Kinect). I began using my iPhone and apps like Get Running and Endomondo to run and track my progress. After 50 pounds or so, I focused less on the cardio (which I always did while wearing weights) and more on strength, toning and resistance using sample workouts I found online.

I never thought I would ever be smaller than a 36, and I certainly never imagined wearing anything smaller than an extra large shirt. I now wear a 32/34 waist pant and a medium shirt. I have come to realize that I have an average/medium-sized frame, unlike the large build I always told myself to serve as a comfort for being so grossly overweight. I am able to run, and successfully participated in the Warrior Dash running series to celebrate losing 60 pounds (and being able to run in the first place!). I have always been an energetic person who enjoyed outside activity, but all the excess weight and sedentary lifestyle made those things impossible.
Now I am able to run several miles at a decent pace. I make time for activities I enjoy, such as dancing. I have recorded myself (strapped with ankle and wrist weights, as well as with an weighted belt) playing one of my favorite dance video games with XBOX Kinect and have shared these videos with my Facebook friends who provided such positive encouragement, without which I would never be as successful as I have been.
Speaking of support, I had a wonderful partner alongside for the exciting adventure: my fiancé Dru, who has lost more than 50 pounds himself. We have kept each other motivated and on track and fully supported each other. Another shining example has been my best friend Christina (featured here), who paved the way and inspired me to do the same. I never thought I would get this far, and I still have many more goals for myself. I know that through hard work and dedication, I can make what seemed impossible something I'm waving bye to in the rear-view mirror.
After Weight: 187 pounds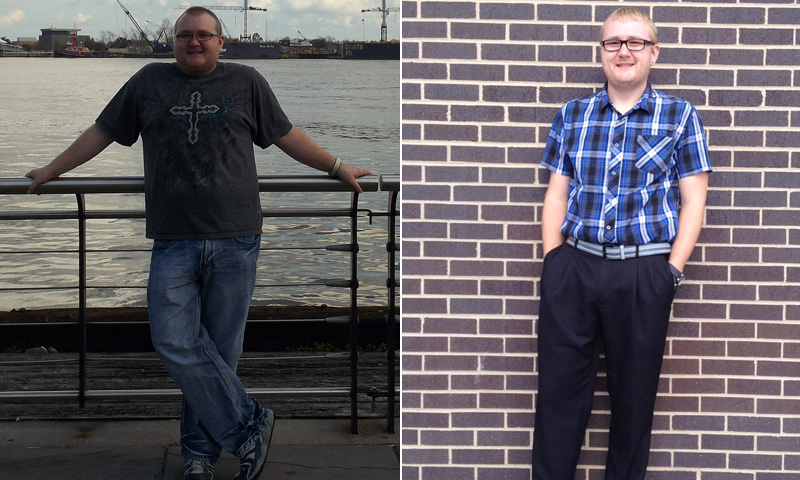 The Huffington Post publishes photographs as they are submitted to us by our readers.
Check out more of our inspiring weight loss stories below: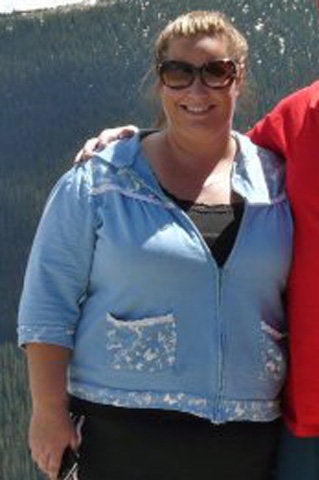 Weight Loss Success Stories
Related