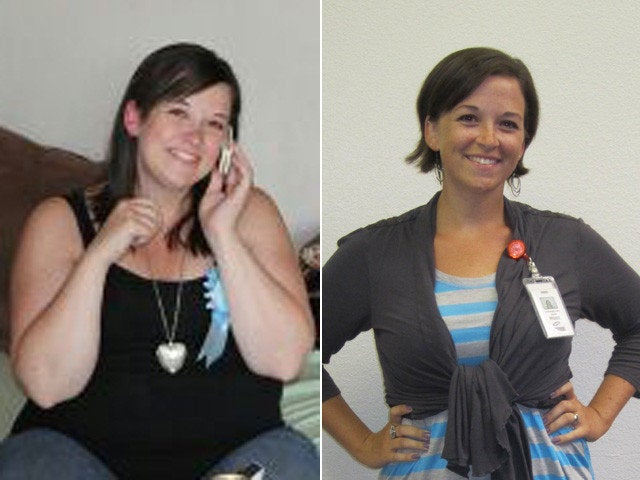 Got a success story of your own? Send it to us at success.stories@huffingtonpost.com and you could be featured on the site!
Name: Stephanie Cook
Age: 27
Height: 5'6"
Before Weight: 242 pounds
How I Gained It: I struggled with my weight my entire life. In sixth grade I'm pretty sure I weighed more than 125 pounds. In high school, I was over 200 pounds. I was always well-liked, I had a lot of friends, but I was the fat girl. I had a huge crush on the football player that wouldn't look twice at someone like me. I cried about my weight a lot, but yo-yo dieting, diet pills and no desire to work out didn't get me anywhere.
During my senior year of high school, I took my mom's Weight Watcher's books and lost 35 pounds before graduation. I kept if off for about four years -- until I got lazy and quit trying.
In 2006, I met my husband. Being in love for the first time made me want to try a little harder on my appearance. I never thought anyone would hold up a picture of me and proudly say "this is my girlfriend," so I needed to change that in my mind. I started going to Curves with my mom and my sister. Then I went on a mission trip to Papua New Guinea for a month. When I came home, I had a parasite that caused me to drop 30 pounds again. But at that time, I had turned 21 and discovered mixed drinks -- empty calories. Once the parasite was gone, and I was able to eat again, all my husband and I did together was eat and watch movies.
We were young, in love, super busy and broke. We lived in a town that is extremely hot in the summer and pretty darn cold in the winter; I was an indoors kind of person, to say the least. The day we moved to the Bay Area, I weighed 229 pounds, the heaviest I had ever been. It was awful to see that number on the scale up from the 179 pounds I had seen just two years before. I couldn't believe it. How did I let this happen? I had worked so hard, and here I was again. In San Francisco, I discovered walking, and I quickly lost 20 pounds -- then stalled out. A few years later, I gave birth to our son. With complications during delivery and a very long and painful recovery, I topped the scales at 242 pounds at Christmas in 2010. To make matters worse, while on maternity leave, we discovered that my father-in-law was terminally ill, and we moved back to our hometown to be with him. He fought his battle bravely for six long months before he passed. It was a rough time for all of us, and we all put on more weight. Between having a newborn and dealing with everything at home, we didn't often get out of the house, or off the couch, and fast food was an easy solution to most meals.
Breaking Point: Summers in my hometown are extremely hot. Having moved back from the breezy Bay Area, I knew it would be a tough adjustment, so I went out to buy some capris and shorts to help me get through my first summer back in several years. I grabbed a few pairs of shorts and capris in multiple sizes, since I wasn't sure what I was wearing post-pregnancy. I tried on about 12 different items -- not one of them fit. The breaking point for me was when I held up the size 20 shorts in the mirror and thought, "These are so huge, there is no way these are going to fit, I need a smaller size." I couldn't get them on. I sat in the dressing room that day holding the shorts and crying. I could not believe how big I had gotten. I didn't see it -- recent pictures were of my baby son, the light of my life. I didn't notice myself and how out of control my weight had gotten until that day in the dressing room. I will never forget that feeling of hopelessness.
How I Lost It: My husband and I joined the gym and forced ourselves to go at least four times a week for an hour and a half. We worked on cardio and free weights, and I complained constantly. We got to the point where we couldn't even go to the gym together because I hated working out so much and we would constantly argue about it. The first year, between going to the gym, going for long walks with my husband and son and really watching what I was putting in my body, I lost about 40 pounds.
I was feeling great, but still had so far to go. I had finally gotten some ab strength back after my C-section and was making progress with my weight loss. My husband bought me a workout game for our PS3 and we both agreed to do the nine-week program. I didn't miss one single workout in the entire nine weeks. I sweated, grunted, cursed and fell on my face many times, but I finished it. It felt amazing. I had never finished a workout program in my life. Shortly after, my husband bought me a bike. I decided to park my car in the garage and ride my bike everywhere I needed to go. I have been doing that as much as possible since April. Last week I rode 65 miles on my bike for a fundraiser in five and a half hours. I still can't believe I did it. Me, the couch potato!
I also joined Weight Watchers at work on my 27th birthday. I have lost 74 pounds in the last two years with hard work, diet and exercise. I still have about 26 pounds that I would like to lose so that I can say I lost 100 pounds without surgery. I want to be healthy enough to be an egg donor. I also want to feel like a sexy wife, and a mom my son would be proud to point out in a crowd. The biggest reason of all: I wanted to have energy to play with my son. It feels amazing to be where I am, to know how far I have come from that sad girl in the dressing room. I hope one day my son will read this and be proud of me. I am proud of myself. Every pound lost is a victory for me.
After Weight: 168 pounds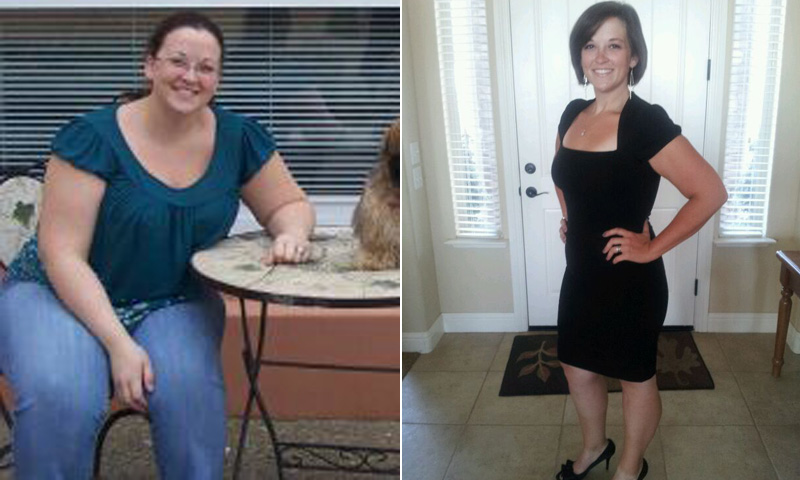 The Huffington Post publishes photographs as they are submitted to us by our readers.
Check out more of our inspiring weight loss stories below: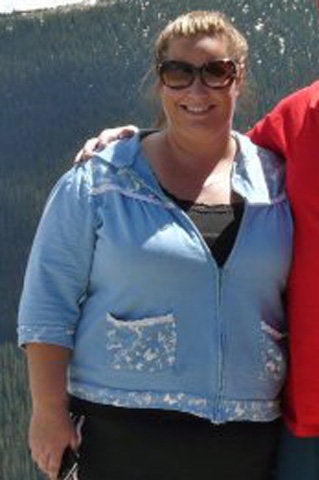 Weight Loss Success Stories
Related