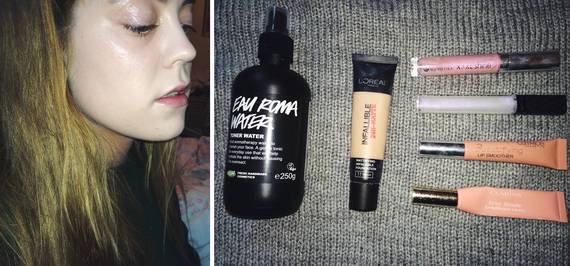 Sometimes in life it's reassuring to be shaken up, surprised and realize that perhaps you don't truly know yourself at all. And it doesn't happen very often. Normally, in my experience, my preconceived ideas about things often line up to their reality. I feel like a disenfranchised youth at the same time as being an unshockable old hat, the worst of both worlds.
So what on earth was going through my mind when I bought the L'Oréal Infallible 24hr Matte Foundation? For one thing, I have been snobbishly adamant that cheap foundations mean denying oneself of what is truly the best -- a travesty. Cheapness is for glitter eyeshadows and neon lipsticks (and, let's face it, most everything). Foundation was my one undeniable luxury, my every day assertion that I was a proper grown up. Sure, there are cheaper options I would toy with, but nothing that could honestly hold a torch to my beloved Giorgio Armani Luminous Silk.
And that's the other key word here: luminous. I am of the mindset that skin looks best when it's glowing like the sun. Or shining like you've just completed a Fitness Blender Best Butt Workout to Build a Booty -- whichever. I'm of the mindset that the best distraction from less-than-perfect skin is not to conceal, but to blind. If the light is literally reflecting off your "problem areas," then surely it is deflecting attention from them, right?
Well, don't take this as me admitting I was wrong, because trust me, I never, ever will. And this isn't a neat story with a turnaround ending, because I do still think that glowy (shiny, greasy, sweaty, etc.) is the best way for a face to look -- young and carefree and full of energy. But, I did learn a valuable lesson: a cheap, matte foundation doesn't mean a sacrifice of all that is luminous.
For one thing, my natural face has a hint of sheen about it -- it's called sebum or something, read a book once in a while guys. That tends to undermine the mattifying effect from the get go. If you're a drier woman (or man) wanting to shine like the star you are, try priming your face by spraying rosewater -- the Lush Eau Roma Water is a good one. I like to sandwich the foundation between two layers of the stuff, keeping the nice coverage in a sandwich with bread of shiny face spray. Also, there is something that feels both ridiculous and ridiculously fancy about misting your face with "special" water.
Then, to further combat the malevolent matte skin, everywhere that can reasonably be so should be extremely glossy. Eyelids, cheekbones and lips are all valuable soldiers in the war on matte. Because I tend to enjoy using things in unintentional ways you can pretty much use one product for all three here. I am a longstanding proponent of the Clarins Instant Light Natural Lip Perfector, but the Catrice Beautifying Lip Smoothers are a nice cheap copy and for a true alienesque greasy glow an iridescent gloss like the Revlon Lip Gloss in Crystal Water or Essence XXXL Shine in Rising Star work perfectly. If you want to ask me if it's necessary for one girl to own this many lip glosses, I will only reply with "shh." So smear gloss on all your "high points" and rejoice as your face sparkles once more.
Now you might well ask me: why bother with this mattifying foundation if you are determined to undermine all of its good work? Well, I'll tell you. Because this foundation is £7.99 (probably even cheaper in the states, and certainly in a better color selection) and is in no way bad. It lasts really well, feels lightweight and comfortable, doesn't look cakey and layers well. It also comes in really great packaging (light squeezy tube, not heavy and smashable glass). If matte is your bag, then this foundation will be up your alley. But if (like me) it's not, rest assured -- you too can enjoy the novelty of a cheap foundation which feels super-expensive. And isn't that in itself a kind of luxury?