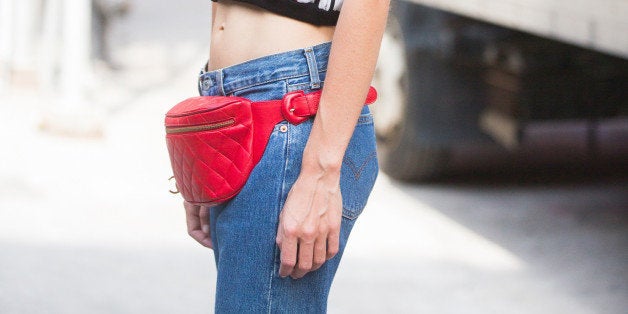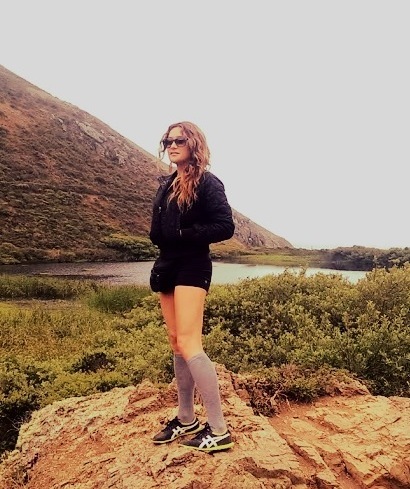 I surely appreciate the little things in life. Currently, I am appreciating seeing fanny packs adorn the waist bans of the most fashionable. With all the horror occurring in the world, I figured an article about fanny packs couldn't come at a more appropriate moment. I also want some good old validation. It's been an exhausting two years, desperately trying to convince my friends that fanny packs are "in." I've put up with cackles and criticisms from these fashion bullies. Gone are the days where fanny packs are only being worn by overachieving triathletes, Canadian tourists and bohemian inspired attendees of music festivals. No. no. no. Fanny packs are being seen on the high fashion streets of New York, London, Paris and Milan. Luxury designers like Hermes, Prada and Chanel are selling Fanny Packs, one for over $4,000.
This is a moment in fashion, where we all need to appreciate and take note. Rarely in the world of high fashion does a trend have both a utilitarian and stylish component. Our love of fashion has caused us to wear seven inch razor heels, even knowing the unfortunate future of our feet and lower backs. Our passion for style can be selfish. We all know 7-inch heels slow down a night, because you are walking at the pace of a snail, and a taxi won't drive less then 10 blocks. But in our self centered love of fashion and art, we suffer and so do those around us.
In doing research on the aforementioned latest fashion obsession, I learned that the "fanny pack" was actually named because it was intended to sit on the fanny. But the fanny pack was not worn on the rear when it gained popularity, because no one wants to make it easy for a pick-pocket. And in other countries "fanny" means "vulva," so for obvious reasons, another term is used.
Personally, I have re-branded fanny packs, and from this day forward I will only call them "vulva packs" -- please join me in this movement.
This accessory has quite the reputation, and not such a "hip" or "high fashion" one. This is why the resurgence of the fanny pack has been re-born with an intentional metamorphosis, created by fashion industry insiders. This re-branding has given life to new names for the fanny pack, such as "hands-free bag" or "belt bag." Many of you not in the thrust of the fashion scene are unaware that fanny packs have been slowly and calculatingly re-entering high fashion since 2012. The "major" designers (do I sound all Rachel Zoe?) strutted models down the runway sporting these bad boys. Now, two years later, the mainstream is getting a taste. And finally my friends will believe me!
The fanny pack will benefit all of us who fall below, above, or somewhere in between the fashion spectrum, and this is why:
Men itchy from a bad case of jock itch? No problem. Wear that fanny pack and keep looking for your keys.
Bloated? No problem. A fanny pack will hide your tummy.
Been slacking on those Brazilian butt lift videos? No Problem. Wear a fanny pack backward, it will give the illusion that you ARE Brazilian.
Camel Toe? No problem. Throw on a fanny pack, and your secret won't be exposed. 
Not in bikini shape? No problem. Fanny packs come in large sizes. Throw that baby on with your bikini, and you will look like a high stylin' beach babe, all while concealing a jiggly tummy.
Are you a man? Do you need a place to put your phone, wallet, keys... maybe some chapstick? You can actually wear a fanny pack, and not look like a total douchebag. 
*Men who are not fashionably inclined, please ask for help from your stylish friends. And when in doubt, always wear the fanny pack backwards. 
Muffin Top? No problem. Wear that fanny pack to the side, or find a fanny pack that has two side pockets for the full conceal.   
Don't appreciate close contact? No problem. The fanny pack creates a tangible boundary with anyone who likes to "hug it out."
Always looking for mints or gum? No problem. a fanny pack gives you direct access.
Don't want to look like a hunchback? No problem.  A fanny pack will rid you of your heavy weight bearing bag, and you won't need to slouch.
Tired of holding your mans wallet? No problem. His wallet won't fit in your stylin' fanny pack, and like I mentioned, he can get his own fanny pack.
Sex Change not entirely complete? No problem. Wear that fanny pack low, and no one will notice.
Plumber's Butt? No problem. A well-fitting fanny pack will avoid any future butt-crack situations.
Emergency bathroom situation and long line at public restroom? No problem. Conceal that fanny pack under your shirt, pregnant women can skip the line.
Have lots of cash? No problem. Chanel, Gucci, Prada and hipper designers that charge even more, are all creating gorgeous fanny packs, at sky rocketing prices.
Strapped for cash? No problem. Etsy, eBay, Urban Outfitters, etc., have cool and reasonably priced fanny packs for all the stylish people.
Love to Juggle? (well, who doesn't?) No problem. Those balls will fit in your fanny pack, a long with some other magic tricks -- which of course will make YOU the life of the party.
Want to shake your booty on the dance floor? The fanny pack comes in handy two-fold in this scenario. One, keep all your essentials with you, including chapstick for those parched lips. Stolen wallet? -- Won't happen. Two: Keep those cheese balls from getting close on the dance floor "fanny pack" distance away.
I think I've given you many, many reasons to run out and purchase a fanny pack. And be warned, it's unusual to see a trend that has such a cool reputation on the streets, but is still worn by those who have no idea the fanny pack was ever out of style, don't let those people stop you from making a well thought out fashion decision... believe me when I tell you, fanny packs are COOL!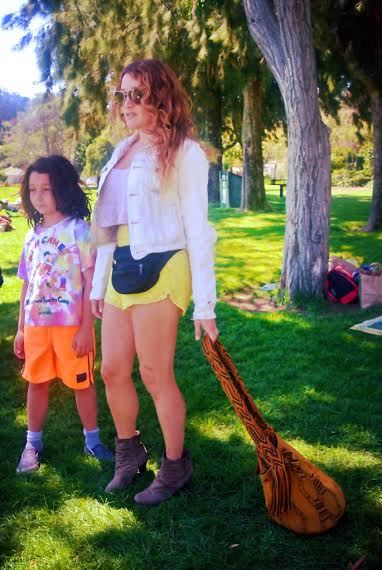 Calling all HuffPost superfans!
Sign up for membership to become a founding member and help shape HuffPost's next chapter