Ina Garten has her brownies; Martha Stewart has her sugar cookies; and my mother-in-law has her chocolate cheesecake cupcakes. My friend Penny has her mandel bread; my mother's friend Suzi her lemon square; and my friend Lisa her banana cream pie. Me -- well I have my chocolate chip cookies.
I first discovered these cookies years ago while visiting my Aunt in Savannah, Georgia. After a day spent together shopping, talking and laughing we headed to the Back in the Day Bakery and thoroughly enjoyed the cookies fresh and hot out of the oven washing them down with iced coffee containing just the perfect splash of milk. Not long after my first taste of Cheryl Day's cookies, the extremely talented and fun-loving bakery owner came out with her first cookbook -- aptly named The Back In The Day Bakery Cookbook. My Aunt sent me a signed copy of the book, and I immediately turned to the chocolate chip cookie page.
I started off making them for special occasions -- a birthday party, a dinner party or a holiday. As I became more comfortable with the recipe, I started to make them more and more, no longer needing an occasion to pre-heat my oven to 350 degrees. They soon became a staple in my house for my family and friends and really for anyone who came by the house. (True story that my friend's son stopped by our house recently to borrow a water pitcher for his mom and requested that I leave some of the cookies at the front door. I did.)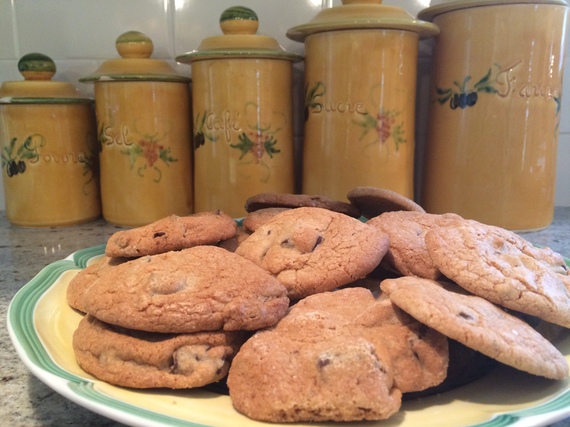 The cookies can almost always be found in my freezer, on my counter top and some days in Ziploc Baggies inside my kids' school lunches. The Back In The Day Cookbook now naturally falls opens to the chocolate chip cookie page due to the weight of smeared chocolate, grease stains and caked on flower that have become a part of the book and reminders of the love I have for these cookies.
I love the simplicity of the cookies -- a throwback to the good old days of after school milk and cookies but with a modern twist (hint -- it's the sea salt that I sprinkle on top before I put them in the oven.) I love that these cookies always bring me back to the many fun filled days of shopping with my Aunt and remind me of my late mother who never met a chocolate chip cookie she didn't love.
I love that when I'm making the cookies, my kids stop whatever they are doing as they sprint into our kitchen to grab a spoonful of the cookie dough (salmonella be damned) before I scoop the dough, packed tablespoon by tablespoon, onto the cookie trays.
I love that when my husband takes a bite out of one of them, he says with his dry sense of humor that "you can say whatever you want about my wife, she makes a damn good cookie."
I love that when frequent visitors (everyone from my seven year old nephew to my 70-something year old father) come to my house, they sneak a peek in my freezer when they think I'm not looking to grab one of the cookies that they know will almost always be there.
I love that when I am invited to someone's house, I'm asked to bring the cookies, and I gladly comply. I don't think my book club has ever met without a plate of the cookies before us. At this point I can practically make the cookies in my sleep and some late nights or very early mornings have almost done just that. For me at least, there's nothing better than eating a warm cookie fresh out of the oven accompanied by a hot cup of coffee in my favorite mug before anyone in my family is awake. It's my own breakfast of champions.
I love that no one seems to think about calories when they eat the cookies, and that they contain the most simplest of ingredients so that even those people with nut and some other allergies can enjoy them (including my son's friend who years ago, as soon as he could read, scoured the pages of the cookbook to make sure he could take a bite.)
I love that when someone I love is feeling sad or just not 100 percent, that I can bring them the cookies and just for a minute they can feel a tiny bit better or at least feel distracted by the crispiness on the outside and the chewiness on the inside of the homemade treats.
I love that many friends have asked me for the recipe, and I gladly forward on along with my own notes and tips, which I've developed over the years. I never understood those who guarded their recipes locked up like some sort of state secrets.
There are many ways to show love -- a hug, a kiss, a kind word or deed. For me it's in my cookies. So here it is -- my treasured recipe. Help spread the love (and the cookies!)
Support HuffPost
A No-B.S. Guide To Life
Related
Popular in the Community