Al Lewis was one of the most recognized entertainers of all time. He was best known for his character Grampa Munster.
Al was the comic genius behind The Munsters which aired 72 episodes from 1964-1966. Previous to that, he played Officer Leo Schaunser in Car 54 Where Are You? over 44 episodes between 1961-1963. How in only 116 total episodes did he engender adoration from fans all over the world for over half a century?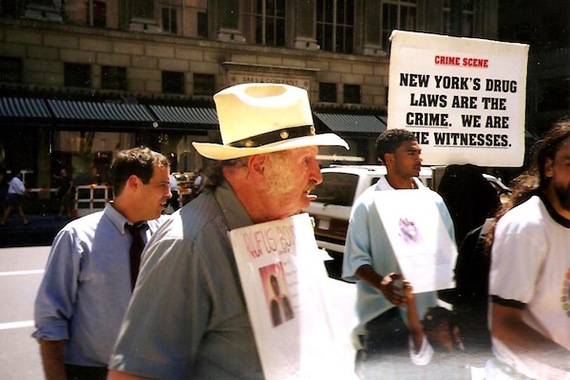 Al Lewis demonstrating against the Rockefeller Drug Laws at Rockefeller Center. Photo courtesy of Karen Lewis.
Spoiler Alert "LOVE." Al loved people, his work -- and most of all his fans. Al was fiercely loyal and brutally honest. He had over-the-top integrity that could infuriate people. He was brilliant, ahead of his time, and stubborn beyond belief. He lived life large and generous.
In her memoir I Married a Munster! My Life with "Grandpa" Al Lewis, his wife Karen Lewis describes how a host of people changed their lives for the better because they had the good fortune of crossing paths with Al.
In this new book you will read about the love affair between Karen and Al and the love these two people had for others.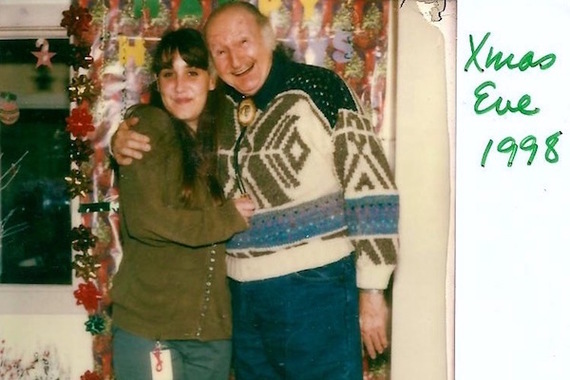 Al Lewis with an inmate incarcerated at Bedford Women's Correctional Facility under the Rockefeller Drug Laws. Photo courtesy of Karen Lewis.
You will have to read between the lines to understand how truly amazing these two people were together. These are two people who quietly devoted their lives to the service of others with unparalleled modesty. Unlike many other "celebrities," you will find that Al would support causes that he believed in and would lend his "name" to make positive social change.
After running for Governor of the State of New York, Al embraced the inequities of the Rockefeller Drug Laws and championed their removal until they were repealed. More remarkably, Al and Karen were feet on-the-ground and impactful. They visited every prison in the State of New York and mentored prison inmates.
Prison rights advocate Tony Papa writes is mentioned in this memoir because he was usually at rallies with Al. He told us:
After serving 12 years in prison for a non-violent drug crime, Al Grandpa Lewis took me under his wing and taught me the ropes about life and activism. Working with Al gave me the tools I needed to get the asses and the masses in the street to reveal and fight for the important issues that affected all of us.
We reached out to Elizabeth Gaynes, executive director of The Osborne Association working with inmates and their families across New York State. Liz said:
Although I did not know Al Lewis personally I knew he was a beloved prison volunteer. It is so important for "public" people to enter our prisons and give hope to those beyond the walls -- walls that are there to keep the public out as well as to keep the prisoners in.
We knew Al well as he lived and relaxed on Roosevelt Island in the heart of New York City -- where we also live. We also followed him to Manhattan when he opened the restaurant "Grandpa Munster's." He was known for smoking his cigar, befriending children, and hosting a radio show on WBAI.
Al had a finely tuned broken heart detector and compassion and empathy for people that you rarely find today.
Al lived a life of love and that is why we loved him back. You will learn to admire Al and Karen two incredible people whose lives were full with honor, character and integrity.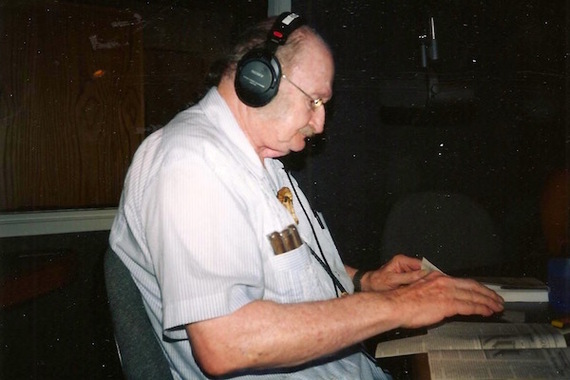 Broadcasting from WBAI for his weekly Public Affairs program,"Al Lewis Live!" Photo courtesy of Karen Lewis.
Will you receive the deep message of love and joy from this inspiring memoir? It may be hard in this current climate of made-up reality and "celebrities" who use their fame to abuse women and shock us by outrageously inappropriate treatment of others.
If you are looking for inspiration on how to live an authentic life, you will find it by reading this book.
With community organizer Lynne Strong-Shinozaki. Co-published in The Stewardship Report on Connecting Goodness.
Calling all HuffPost superfans!
Sign up for membership to become a founding member and help shape HuffPost's next chapter