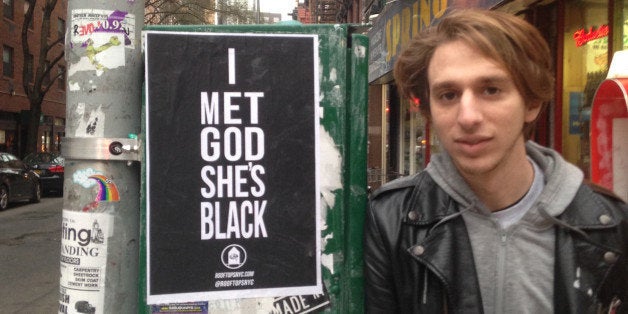 Renaissance artists painted God into their own cultures, often giving him the white skin and flowing golden hair of a European aristocrat.
But that traditional image has been challenged by many over the centuries. This age-old question is now picking up steam on Facebook, particularly in the light of the #BlackLivesMatter movement.
Dylan Chenfeld, a self-described Jewish atheist, is throwing his ideas into the mix.
"I Met God, She's Black," Chenfeld says in posters that he's allegedly pasted all over Manhattan during the past few days.
The 21-year-old doesn't claim to have invented the phrase, saying the trope has existed for quite some time. He's just the one who decided to put it on a $30 T-shirt.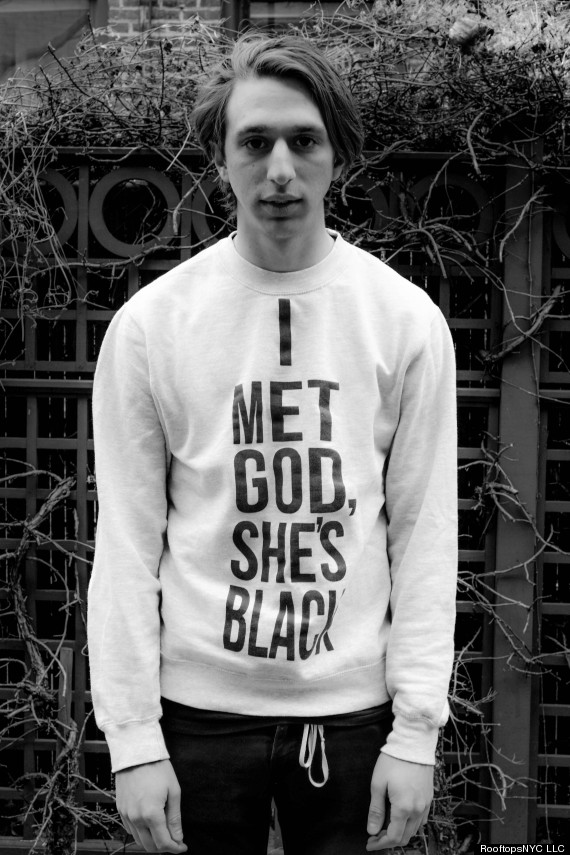 In fact, William P. Young, author of The Shack, pictured God as an African American woman named Elouisa. Black feminist Ntozake Shange, in her poem "For Colored Girls Who Have Considered Suicide When The Rainbow is Enough," says, "I found God in myself, and I loved her fiercely."
But what does an Upper West side-raised Jewish guy have to do with all of this?
The slogan has certainly become a source of business for Chenfeld. When he initially started printing the shirts about one year ago, he says many of his buyers were white. He's also gotten celebrities like Drake and Cara Delevingne to be photographed wearing his shirt.
"I like poking fun at sacred cows," Chenfeld told HuffPost. "I'm taking the idea that God is a white male and doing the opposite of that, which is a black woman."
Although he's trying to make money from the campaign, there also seems to be a spiritual side to his motives. Chenfeld said that, compared to the other members of his Jewish family, he was always the one asking more questions about what God is really like. His grandparents are Orthodox Jews, he says, who follow a conservative strain of Judaism that doesn't allow women to have a bat mitzvah.
"Sometimes when you get really religious, it becomes sexist and that's when I tap out," Chenfeld says. "And that's why I've never been a super religious person."
He says he stepped away from Judaism and all organized religion after his 13th birthday. He's hoping his shirt will help people question the image of God as a white male.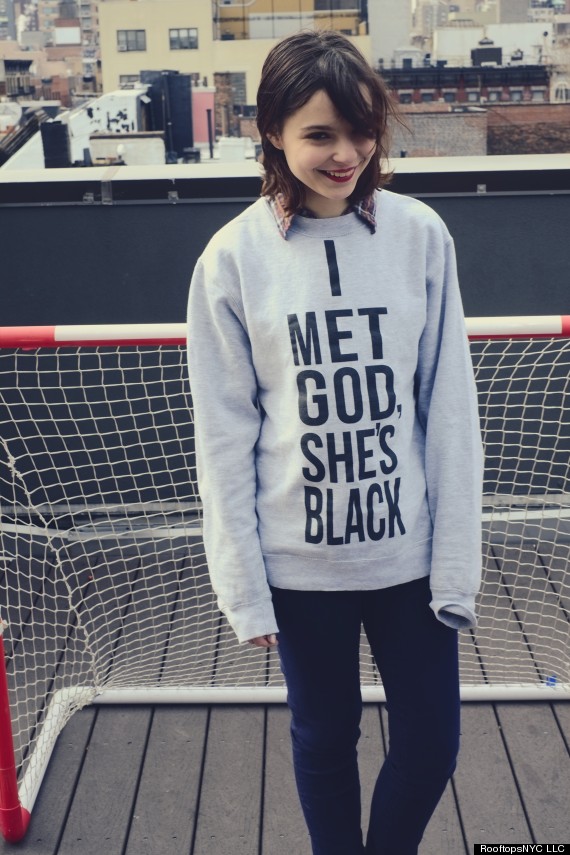 But he wasn't expecting his products to become swept up into the #BlackLivesMatter movement.
The shirt's message actually speaks to a deep desire for people to see God in their own image, says The Rev. Dr. Jacqueline J. Lewis, a Senior Minister at Middle Collegiate Church who has been involved in protests against Eric Garner's death at the hands of the NYPD.
In the Abrahamic traditions, God introduced God's self to Moses by saying, "I am who I am." God is too mysterious to truly know, so we make God accessible to ourselves by conjuring, imagining, speculating, and guessing. . . How we image God helps us to image ourselves. There is power in thinking of God as a little like us, just as there is power in thinking of ourselves as a little like God. It does not change the fact that God is mystery, it just makes God more accessible. Though God has no race or gender, Jesus had both. Claiming the Afro-Semitic ethnicity of Jesus the Christ has been powerful for me as a Black woman, a wife, a daughter and a clergy.
After protests in support of #BlackLivesMatter erupted across the country, Chenfeld says that he's gotten an increased interest in the shirts, seen through interactions online, but that this hasn't necessarily translated into increased sales.
Even if it's a Jewish atheist behind the business, Lewis says that doesn't dismantle the good outcome.
"It's important for people to keep the contemporary conversation going about who God is, what God wants and how we relate to God," Lewis told HuffPost. "The good outcome is if some black child somewhere bumps into it and goes, 'Well maybe. . . maybe God's not an old white guy and if so, what does that say about me?'"
What do you think about the shirts? Tell us in the comments below.
Support HuffPost
The Stakes Have Never Been Higher
Related
Before You Go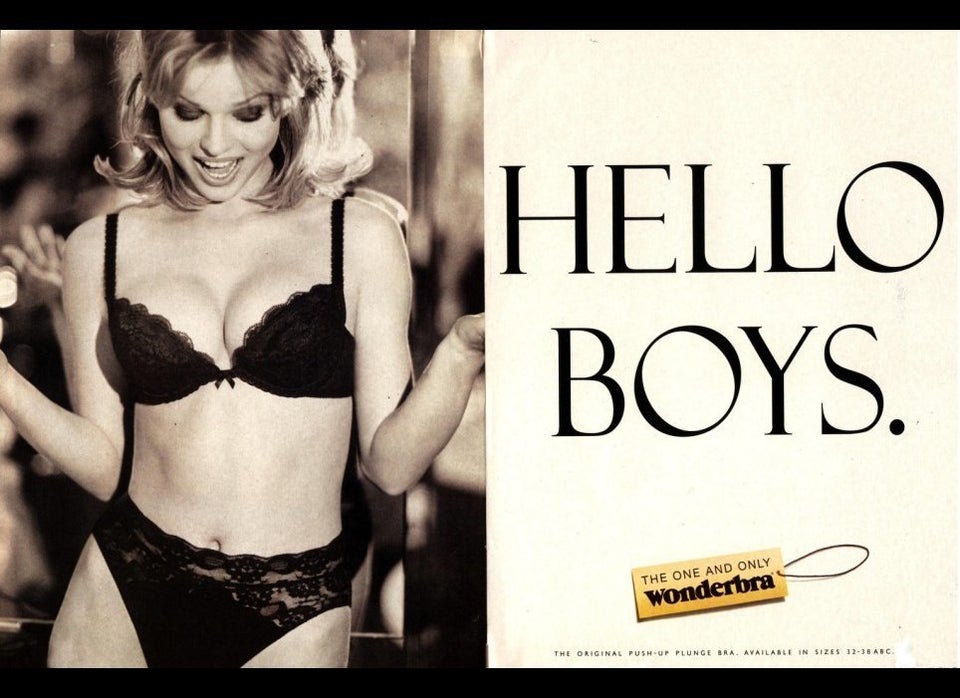 100 Ads That Got People Talking
Popular in the Community