Move kindly through life, remembering that everyone is fighting their own battle within.
Be grateful that life is temporary, for that is precisely what makes it all so precious.
Enjoy goosebumps, déjà vu, dreams and chills up the spine which remind us of the magic in the world.

When something happens and you want to call it a coincidence, stop and ask yourself, "What if it's not?"
Say thank you to the dreamers of the world, who drag the rest of us kicking and screaming into a bright new future.
In the hustle and bustle, and the comings and goings, pause often and tell your heart to stay calm, like an undisturbed pool of water in a sacred land.
Bring with you a smile, always ready to share, for it cannot be lost, but you can certainly spread it.
Remind yourself of the pain of another, so that you can appreciate your blessings and feel compassion for them.
Cherish your fond memories, recall them often and nourish them, letting them grow and dominate the garden of your mind.
For memories you wish to forget, take their lesson and release them to the winds of time.
See a mountain and visit the ocean to let your heart learn what it means to be humble.
Take it upon yourself to mend at least one person's broken dreams.
Gently, yet firmly, insist of yourself to always strive to be better.
Raise a pet and learn from it a new kind of love.
Take the time to understand what it means to practice kindness and patience, and actually set about practicing it until you become a pro.
Never forget all the things that were paid for you as a child, the food and water, the doctor's visits, education and transportation you enjoyed.
When others come at you with anger and impatience, see them as they really are: your teachers of calmness and poise.
For every pimple, scar and imperfection, be grateful that you have a face and body on which they can appear.
Never forget that, like every flower, tree, animal and insect, you are completely unique and there will never be another you, and that alone means you are incredibly beautiful.
Look at images of far-off galaxies, and smile knowing that, in the grand scheme of things, we are but a grain of sand within a grain of sand, and no problem could ever truly be considered big.
Understand that strength means taking your place in the driver's seat of your mind, not shoving another person to the ground.
When problems and difficulties threaten to knock you off balance, remember that they often come just before great opportunities.
And if your desires and wishes are thwarted, be grateful, for often something better is waiting for you just around the bend.
When you get knocked down, remind yourself that getting back up again is the beautiful virtue of persistence, which is rewarded in life.
Whatever work you do, when you are doing it, do it well and with love, for it is in those moments that magic happens.
When those you love leave you behind, say thank you to the universe for making them so special that it hurts to lose them.
Be good to others, be useful and giving, so that when it is time for you to leave this world, you will leave gently and mellowed like a setting sun.
And, despite all the pain and struggle, fear and shattered dreams, there is an abundance of beauty in this world. Seek to find it and clothe yourself in its comfort.
Pursue your dreams, take bold risks, explore, adventure.
Have it make a difference that you have lived and demand of yourself to build a happy life.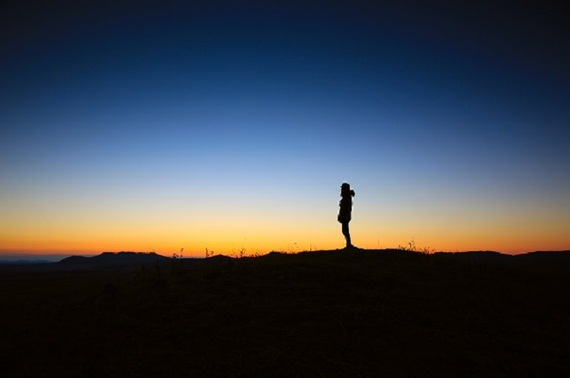 HuffPost's GPS for the Soul app is based on two truths about human beings. First: We all have a centered place of wisdom, harmony and balance within us. Second: We're all going to veer away from that place, again and again and again. What we need is a great course-correcting mechanism -- a GPS for the Soul -- to help us find our way back to that centered place, from which everything is possible.
Because no one knows better than you what helps you de-stress and tap into that place of peace inside yourself, it's important for you to create your very own GPS guide -- a personalized collection of whatever helps you course-correct. Email us at GPS@huffingtonpost.com and we'll set you up with your very own HuffPost blogger account to share your guide on the site. If you're already a blogger, we encourage you to upload your personal guide today. We can't wait to see what you have to share.
Related