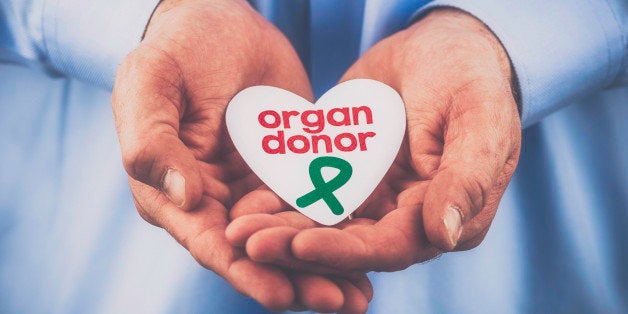 April is Organ Donor Awareness Month, and April 15 is National Blue and Green Day for honoring those who have donated organs.
Most of us don't like to think about death, or grief, or anything connected to them. We feel uneasy being in the same room with a dead body. And if that dead person is someone we loved, then we might not be able to look at the body at all.
As squeamish as it feels to some, and horrific to others, donating the organs of a loved one can be a sacred act, because we are giving life to people who have run out of options. Without the organs, they will die.
And we are the ones who decide which it will be.
Although donating the organs of a loved one may be the logical decision, it may not be the right decision for us. Emotionally we may not feel comfortable with it.
Unfortunately, many of us don't know how we feel because we haven't thought about this option, so when someone we love dies unexpectedly in an accident, and people come and ask if we want to donate, we don't know. In that moment we are so overwhelmed by the blunt force trauma of death that we really don't know what we think. We are probably in shock and find it hard to make any decision. But this is one decision that has to be made now because organs are delicate.
The decision to donate organs should be made ahead of time because then we have time to see how we feel about our choice, and can make changes if we want. And if the unexpected should happen, then we're set, and our families don't have to go through the anguish of deciding. They can simply follow our wishes.
We're not going to need our organs after we die.
Evelyn and I talked about donating our organs. I think she saw a public service announcement and felt that it made sense, so we both signed our driver's license cards for organ and tissue donation. Ten years later, when she died suddenly in her 40s from an unknown heart problem, I knew what she wanted and respected her decision.

"Four people are alive today because of her organ donation."

Fifty others had the pain of their burns eased because of her tissue donations, and someone has sight because of her corneas. In addition, hundreds of their family members and friends were spared my grief because of what Evelyn did.
The need for organs is great in the United States. Only half of the organs needed are donated, and thousands of people die while waiting. The sad part of this is that many people are willing to donate but don't get around to setting things up. Or if they have decided, they neglect to tell their families.
Every day people die who do not expect to do so.
I am not asking you to donate your organs. I am asking you to take a few minutes after you finish reading this and think about whether this is something you might like to do. If you decide to donate, tell your family. Then do what you need to do to register as a donor in your state.
Knowing that part of Evelyn is still alive and walking around in four women brings me a great deal of comfort, as does the thought that I might meet them one day.
This post is part of Common Grief, a Healthy Living editorial initiative. Grief is an inevitable part of life, but that doesn't make navigating it any easier. The deep sorrow that accompanies the death of a loved one, the end of a marriage or even moving far away from home, is real. But while grief is universal, we all grieve differently. So we started Common Grief to help learn from each other. Let's talk about living with loss. If you have a story you'd like to share, email us at strongertogether@huffingtonpost.com.
Related