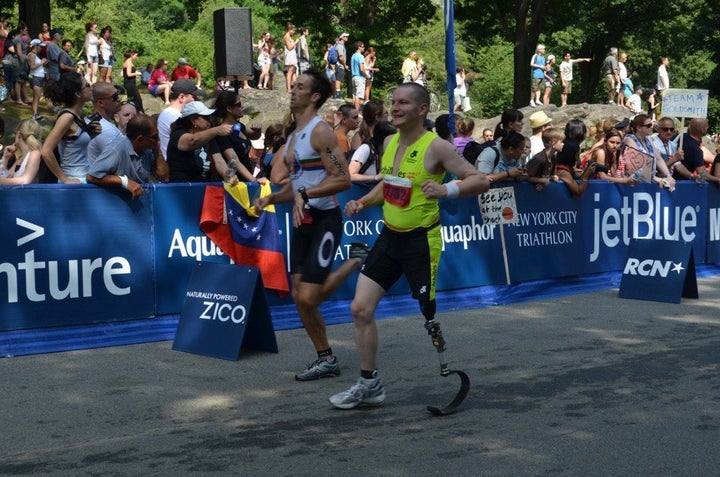 After one too many dead fish and cigarette butts smacked me in the face while I swam in the New York City Triathlon Sunday, I decided to shut my eyes.
For that brief moment, I managed to block out the Hudson River's slimy debris, but I also started veering off course in the direction of New Jersey. When I jerked my eyes open, I was actually relieved to see the brown murkiness again, but I started to think about my blind teammates. I wondered how they were faring racing against the choppy waves in complete darkness.
I spent a couple of months training for this grueling endurance event with a group of athletes who aren't interested in what they "can't" do. Allan Tyson became visually impaired after a bike accident landed him in a coma for seven weeks. John Young, who is a dwarf, was told not to run because it may hurt his spine. Bill Longwell's physical therapist scoffed when he talked about completing a triathlon soon after an IED shattered his foot.
But despite their physical or intellectual disabilities, 12 brave racers signed up to swim a mile in the Hudson, bike 26 miles up and down the West Side Highway and run a 6.2-mile hilly course in Central Park.
I decided on a whim to get involved with helping these incredibly driven triathletes realize this goal.
Each time I passed pairs of able-bodied and disabled runners clocking in miles in Central Park, I was always inspired to jog a little faster. When I learned that the duos I saw on Tuesday nights were part of Achilles International, a nonprofit that trains people with any disability, for any endurance sport they want to try, I decided to check it out.
I joined them for the first time one evening in May and was matched up with Billy Lister who is paralyzed on his left side. Within minutes, I was panting as we reached an 8.5-minute mile pace and he was already busy recruiting me for the organization's triathlon program. As Billy introduced me to the group's regulars, I debated whether I could prepare for the race in just two months and raise the $2,000 required of the organization's charity entrants.
My decision was solidified once Lamar Brown, who's blind, made the situation very clear. "We can always use an extra eye, leg or arm," he said.
I had grand visions of my motivating athletes to pump harder and faster (with "Eye on the Tiger" blaring in the background, naturally) and us finding extra time to work out together side-by-side outside of regular practices.
Throughout training, I certainly had some moving moments.
I served as the eyes of blind swimmers who needed someone to make sure they didn't hit the wall at the end of the pool. When a racer with intellectual disabilities lingered at the side, I encouraged him to keep going. When a legally blind athlete told me she hadn't been in a steam room in years because she couldn't bring her service dog in with her, I found someone to watch him so we could both take some time to relax.
But as race day crept up, the coaches urged me to take advantage of the pool time to focus on my own stroke. I needed to build up my endurance and refine my skills just as much as every other athlete did.
Soon, I was suiting up and adhering to the coaches' drill orders along with everyone else. We worked out with kickboards and strengthened our arms by immobilizing our legs. We traded tips on how to grow some "cahones" to let go of our fears and speed up on the steep downhills. Together, the guides, charity entrants and athletes with disabilities, were figuring out how we were best going to tackle this race and finish it looking good.
The experience became less about one person guiding another, and more about a group of ridiculous risk takers just trying to feel the exhilaration that comes with feeling your heart thump as hard as it possibly can against your chest and pushing your body to the limit and then pushing it even further than that.
When race day finally arrived, I was disappointed to learn that the athletes with disabilities were scheduled to jump in the water about an hour after my age group. I had pictured us soaring through each portion of the event as one hot fluorescent yellow force, high-fiving and cheering each other on the whole way through.
But once the triathlon got going, and I heard fans calling out for Achilles as I raced by, I realized that, perhaps, it was better for us to have been scattered on the course. Throughout the five-plus hour event, hundreds of spectators had the chance to gradually take in a spectrum of bodies sporting the same exact uniform. We couldn't look any more different from one another, yet we belonged to the same group that met the same physical challenges.
Eliza Cooper, who is completely blind, had to fix three flat tires with her guide as the sun blazed against her back, yet she never considered giving up. John struggled with searing back pain as he ran, but he kept pushing forward. My chain fell off at the outset of the bike portion, and I still kept my hands off of my brakes while going downhill even though I was scared out of my mind.
Eventually, the entire team -- 12 athletes with disabilities, four guides and 10 charity entrants -- made their way across the finish line.
I would like to think that while in the midst of completing such a daring feat, we also demonstrated that no one is without a weakness. No one is without a limit that she's scared to confront. But no matter what our challenges are, we all deserve the chance to feel our feet pound against the ground, the wind slap against our faces and the sweat pour uncontrollably down our cheeks while we compete together on the same playing field.
PHOTO GALLERY
Building A Playing Field For Every Athlete
REAL LIFE. REAL NEWS. REAL VOICES.
Help us tell more of the stories that matter from voices that too often remain unheard.