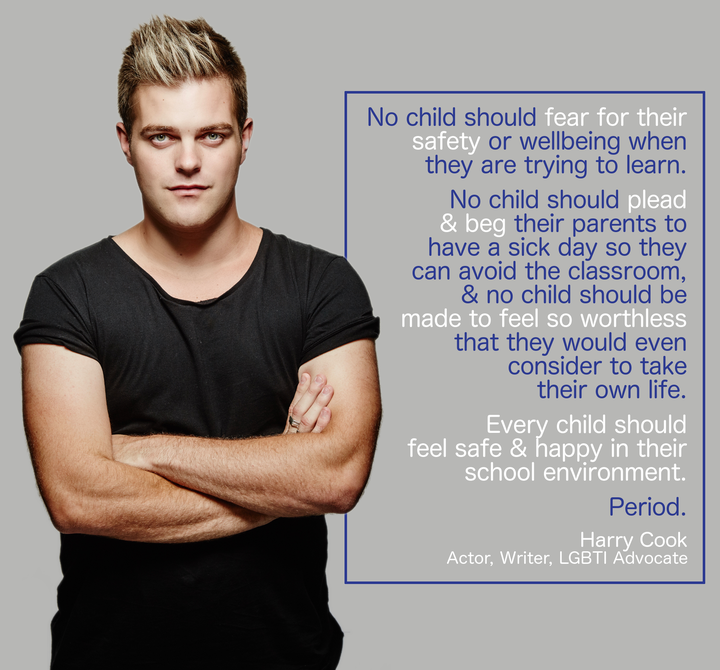 I don't remember a day at school when I wasn't genuinely terrified.
I had constant neck ache from looking over my shoulder and a feeling of dread in the pit of my stomach every morning before I caught the bus in.
By the time I was 15, I had heard every name in the book: "fag", "poof", "sissy", and a bunch of others that I'd rather not write down. I had been spat at, beaten up, and even told by my school counselor to consider moving to another school or TAFE institute because I obviously just "didn't fit in." I was one of many who, due to my sexuality and love of show tunes, just "didn't fit in." 
This is an epidemic of bullying that is yet to be addressed properly. The Australian Covert Bullying Prevalence Study reported that 1 in 4 students reported being bullied every few weeks or more.
LGBTQ youth are more likely to be bullied, and 14 times more likely to attempt suicide than their straight peers. But still, there is no ongoing national program to address these issues. My biggest question to our government is why is there no ongoing national program?
Why are there no national standards and resources for training teachers in how to deal with bullying and prejudice against LGBTI students? Why are there no model schools policies or classroom programs targeting anti-LGBTI bullying that are endorsed and funded by the federal government?
Why are there no national standards and resources for training teachers in how to deal with bullying and prejudice against LGBTI students?
My request is simple. I would like a government-led initiative where funds are provided for an in-depth anti-bullying program that has a focus on LGBTI bullying and is rolled out in all schools across Australia. This program should address bullying in all its hideous shapes and sizes.
Teachers should have the skills, resources and confidence they need to identify and effectively challenge bullying on the basis of sexuality, gender identity, race, religion, size or any other factor. There should be encouragement from government for schools to adopt anti-bullying policies that not only challenge bullying behaviours but tackle the prejudices that underpin these behaviours.  
Too many of our youth are feeling worthless and taking their own lives for there not to be any action taken.
Regardless of your political views, I'm certain we can all agree on one thing: No child should fear for his or her safety or wellbeing when they are trying to learn.
No child should plead and beg their parents to have a sick day so they can avoid the classroom, and no child should be made to feel so worthless that they would even consider to take their own life.
I would have given anything to have an adult at school I could've turned to. Someone with authority who could've helped me get through those horrific days in the school halls. Someone to tell me that my sexuality wasn't a bad thing or something to be ashamed of.
Better yet, I would have loved to have been a part of a program that taught inclusion, that taught about acceptance of your peers regardless of who they are attracted to, the color of their skin, their gender, etc.
In Australian schools, students are taught about discrimination and prejudice in our history. Shouldn't they also have an opportunity to reflect on and move beyond their own prejudices?
This isn't a radical far-left idea. Nor is it an idea that the right should be afraid of.
The wellbeing of children, including those who are LGBTI, should be the main priority of school systems across the country.Every child should feel safe and happy in their school environment. Period.
REAL LIFE. REAL NEWS. REAL VOICES.
Help us tell more of the stories that matter from voices that too often remain unheard.
BEFORE YOU GO