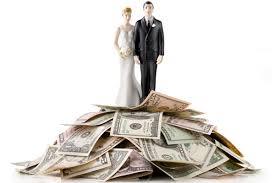 The venues have been vetted online, through Google Images and Yelp reviews. The current finalists? A reasonably priced lodge in Homer, Alaska, and a state-funded park in South Dakota. Now I just have to search Airbnb and determine if there are some nice hosts in either location who would be willing to accommodate about 200 friends, relatives and possibly a DJ.
This is what a father of girls must do after casually reading -- and, as a result, upchucking his morning coffee -- a survey revealing that his hometown of Chicago is the second most expensive U.S. location for a wedding. In my case, two weddings.
The survey, conducted by wedding website The Knot, estimates getting married in the Windy City will set me back $61,265 once I have covered the reception, music, flowers, attorney's fees when my wife and I divorce after arguing over which relatives not to invite, and powerful prescription drugs that, if taken with food or milk, should hopefully make me forget the entire event and the plundering of my savings account.
Perhaps I should take heart knowing we did not put down roots in New York City, the most expensive U.S. location for nuptials, with a price tag just north of $82,000, according to The Knot. This is hardly a shock considering New York leads the nation in every "most expensive" category, the lone exception being Most Expensive Chicken Nuggets if Served by Snow White. Thanks, Orlando.
New York dads, you may want to consider relocating immediately, as Long Island, the Hudson Valley and the outer boroughs of Manhattan also made the list. Rounding out the top 10 were North/Central N.J., Cape Cod, Mass., Palm Springs, Calif., New Orleans and anywhere in Rhode Island.
But The Knot sympathized with fathers everywhere by also including the 10 least expensive wedding locations. Alaska and South Dakota occupied the top two spots, hence my research and willingness to offer my children a choice. I'm partial to Homer, Alaska's Driftwood Inn. Wait until I tell my girls that not only is there plenty of RV parking for guests, but wedding packages include a promise to move the reception into the nearby Elks Club in case storm clouds roll through Kachemak Bay -- wherever that is. I'd be lucky to find complimentary umbrellas in Chicago. Girls, if your dad is paying, I strongly urge you to consider this location. Other than the possibility of a grizzly bear photobombing the wedding pictures, it seems very practical.
Of course, you could also choose my other option: the beautiful (and cheap) Black Hills of South Dakota. You'll be happy to know that Custer State Park offers numerous sites for both your ceremonies and your receptions. And, being a state park, it also includes strictly enforced quiet hours, meaning I won't have to cave when my guests -- and the caterer -- plead with me to keep the bar open past the agreed upon time.
I'll save even more money should you decide to get married in South Dakota in January. Don't worry, I checked out the winter wedding photos online; judging from the expressions on the bride and groom's faces, nothing says love like standing in a snowdrift.
If these two states don't offer everything you desire, The Knot also suggests I, excuse me, we, can save money by holding your weddings in Texas (OK, West Texas), Arkansas, New Mexico, North Dakota, Idaho, Montana or Oregon. If you insist on staying close to home, Central Illinois rounds out the top 10. Just say the word and I'll start scoping potential locations in Heyworth or Blue Mound, both of which appear to be centrally located, according to the Illinois map I just downloaded.
Girls, please don't call me cheap. Call me practical. And if any last minute expenses come up, your dad will happily pay for them with a minimal amount of grumbling.
I'll just withdraw some money from my secret "Finally Have Dinner in New York" account.
Calling all HuffPost superfans!
Sign up for membership to become a founding member and help shape HuffPost's next chapter