Last week, ABC's "Good Morning America" ran a segment on teenage shapewear and "spankies," the mini versions of those suffocating, belly-flattening, imperfection-masking undergarments that adult women use under body-con dresses and the like.
According to the news, teens across America are using shapewear for the same reasons their moms do: to hide those so-called imperfections. Apart from the fact that this new trend is physically damaging to kids and can cause all kinds of problems from bladder infections to nerve damage, what is just as frightening is summed up in this comment from a teen: "You get the training bra and then you get the Spanx."
The idea that shapewear is increasingly seen as a necessity for girls is extremely disturbing. This suggests that young girls are internalizing the idea of a "perfect body" to such an extent that it's become a natural goal, i.e., when I grow up not only will I have breasts, but I will also have imperfections that need to be kept hidden.
I started wearing a training bra when I was three years old, not because I needed one or because I was self-conscious, but because I thought that bras were beautiful. I remember going to the department store with my mother and helping her pick out her bras, black ones, lacy ones, silky ones; they fascinated me.
I remember telling her that I wanted a bra and picking a sweet baby blue one that was lacy and too big for me. After all, I was only three years old. It was my camisole when I slept and I only really used it when I was five. I even wore it as a crop top (it was the 90s after all!).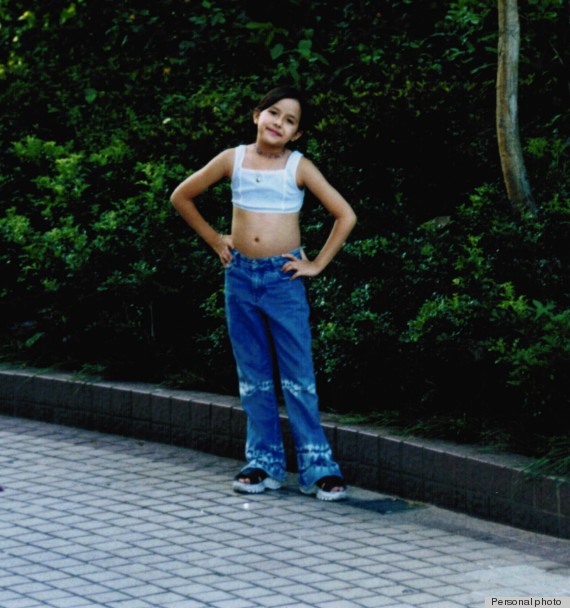 It's natural for little girls to want to copy their mothers, like that perennially cute image of the little girl in her mother's giant heels. My mom never forced me to wear a bra; I only wore it when I wanted to wear it. And like other little girls, I started wearing a real training bra when I was 11 or so.
The point is that I learned to see bras as articles of clothing that celebrate womanhood, but not as things that bound me to a particular image of what a woman should be. I don't think that being a woman means you have to wear a bra, but I do believe that bras are made for women (all kinds of women) and that's something to celebrate.
Most bras are made to support and add a certain level of comfort and security. Spanx are made to smooth out women's bodies and most women (at least the ones I know) utter a long sigh of relief once they go home and peel themselves out of them.
It's sad to see young girls thinking that they have to adhere to some kind of image of womanhood that is equivalent to perfection. I'm not saying that shapewear is bad. I'm saying that when girls think it is natural to wear shapewear (or bras for the matter) at such a young age, then childhood wonder turns into an internalization of what it means to be a woman, and that can be dangerous.
See some of our team's childhood beauty secrets below, and add yours!