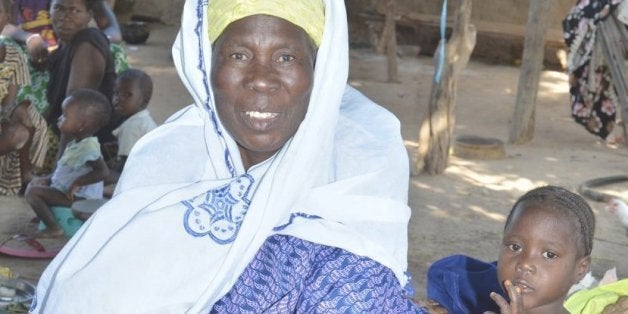 I discovered the practice of excision when I was a child. My mother was an excisor, as was my mother-in-law.
They were both prestigious women in our country because of their roles. When my mother-in-law was invited to excise girls in a community, I accompanied her.
The girls excised were usually up to the age of 2. And around 3 to 5, girls were excised in one sitting.
Girls' Pain
The practice of FGM is very painful for children. Generally, the excision was performed in the evening around 5 p.m. in an isolated place such as a toilet.
Little girls were taken away from their mothers, stripped naked, laid down on their backs, legs spread wide. The excisor then used a small sharp knife or blade to cut the tip of the clitoris without anesthesia.
Blood spurted and flowed freely over the body.
Most children would scream because of the great pain caused by the injury and the strength of the adult's hands. The excisor immediately applied a traditional mixture to stop the bleeding. The girl was then wrapped in a warm blanket to speed up the coagulation and returned to her parents. Other girls would go in one after another and suffer the same act.
Excision Tradition
As my mother was an excisor, it was inevitable I would become one, too. I started as an assistant to my mother-in-law, helping whenever she excised girls. When my mother-in-law died, a few years after my own mother had passed away, many women from my community were insistent I take over.
Even though I'd only ever observed excision, I felt I had enough knowledge needed to perform excision. After much hesitation, I started accepting regular requests from the community as the "work" is profitable. Practitioners are economically stable. They earn their own wage and they carry a lot of social prestige.
Powerful FGM Campaign
I worked as an excisor for almost 30 years -- every year, I would excise over 50 girls across 7 villages in our county.
Several years ago, Plan International and its partner organization ERAD came to our village to raise awareness about the risks of FGM and the associated gynecological problems. Villagers were shown photos and videos. Psychosocial support was also provided for women and they were able to understand more about the issues they faced.
The link between female genital cutting and cases of keloid, dysmenorrhea and urinary incontinence became clear. Five years ago, I decided not to practice excision any more. Soon after, my village decided to ban FGM.
Going forward, I want the whole county to ban the practice of excision. It is cruel and has no benefits for girls. It only has disadvantages that dishonor women in their household.
I am committed to supporting this campaign and raising awareness. The fight against excision is a long and tiresome challenge. This could take time, but I am convinced that this campaign will help defeat the practice of excision.
Calling all HuffPost superfans!
Sign up for membership to become a founding member and help shape HuffPost's next chapter