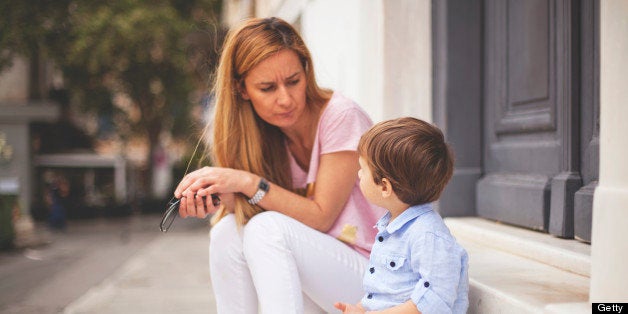 If there is one thing I've learned since becoming a stepparent, it's that people love to give you advice. Most of the time, these people are not stepparents themselves. But they are still more than happy to offer you the following contradictory gems: "Make sure that you don't ever discipline your stepchildren, but also, don't allow your house to be all fun and games! Children need discipline! Love your stepchildren just like your own, but please remember that you are not a real parent! Just relax and be your stepchildren's friend! But don't let them walk all over you! You're a parent, after all! It is imperative that the children and their interests always come first, but don't forget that your marriage must be your first priority! You don't have to deal with their mother, let your husband deal with her! Remember: to love a child, you must love their mother. Their mother is in your family now."
The problem with all of this advice, and advice in general, is that it is never "one size fits all." This weekend, I met up with a group of fellow stepmothers. I walked away from our weekend together with a newfound respect for the many different situations that can exist in a stepfamily. We all have the common thread of being stepparents, but our stories are drastically different. It's understandable that no set standard of advice exists to deal with it. I've found that in my own life, instead of trying to conform to a set of rules that I will follow for all-time, that it is best to be flexible. Rather than deciding on a set of steps to follow in my relationship with my stepchildren, I skipped ahead and instead came up with a list of goals. I'll be honest -- I don't exactly know the steps it will take to achieve my goals. But every day I learn more and I try harder to get there. My goal is a list of five things I hope my stepchildren will say about me when I'm very, very old. Like, when they are reminiscing about their childhoods and their times with me and their father as they bounce their own children (and stepchildren?) on their knees. Obviously, I can't guarantee that I will succeed. But I try to always act in a way that I think will lead them to say the following five things about me, years from now:
1.) My stepmother was someone I could trust. I want to be a trusted adult in their lives. I want them to know that they can tell me anything and I will always listen and never judge them.
2.) My stepmother made me laugh and we had fun together. I want them to have a wealth of memories of us just laughing together.
3.) My stepmother really loved us. And I do.
4.) My stepmother really loved our dad. I hope that my husband and I can continue to model a loving relationship for them.
5.) My stepmother liked my mom, and my mom and stepmother always got along well. I always want my stepchildren to know that I like their mom. She is one of the two most important people in their lives, and they are literally a part of her.
Popular in the Community