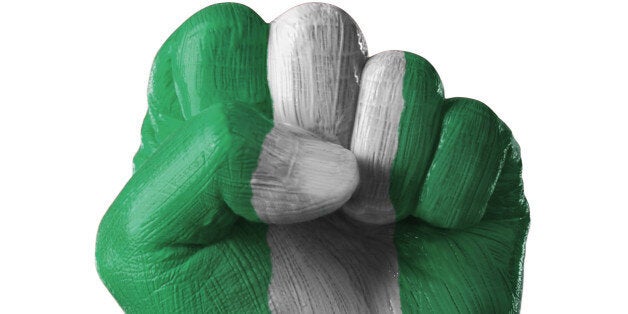 When I was younger, I used to love watching Nigeria sit under a tree, nursing her wounds with a wet towel. I loved observing her as she breastfed oil to her children, fondling with their hair and watching as the wealthy ones amongst them provide for the less fortunate. In those days, her children sang her praises - Wande Coal's Ololufe, P-Square's African Queen and, with her, everything was 'welly-welly'. She carried the biggest cloak of dignity amongst her siblings. And with her body on the big side, her dark skin gleaming with pride, and her Afro unrelaxed, she was my definition of feminism. But the last time I saw this friend of mine, she was anorexic, her crown had fallen off her head, and was too weak to even tend to her wounds. Her children have failed her. They have broken her. They have disappointed her. Certain people in our father's generation have not only failed their individual democratic parties, but they have failed Nigeria. But my generation - we are going to fix her, attend to her, love her.
Some leaders consistently turn a blind eye towards electricity and the security of Nigerians. People have to rely on generators because the Power Holding Company of Nigeria (PHCN) has held the electrical power and have refused to share it with others. The less privileged people who cannot afford to pay for the expensive generators have to use lanterns to read in the night. We have cases where a certain "National Security Adviser" thinks it fit to collect money that is allocated to arms in order to fight against terrorists and instead choose to distribute it among his friends. And, according to Information Nigeria, when called on trial, he refused to show up. We have leaders in Nigeria who sponsor the same terrorist group that have burnt Mosques, kidnapped more than 200 girls from school, claim Islam and train suicide bombers. These are the same terrorist we are praying against, these are the same terrorists President Buhari is fighting against.
According to Unesco, "another important area in which Nigeria's leaders have failed woefully as there is no adequate account of government or public money entrusted to them is well accountable to". Because these funds are not accounted for in Nigeria, people have found a way to steal oil. In Sanusi's TEDx talk on Overcoming the fear of Vested Interests, he reported that "there are people in this country that produced pieces of paper and brought to PPPRA and somebody stamped those pieces of paper and said they brought in petroleum products and actually paid them subsidy. And those pieces of paper said I brought 30,000 metric tones on so so ship, and we discovered that the said ship was nowhere near the coast of Nigeria on that date. We have seen vessels that did not even exist - that had been retired - on bills of landing and money has been paid. And you know what? None of them as I speak to you has gone to jail". These are people we trusted. These are people we voted for.
I have observed the people in my generation; I have attended their summer programs, listened as they brought intelligent points to discuss in class and watched them reflect and discuss the Nigerian economy. That being said, I dare say that my generation is the only hope Nigeria has of rising again. Our fathers' generation are not only embezzling, but they have also made mistakes we are not going to repeat. I still wonder how some are able to sleep at night knowing the money that went into buying their children's cars belonged to a school child who was sent home because she couldn't pay the fees. I still wonder how some have the courage to forgive themselves after sending soldiers unarmed to fight terrorists. I still wonder how some have the courage to look into their innocent daughter's eyes after funding terrorists. I am so disappointed with some people of my father's generation, and I promise that my children will only look up to mine.
Calling all HuffPost superfans!
Sign up for membership to become a founding member and help shape HuffPost's next chapter