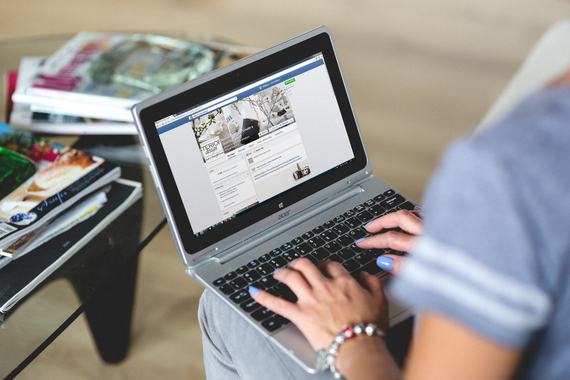 As parents there are things we hear from our children on a daily basis. I often listen to my kids playing and sometimes there are some real gems that come out of their mouths. I usually threaten to post them as quotes of the day on Facebook, and sometimes even follow through on these good-natured threats if the gem was something really funny. I have two boys, so while I try not to genderize the things I post, the quotes of the day are laden with farting and other amusing bodily functions.
I have been told that I shouldn't post things about my kids on Facebook because there are hoards of bad people out there who will use the information about my kids' farts to track us down and kidnap them. I think it's fine as long as I share only with friends.
Posting about my kids helps me to stay in touch with people who live far away, and share small snippets about our lives with friends. I hope you share things about your kids too, because they are huge parts of your lives and identities. I think it's great that my friend in Connecticut, or the one in Pennsylvania or even the one in Alaska can get to know my kids a little. I love seeing quotes from my friends' kids too. It is a fun and modern way of sharing our lives. It also helps me feel less alone in my parenting. It truly comforts me that I am not alone in having children who have figured out that aiming flatulence into a candle flame could create a flame thrower. (I do believe my children have a future on MythBusters -- one of their favorite shows.)
I have gone through some of my Facebook posts from the last year to find some of my top kid moment picks for 2015:
1. From November 23: Apparently I am now old enough to be cracking "Mom jokes." Definition: jokes that I think are funny, but fall dead to an almost 14-year-old.
2. From October 5: L: I'm not saying that you're a bad cook, or anything, but you're supposed to chop up the scrambled eggs. Thanks for that.
3. From September 20: L: Apples have a habitat, you know. Me: Really? What is it? L: My mouth!
4. From September 17: L is doing a homework assignment about the solar system and is having fun pretending to not understand why naming the planet Uranus makes B laugh.
5. From July 9: Today I pointed out to L an apartment I rented in 1998 and he said, "Wow! Everything must have been in black and white way back then!"
6. From May 31: L trying to rhyme: Peter Piper picked a patch of pickled peckers. Hmm. Not quite.
7. From May 20: I dropped L off at school this morning and he hopped out of the car. He turned around to say what I thought would be, "See you later!" Instead, with a huge smile on his face, he waved and said, "I hope you don't die!" Me too, L, me too.
8. From March 25: I love being the mother of boys. Our breakfast conversation covered farting into candle flames to turn them into flame throwers.
9. From March 16: I asked B if he was feeling better yet and he said, "Just a little. Enough to hit things." He is laying on the couch hitting the cushions, trying to reach L.
10. From Feb. 1: So how adorable is it that my 13-year-old who is at a Super Bowl party with his friends called his mom to celebrate the Patriots' win?
Of course, the best thing I hear from my kids is the thing I hear every day: "I love you, Mommy."
Comment below with some of your favorite 2015 moments with your kids.