i Profumi di Firenze's fragrance line is filled with beautiful, pure scents and an amazing story to match.
In 2003, Artist Miryana Babic was traveling in Florence and stumbled across a tiny perfumery where the fragrances were hand-blended in small batches with floral and botanical essences from Italy and around the world. She picked up a bottle of Caterina de Medici by i Profumi di Firenze, dabbed it on her wrist and was smitten. The line, based on recipes commissioned by 16th century Queen of France Catherine de Medici, is crafted from the same ingredients used during the Renaissance.
The fragrance collection came about with an amazing discovery. After the historic Florentine flood of 1966 a perfumer named Dr. Giovanni di Massimo found Catherine de Medici's secret perfume formulas in a Renaissance manuscript in a cubbyhole in the basement of his apothecary. Remarkably, the water from the flood hadn't touched it. Buried for centuries, the secrets of the Queen's perfume formulas remained in tact. Dr. di Massimo carefully recreated these Renaissance fragrances using only all natural ingredients and his exclusive methods of essence extraction. The collection of perfumes includes other Florentine classics originally commissioned for the Medici Family and blends known to have been popular among the Renaissance nobility.
When she returned to her home in Santa Monica, California, Miryana couldn't forget the scents or their story. A few months later, she began importing the collection of perfumes launching them at Barneys New York stores and Fred Segal in Los Angeles.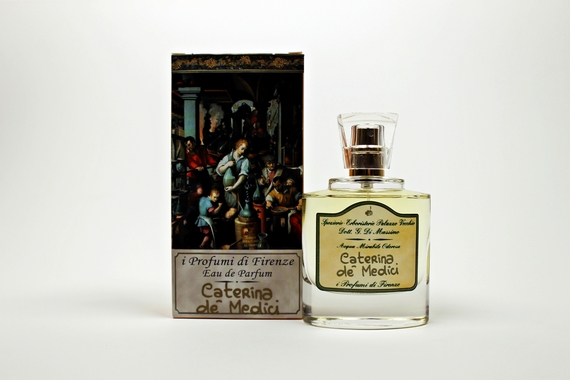 Today the i Profumi di Firenze collection encompasses over 30 fragrances of 16th century Renaissance formulas as well as modern minimal blends like spring and summer's best selling sea breeze fragrance, Brezza di Mare. Neroli Flor, one the newest additions to the collection, evokes Italian citrus groves on warm, sunny days.
The most popular fragrance in the collection is Vaniglia del Madagascar. According to Miryana, customers are fanatics for it, buying multiple bottles for fear of running out. It has numerous celebrity fans and a customer from a royal family recently purchased 21 bottles to secure her supply.
My favorite fragrance in the collection is Costa Mediterranea. Its soft, masculine scent is fresh and serene. The company describes it as evoking a "holiday at the sea" and the magnificence of the Mediterranean with notes of Sicilian Lemon, Calabrian Bergamot, Vetiver and Sicilian Orange.
I Profumi di Firenze is available at C.O. Bigelow in New York, Fred Segal in Hollywood, Tigerlily Perfumery in San Francisco and online at Beautyhabit.com.
Support HuffPost
A No-B.S. Guide To Life
Related
Popular in the Community