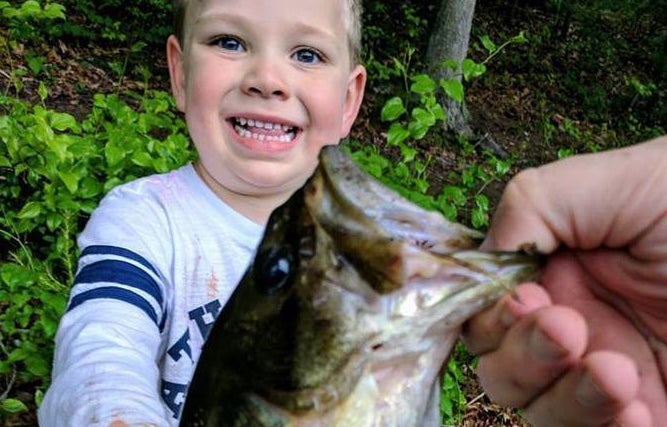 I'm addicted to my smartphone.
If you're a parent and you've ever been on the Internet, you know how shameful a statement that is. Because if we've learned anything from other parents who write about parenting on the Internet for an audience that is largely mobile and reading these things on their phones, we know the combination of phones + kids is basically the worst. thing. ever.
On Sunday, I put our canoe on top of our minivan, loaded up the fishing gear, and decided to take my 3-year-old for a canoe ride down the Charles River. When we parked the car at the put-in point on the river, I had a panic attack as a horrific feeling of dread and anxiety washed over me.
I forgot my phone at home.
I thought of all the articles I've read telling me what a deadbeat I am for using my phone so much around my kids. I thought of how valuable it could be to be present in the moment and not witness life through a small screen. I also thought about the epic tantrum Sam would throw if I told him we had to go home and then come back and how much I hate detours, but I swear I thought about the value of the no phone thing too.
In the end, I decided to go it without technology. Just a dad and his son. Fishing and paddling and talking and connecting with one another and nature. Besides, who needs a camera when the mind's eye is so wondrous, right?
Well eff that noise, because the answer is me — I need a camera. And going without my phone was absolutely awful, and I'm never doing it again!
I know you were expecting another one of those "I was addicted to technology but I went without it and I had some spiritual epiphany and now I'm a different man and a better father and I'm here to annoy you with my newfound anti-smartphone wokeness" crap, but that's not happening. And here's why.
First of all, the scenery was really beautiful along the river, and capturing some shots would've been nice. Second, we saw deer, turtles, an otter, and a family of geese. It was really cool. Know what wasn't cool? Sam asking me to take a picture each and every time wildlife appeared, and having a fresh new meltdown every time I reminded him I didn't have my phone on me. The only things I was in the moment with were multiple tantrums.
But the big reason I'll forever kick myself for not going back for my phone is because Sam caught his first fish on this trip — and I missed it.
I've let him reel fish in after I've hooked them, but this was the first one he caught after casting with no help from me, setting the hook, reeling it in, and then landing it in the canoe. When he realized he had a fish on he FREAKED OUT with excitement and began reeling like a madman. He was shouting "I'VE GOT A FISH! DADA I'VE GOT A FISH! I'M A REAL FISHERMAN!" and his shrieks could be heard clear across Populatic Pond. He and the fish battled but eventually Sam got the better of him and plopped a smallmouth bass into the canoe. Once in the boat, Sam screamed "I CAUGHT A FISH ALL BY MYSELF!!!!!" with triumphant resonance. And as a proud papa, my smile widened as my eyes watered. And at that moment Sam turned to me, cocked his head to one side, and said something I'll never forget.
"Dad, you got that on video right?"
Don't get me wrong, it was as Kodak a moment as they get, and I'm thrilled I was able to see it. But know what would've made it better? A video or picture I could look at any time I wanted. Something I could show relatives and friends. Something I could show him years from now when he's unable to remember any of this. Hell, something I can refer to when I can't remember any of this.
All of these parenting "gurus" tell you to live in the moment so I'll be able to remember things clearly, but I work 50+ hours a week while raising three kids. My days start at 5:15 a.m. and don't end until the maelstrom of dinner and bedtime has concluded around 10 p.m. Half the time I don't even know what day it is, and I legit can't remember my kids' names. I called one of them the dog's name yesterday. So having every photo and video I take automatically back up to Google Photos and be categorized online for perusal any time I want is HUGE for me.
I hate to break it to these professional parent-shamers, but it's entirely possible to take pictures and videos of your kids and "be in the moment." Using a smartphone to record kids and being present are not mutually exclusive things, and I'm not sure why it's now socially acceptable to simply believe that's the case. If you overdo it then sure, it can be a problem. That's true for anything — especially dispensing judgmental parenting advice on the Internet.
The beauty of technology is that it's allowed us to retain the random, wonderful moments all too often lost through the holes in memory's floorboards. It's the virtual recycling bin that allows us to reuse the overflow of memories our minds are simply too full to store for the long-term. Or, more simply put, it allows me to live in future moments as well as the original one.
I will hold on to the memory of Sam's first fish for as long as my addled mind allows. But I sure do wish I had caught it on video.
Related