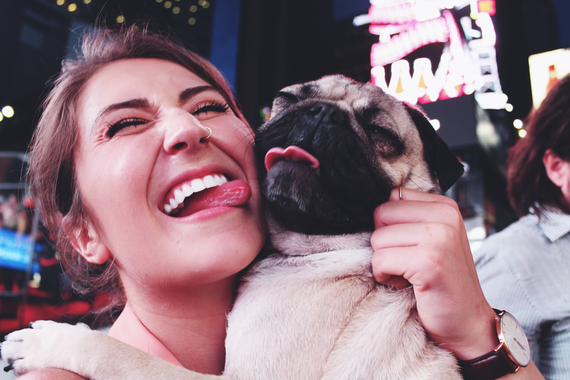 I always had a rehearsed answer to the question "what do you do for a living?" Whether I said that I'm a full-time student or that I work at a record label, I always answered that question with certainty.
Suddenly, I no longer have a rehearsed answer to the inevitable question that all strangers or rarely-seen relatives ask. I am the happiest I have ever been, work the hardest that I've ever worked, and yet my response to that question now leaves people shocked, puzzled, and leaving with the agenda to look my dog up on the internet.
I guess you could say I am a Momager.
My Doug the Pug journey started by accident. I had wanted a pug since I was 13-years-old, always printing out photos of pugs to put in my locker or paste on my Mom's bathroom mirror so that she would hopefully get the hint. The name "Doug the Pug" had also stuck with me since that age, and I'm happy to say that the 13-year-old me made a great decision by choosing it.
I got Doug as a puppy in the Summer of 2012. His breeder was from Ohio and she drove him to Nashville for me. We met in a Wal-Mart parking lot off the highway. I was equally excited and terrified when she put him in my arms, as I was suddenly responsible for the life of a little dog that greatly resembled a pig. Doug immediately peed on my front car seat and the reality of potty training set in.
Doug's puppyhood was filled with a lot of adventures, but none that were documented on Instagram. At the time I didn't even have an Instagram account for myself, as I swore that I didn't need yet another social media outlet to take over my life. I worked for a record label / artist management company as the Director of New Media / Assistant Manager, so it was my job to manage the social media pages of other artists as well. I was the assistant to the artists that I listened to almost religiously in high school, including Mat Kearney, Mayday Parade, and Five For Fighting. Since I went to college for music business, and was one of the few to land a job in the industry while I was school, I gave my all to impress my boss, who is one of the best artist managers in the business.
It didn't take long for me to finally give in to the pressures of being a millennial on the internet, and I got an Instagram account for myself.

Soon enough I became the classic dog owner on the internet. I was always posting photos of Doug, and it was almost addicting to see how much higher the engagement was on photos of him as opposed to my life. Once I realized how great he was in front of the camera, I began adding props, photos, and funny captions, and Doug was getting featured on major dog accounts across the internet. My friends soon gave me the ultimatum that I either make Doug his own Instagram or that they'd unfollow me due to the fact that his wrinkles took over what was supposed to be my personal account.
PR was a part of my job at the record label, and in my free time I began applying the same aspects of artist management to Doug's Instagram. Cold email after cold email, my goal was for someone to believe in Doug's account in the sense that it was special, and that he was the future face of the pug breed. Nothing came through until Brian Koerber from Mashable emailed me back and loved Doug -- he wanted to do a list feature.

The article did quite well, and other press outlets began to take notice. Cosmopolitan, TIME, Buzzfeed, Huffington Post and Elite Daily posted articles about Doug in the following months, and his Halloween photos were even featured on Good Morning America. The slight press that we had at the time only made me want to become better at managing his account and getting more creative with his photos and videos.

My boyfriend Rob, a touring drummer, moved to Nashville in February of 2015. He had always been completely supportive of Doug and me while he was on the road, but it wasn't until he moved to my city that he wanted to be a bigger part of the team. We started going on photo and video adventures after I'd get off of work, and he would edit the videos that I would later post on Doug's social media.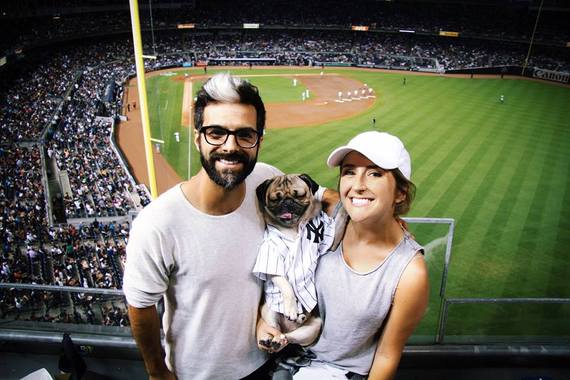 One video in particular went viral without any expectation of it doing so. Rob had just thrown Doug and I a party to celebrate 100,000 Instagram followers, and for the occasion he bought a pug balloon. We filmed a video of Doug running around the park with that pug balloon tied to his waist with the song "Best Friend" behind it. It has now gained over 20,000,000 views.
In March of 2015 Doug had 3,000 likes on Facebook. It's currently September and he now has over 2.2 million. Doug the Pug has become a household name and people recognize us on the streets of Nashville, in New York City, and in airports. I mustered up the courage to quit my job and start my own business, with Doug as my main client and a freelance graphic design business on the side. As hard of a decision as that was, it didn't take much for me to realize that building the brand of Doug the Pug was a once-in-a-lifetime opportunity. With the blessing of my parents and the encouragement of my friends, I made one of the hardest but most rewarding decisions of my life by ending the security of a set monthly paycheck.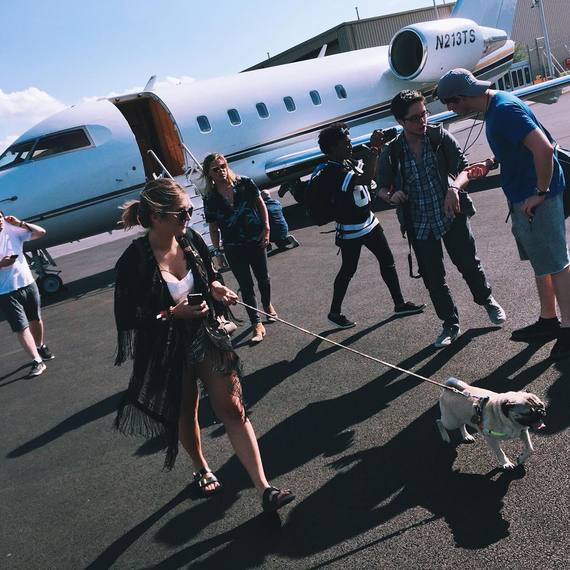 Doug makes people happy, and that's my ultimate motivation throughout all of this. I have gotten emails from Leukemia patients that rely on Doug's photos for a boost in morale each day, and been touched by emotional stories like one of a little boy who's Mom unexpectedly died; he put Doug's photos in her casket just in case she woke up.

My dream, as unconventional as it is, is becoming a reality. I'm lucky enough to do it alongside my little pug, who just so happens to be my very best friend.
Related