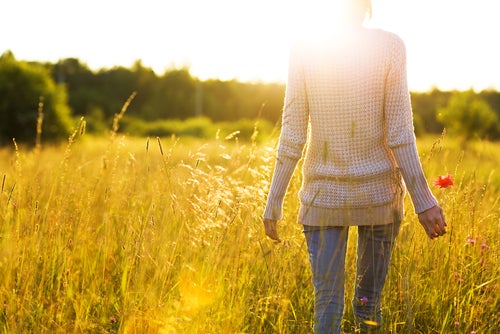 I've never been much of a gym person. There have been periods where I got in an established rhythm, or found a class I liked enough to go regularly. But, demands of work, and two little people at home, had long made this a distant memory.
Each month I smarted at the auto deduction for gym membership on my statement. I felt guilty driving by, recalling jokes about gym fees being like a monthly charity donation. I wondered if I was destined to be like Bridget Jones, who made a resolution to go to the gym, and not just to buy a sandwich.
One month, I decided to give myself permission to stop the guilt cycle, and I quit. After an uncomfortable conversation with a customer service person to sign the paperwork, I found myself grinning broadly on the way back to the car. I felt lighter already.
The same week I read a magazine article about being healthy, simply by being good to yourself. The first few days it recommended only sleeping more, turning off the TV, and going to bed early. This seemed highly attainable.
Next, I saw a blog promoting a 3-day jumpstart. It called for water and vegetables: a glass before each meal, one during, and vegetables at both lunch and dinner. You were to eat these first. I tried it, and realized my occasional afternoon headaches perhaps were nothing more than dehydration. Who knew?
Feeling confident, I pulled out a dusty cookbook, challenging you to eat 5 colors a day. This appealed to me in the way reward stickers and to-do lists do. It was simple, and I could be mindful of it throughout the day. I learned how to pick seeds from a pomegranate, and peel an artichoke.
Then, one rare morning home, I caught a snippet of a morning show interview with a body builder. He said the recipe was simple: make good choices and do stuff. I thought about what stuff I actually liked to do. The treadmill and I were not friends.
But, my flowers and I were. So, I took to my garden, kids in tow. While they ran through the sprinkler, I weeded, dug, and separated. I emerged triumphantly, hot, dirty, and feeling amazingly energized. Each weed seemed to represent a negative thought purged away.
I found my apple password and downloaded a 7-minute exercise app. Seven minutes seemed about my speed. On work trips I did the exercises in my hotel room, watching news as I did jumping jacks and step-ups, trying not to imagine what my neighbors must think. I was surprised how winded 7 minutes could make me, and even more surprised to find how soon I could move through it with ease.
But, I knew I would need something at home also, as work travel represented only a fraction of my time. I discovered hand-weights and resistance bands in the basement. While the kids watched their nightly cartoon, I did simple exercises. It was much better than watching the same Paw Patrol episode for the hundredth time.
Still at night, my muscles were sore. I wanted to get back to ballet, but adult classes were difficult to find. I bought a pass for an online class, and registered for a year-end recital. The familiar pace of the barre routine was calming, and the communion with other like-minded women, even better. I felt incredibly proud taking our final bow on stage later that spring.
Exercise for a functional purpose, like our ancestors did, appealed to me. I was no farmer, but we went on vacation that summer car-less, in a sea-side town. I walked to shopping and the water-front, came home from the farmer's market, bags burgeoning with produce. I pulled the kids in a wagon to the park, and everywhere else in-between. Despite ice cream, seafood delicacies, and many alcohol units, my shorts felt looser. I liked the taunt sensation in my muscles as I pulled that squeaky wagon.
Over time, these little things started to add up. What I had accepted as fact about my post-baby body started to change.
The intangible benefits were even better. I felt less tired and tight. I awoke with more energy for the day. I noticed myself sitting straighter at my desk, shoulders no longer curved forward. I felt a more balanced version of myself.
I thought such things could only belong to religious exercisers, but maybe healthy doesn't require a marathon make-over. Instead, perhaps small changes and mindful appreciation for all our bodies can do is enough? Gentle is a pleasant, sustainable, and joyful approach to healthy. http://www.lynnricker.com/
Sources (added July 25, 2016):
7. Technology: 7 Minute Workout on itunes
10. Functional: Vacationing in St Michaels, MD - an idyllic town on the Eastern shore
Popular in the Community