I really like this picture.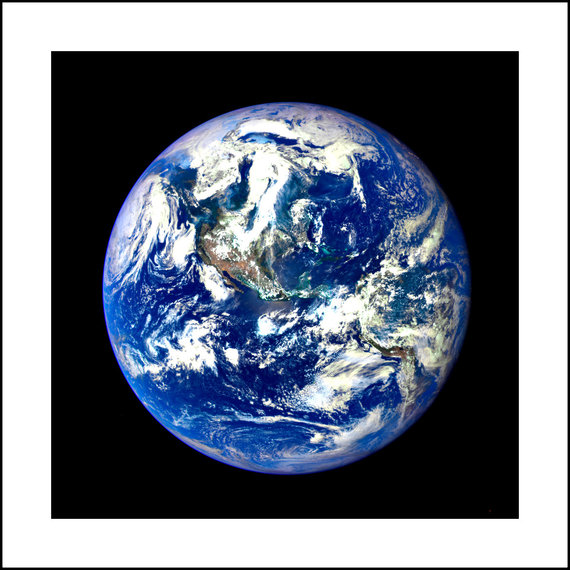 It is something you have never seen before, even though you might think you have. This was taken on July 5, 2015 by a camera on NASA's Deep Space Climate Observatory. This is the first time that a camera has captured the entire sunlit side of the earth in one image.
I really like this picture.
I like what it shows... all of the swirling clouds, the patterns of the winds, the seas, patches of earth here and there... the sheer beauty of our home, the bright whites and blues, the brown tones with some greens... all coming together to make up this planet.
I really like this picture.
I like what it doesn't show. It doesn't show map lines... it doesn't show the black, white, red, tan, olive or any other colors of people's skin. It doesn't show fights over a piece of land, whether a baker feels led to bake a cake for someone, a flag that some love and others despise... it doesn't show the fierce hate and anger that people of different religions purporting to be founded in love have for one another... it doesn't show straight people, married people, single people, gay people, divorced people, lesbian people and the feelings that erupt about all sorts of issues regarding people's status in life. It doesn't show all of the differences. I think there is a reason for that.
I like to think that when God looks at us that this picture is what God sees. God sees us as an entire unit, not lands with boundary lines, not lands with walls built to keep people out or in... God sees us all as inhabitants of this absolutely gorgeous planet made just for us. I love the fact that it was made just for us... and entrusted to ALL of us to take care of it... as one people who live on this beautiful blue planet in the eerie darkness of space.
We need to figure this out how to do a little better than we have been doing... seeing this picture made me incredibly aware of that.
I really like this picture.
Calling all HuffPost superfans!
Sign up for membership to become a founding member and help shape HuffPost's next chapter