I wish I never had a wedding.
It's not that I regret being married. No way. My husband is great. It may not be all rainbows and butterflies every day, but I enjoy my life with him. He gets me, he lets me do my thing and I like being around him. I just wish we skipped the whole wedding thing.
I was never really the girl who had dreams of her big day, anyway. I had career dreams instead and was convinced I was not going to get married until I was at least 30. Since I'm already 30 and I've been married five years now, that didn't work out so well.
When my husband proposed, I didn't say "Yes" at first. I just left him hanging in the middle of the restaurant for a few, long seconds.
I was in my last semester of college and was stressed enough about graduating and finding a job to support myself. I didn't want to throw wedding planning into the mix. I said yes, though, because I really loved him and his "we can make it work" attitude convinced me that yeah, we can do this.
When it came to the wedding planning, my biggest problem was not being a fan of party planning. At all. When it comes to parties, I want my favorite people to show up at a dive bar so we can all drink from cheap pitchers (gin and tonic for me, please) and do karaoke together. I was completely out of my element on this one. Tulle? What's that?
I thought I had the proverbial bone thrown to me when a graphic designer friend of my then-fiance's offered to do our invites as her wedding gift to us. I emailed her our colors and ideas I had, excited to see potential mock-ups. Days went by and I heard nothing. I found examples of invites I liked online and sent them over to her, hoping she would respond to a follow-up email. I got a quick brush-off response. This went on until there were two months left before our wedding and I had to say "If you can't make this happen, you need to please, please, please let me know." She couldn't make it happen. Great. Cue meltdown one of... 38? I didn't keep track. Luckily, our families were wonderful and hoarded Michaels coupons for us. We used those suckers to buy make-your-own invitations. We enlisted bridesmaids and family members to churn out, address and stamp 200 invites on a Saturday night. While we had a technical difficulty (meltdown... 39?) with the printer halfway through, we were successfully able to get all the invites finished in one evening. Teamwork rocks.
When it came to my relationship with my bridesmaids, I wanted to treat them as best as I could. We were all either in college, recently out of college or had low-paying jobs and I felt horrible asking them to spend a lot of money on me, especially on a dress. I thought the bridesmaid dress concept was stupid. Most of them are tacky, expensive and no matter WHAT the bride tells you, there is no way you are going to wear them again. I wanted my bridesmaids to have dresses that were affordable and had a slight potential to be worn on multiple occasions. And if they didn't want to wear them again, I sure as hell wouldn't be making them pay $150 for a one-time wear. I ended up finding the dresses while flipping through a copy of US Weekly one day. It was a yellow knee-length wrap made out of jersey material that could be dressed up or down. I thought it was cute, comfortable, would look good on all body types and could be worn multiple times. And if someone didn't like the dress? It cost a whopping $40.
Unfortunately, my concern didn't translate to a particular bridesmaid. While I wanted to give my bridesmaids a pain-free experience, not all of them wanted to return the favor. There were complaints about the dresses, my disorganization and resistance when it came to my wishes for what I wanted for my bachelorette party. All this, even though they knew the amount of stress I was going through with a wedding I wasn't particularly excited for.
My bachelorette party, in a word, was "heartbreaking." My best friend and my mom tried so hard to give me the happiest night of my life, and I thank them so much for everything they did. They really were my saving grace during everything.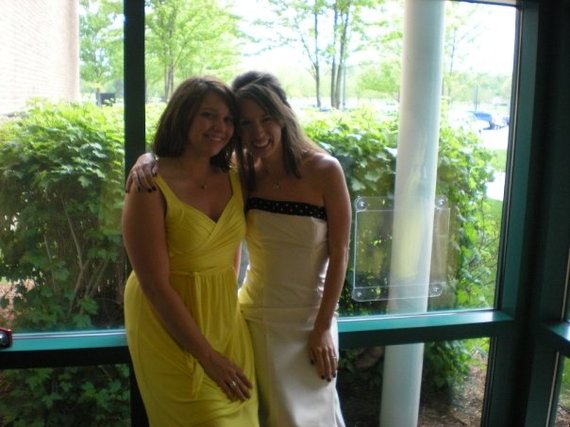 My best friend, who makes my world a little better every day.
For the party, I wanted to go to a male strip joint, because if I didn't spend at least a portion of my life objectifying men, then my life was just not worth living in the end. Unfortunately, two bridesmaids felts uncomfortable going and refused to even attend the party at first. If you don't want to go in a strip club, that's your choice. That's cool. Hang out at another bar for a little bit. But to skip out on my party altogether? That's really sh*tty.
Eventually, we made the compromise that they would attend the party, but hang out at a nearby bar while we hung out at the strip club for an hour. It was one of those things that I just wanted to experience. I didn't plan on spending all night in there. We actually only spent a total of 20 minutes in there. The four of us who went were out of our element and despite my expectations, there was no objectifying happening on my end.
When we met up with the rest of our group, the two who stayed behind made a big deal about our previous locale, screaming at us to "GO TO THE BATHROOMS AND WASH YOUR HANDS, NOW! EW! WASH YOUR HANDS! EEEEEEEEEWWWWWWWWWWWWWW!!!!!!!!! THAT'S SO GROSS!" Like we spent our time in the club rubbing our hands all over chlamydia peens. I went in the bathroom anyway, just so I didn't encourage the issue further.
And you know how the bride isn't supposed to pay for her drinks during the bachelorette party? Well, guess how many drinks I had. Three. No, wait. Four. In six hours. I bought myself the fourth one because it was becoming clear nobody was going to get me any drinks. Being young and unfamiliar with how bachelorette parties work, I thought it was OK. Now that I'm older, I realize there is a special place in hell for guests who do not make sure the bride always has a drink in her hand.
Between the planning, the clashing with others involved and the whispers going on behind my back, the amount of stress I was going through was so intense that I lost 10 pounds leading up to the wedding. So many brides go on wedding diets, but my dress was already a size 4, so there wasn't much weight to lose. Somehow, I found some to lose. My dress that once fit great was now too big. I had to rush out and buy double-sided tape so I wouldn't give everyone a show on my wedding day.
Even today, I have emotional scars from my wedding experience. While I have made up with one bridesmaid and our relationship is great, I have completely cut the other out of my life. I can no longer look at my own wedding photos with her in them without getting upset about the things she did to me in the past. And not just during the wedding. Looking back, this woman actually said to me she preferred hanging out with another person other than me because "It takes the pressure off me to be the more attractive one all the time." Oh.
I mean, think about that. I can no longer look through my own wedding photos and be happy while doing so because of this person. I spent a lot of money on these photos, and for what? Thinking about that alone fills me with regret.
Sure, the day was great. It was fun and I was happy. But I was miserable for at least four months prior and a long time after. I spent thousands of dollars on one day. I could have put that money into a retirement fund, into a home, into a car or many other practical things. I think back about that time in my life and I have nothing but negative feelings. I regret having a wedding because it scarred me emotionally, it made me an angry person for too long and it wasted a lot of my money.
Five years later, and I wish I did everything differently.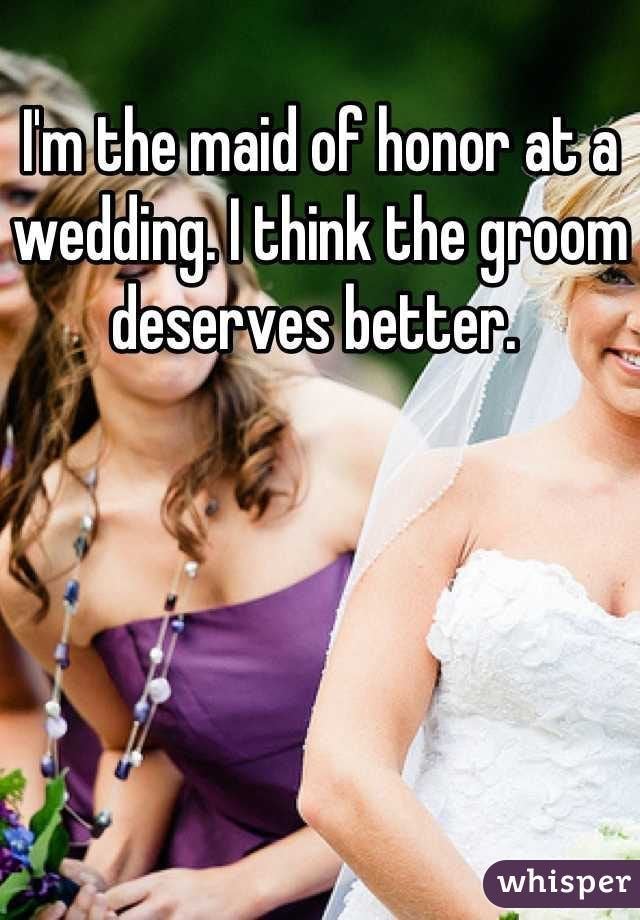 Bridesmaid Confessions
Popular in the Community