I will never forget going home for the holidays in 2007. My family lived in Troy, MI, a suburb north of Detroit. Middle to upper-middle class, once home to Kmart headquarters, still home to several auto suppliers and businesses that powered the Big Three ecosystem. Known for excellent schools, robust parks and rec, a sprawling library.
But this was 2007. If you've forgotten those days, America faced economic catastrophe. A banking meltdown. An auto industry on the brink. Troy, MI, was a painful case-in-point. Suddenly the city started to shutter outward signs of prosperity. The library was going to close. "Troy Daze", the yearly fair, was stopped. Restaurants, including a relatively new outpost of The Palm called it a day.
A scene I can't forget: The Somerset Collection, Christmas Eve. You know how most malls are steady, if not hectic, on Christmas Eve? I ran over to Macy's for a last-minute gift. Crickets. In the mall itself: more crickets. This was the newer 2nd mall of Somerset, beautiful and usually full of light. The first one had the Saks and Nieman Marcus and often had fewer people, presumably because it was so expensive. But the second one was mall nirvana if malls are your thing. In the waning light of Christmas Eve the place felt hollow. That was Holidays 2007 in an epicenter of American economic uncertainty.
Cut to Holidays 2016. Once you exited Big Beaver off I-75, there was so much commerce in lots that for my entire life had been grass. Granite City's massive parking lot was packed per usual. Carrabba's and Bonefish Grill anchored a strip of new dining spots. The new Hampton Inn was perfect for the business travelers keeping the other hotels full, or parents who had kids in the new Children's Hospital near City Hall and the library full of kids who remembered the 2016 Troy Daze fair, now held on private grounds. If you drove west down Big Beaver you didn't hear crickets. Instead, you admired the lights decorating the median pine trees. How the heavy traffic and open auto suppliers and the general vibe said prosperity once more.
President Obama did this. Others did this, too. But if President Obama and his administration had not acted so boldly to rescue the auto industry, there is no reason to believe that Troy could have pulled itself from the brink.
Sitting down to write this, I have a thousand reasons to thank President Obama. Seriously. A thousand. He will always be my son's first president. That is an incredible gift. I have critiques. We'll be debating some of his decisions for decades. But my awe and gratitude runs deep. So I will leave it, for today, with this image of the two Troys. One faltering. One thriving. The major difference: President Barack Obama. Thank you, Mr. President. Godspeed to you and yours.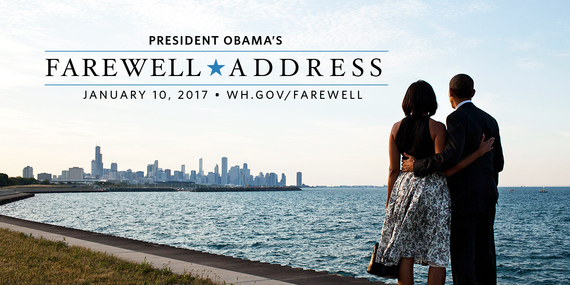 Calling all HuffPost superfans!
Sign up for membership to become a founding member and help shape HuffPost's next chapter