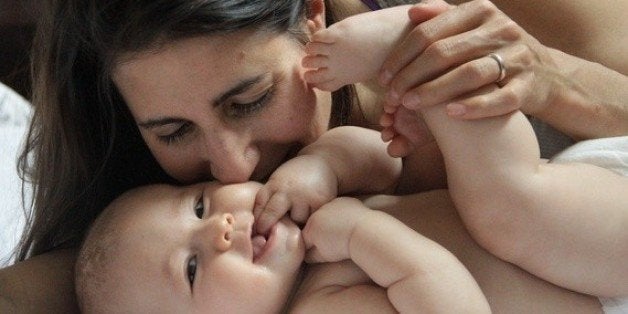 The weather back home was miserable, mid-March's typical blend of soggy nastiness and "hey, this isn't what spring is supposed to feel like" bitterness. But I wasn't around to not-enjoy it. I was 1,000 miles away from home, chillaxing in sunny Florida, seated atop a bar stool in a left-field tiki bar watching my beloved Phillies prep for another mediocre season of baseball. It was hot, unseasonably so even for the Gulf Coast, but proved the perfect contrast to what I'd left behind in Pennsylvania. I was surrounded by my two brothers, my dad, and, most noticeably, no newborn child.
Three weeks earlier, I'd become a dad for the first time -- and then I was gone. Not in the deadbeat sense, but in long-weekend-vacation style. My new father getaway is an example of the kind of parenting luxury more often afforded to dads -- a pleasure new moms rarely get to experience. But missed sunny vacations aren't the only sacrifice made by moms, new or otherwise. It also tends to be the mom of the family who sets aside her career and other pre-child aspiration(s) to be the primary caregiver for the newborn baby. And while we dads can (and sometimes do) pack on sympathy weight, it's the mother who loses her shape, literally and figuratively, after childbirth. Also, mom is the partner in a relationship who's more likely to becoming estranged from her friends (the still childless ones) -- the one who's suddenly encircled by strollers and strange faces.
These tender topics -- the underbelly of motherhood, if you will -- rarely come up in everyday conversation. No mom wants to be thought of as a complainer, and, let's be frank, that's unfortunately the reaction she'd likely face if she dared to get this kind of honest. So it's all the more shocking when these sensitive themes pop up in a song... on a kids' CD, of all places. But that's what Brooklyn singer-songwriter Vered Ronen has done with her new original song, "Something Other Than A Mom."
When this tune first came across my desk last year, it was just a sketch of a thing, a demo version minus the orchestration, but it floored me. I listened three or four times consecutively and stood at my laptop crying for a few moments, imagining my own wife thinking these same thoughts, during that long-ago weekend I was away from her watching baseball in Florida, and on any number of days since.
I think this is the lyric that broke me:
"These days I forget to look into a mirror
But if a glass catches me I see
Something other than a mom
When I run my hands over my body
I feel something strange, it's not like when I was
Something other than a mom"
The emotions Ronen conveys here are so very raw, and while they don't reflect my experiences as a parent, I can and do empathize. "Something Other Than A Mom" is more than just heart-on-sleeve stuff, it's heart on the sleeve of a well-worn and tattered favorite T-shirt, one suddenly ill-fitting and nowadays crusted with day-old spit-up.
I reckon there's never been a song for moms quite like this one, one that expresses, with brutal and unflinching honesty, the sacrifices made, body changes endured, and doubts that naturally creep in about ever getting back to where you were, who you were, and what you were doing before becoming a mom -- all while simultaneously cherishing your new title. It's complicated stuff, the grey areas of human emotion, and it is all delivered with grace within this gorgeous ballad.
And so I write this as a son, a husband, a father, and, if I may, on behalf of all modern dads:
We know you are something other than a mom -- many somethings -- and we promise that when you're ready to reboot your passion, hobby, career, or whatever it is you want to get back to enjoying as something other than a mom, we are here to support and encourage you in any and all ways.
On this Mother's Day and every day before and after, please know that we still love your body, and embrace its changes because it has brought our baby/babies into the world -- and we know and respect that you've made tremendous sacrifices to be the fantastic mom and partner you are today. We adore you for this and for so much more.