Morning clouds filled the sky as I left my Harlem apartment last Sunday and the streets were slick with rain. Undiminished by the drizzle, I jumped onto my trusty 10-speed and pedaled over to the 2015 Tour de Bronx. I love this tour -- it's 21 years old; last year was my introduction -- mostly because of the route: through streets that aren't that mean anymore and overlooked neighborhoods I hardly knew existed.
As I rolled up, the rain was falling harder than before and no music was in the air. Check-in, however, was a breeze. I ran into my riding partner, John, and we decided to dip into a nearby McDonalds for coffee. By the time we left for the staging area, the rain had ended. As we waited with other corralled riders for the tour to start, music started pumping and excitement started building; everyone was chatting and, just before 10:30 a.m., many of the participants started ringing their bicycle bells in a chorus of anticipation.
When Bronx Borough President Ruben Diaz finally blew the starting horn we mounted our bikes, and we were off -- all 6,000 of us -- making the first turn onto Walton Avenue. A pretty black woman unloading groceries from her car was observing the caravan. She turned to her young daughter and said, "Look at them! They're all healthier than us!" They waved. I smiled and waved back.
Less than 15 minutes into the 25-mile ride, an overzealous marshal decided to confront a gentleman with a booming system built onto his custom bike, blasting happy Philly soul at the front of the pack. No one else was complaining, but after "Radio Raheim" refused to turn the sound down, the power-crazed marshal got the cops involved. The marshal could have been more respectful to a man who clearly cares as deeply for riding as the soundtrack that accompanies him! We kept it moving though and, thankfully, throughout the ride, there were many other riders sharing their selections: R&B, rock and, of course, Bronx-bred hip-hop -- we had it all!
Unfortunately, there were a couple of accidents along the way. A few folks went down after being cut off by other riders. One older man fell after apparently slipping on an oil slick while turning onto Longwood Avenue. Other riders around him came to his aid, asking if he was alright. He was. The camaraderie on display here is representative of the overall ride. Everyone was looking out for each other.
The first rest stop of the day revealed the vastness of this event. Entering Van Cortlandt Park, I was greeted by hundreds of cyclists. Looking behind me I saw a steady stream of more riders snaking their way into an area where bagels, granola bars, orange juice and water was available to refuel. By this time, sunshine had broken through the clouds.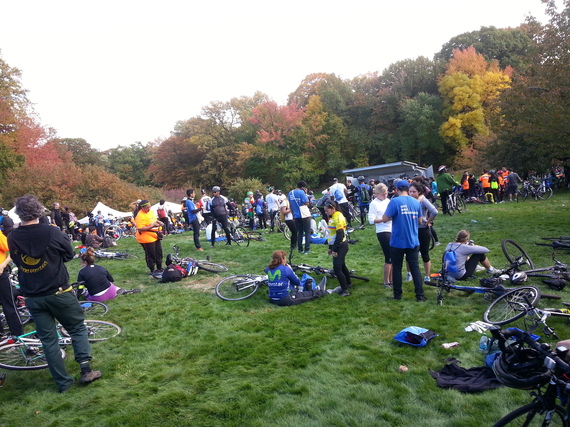 Back on the road I enjoyed more sights, sounds and smells (Latin food, frying bacon, the forest, etc.) of the Bronx. People out enjoying a beautiful day yelled encouragement from sidewalks and yards. Others waved from windows.
The Tour de Bronx was a blast from the winding roads of Woodlawn Cemetery (a national landmark) to the bike paths in Morrisania, to greenways along the Bronx River to the finish at the Botanical Gardens (where a band played rock and funk music as participants ate slices of Domino's pizza, drank PowerAde and bottled water, and lay atop green grass, shaded by multi-hued foliage). The ride is also a tremendous opportunity to explore a borough that has a gloomy past to observe a very vibrant present and glimpse a great future ahead.
Calling all HuffPost superfans!
Sign up for membership to become a founding member and help shape HuffPost's next chapter