When you live in metro Detroit, you tend to run into local athletes on occasion. Maybe you're at the casino and Max Scherzer is teaching Austin Jackson how to play Craps so you ask if you can listen in on the lesson as well (this seriously happened). Or maybe you are at a bar telling an Arizona Diamondback (Adam LaRoche) about the time Miguel Cabrera was arrested just outside of the same bar and was banned and he walks in and comes up to you and shakes your hand (this seriously happened). But most recently, I saw Jim Leyland.
I was meeting a friend at Starbucks for a coffee before work back in September. As I pulled up to Starbucks, I thought to myself, "I know sometimes people see Jim Leyland at Caribou Coffee, but it recently closed, I wonder if he goes to Starbucks now?" While there is a great difference between Caribou and Starbucks, I know how Jim Leyland thinks. He likes to be with the people, and he likes convenience. He is spotted quite frequently in this particular neck-of-the-woods. It was possible he would be there. So I ordered my coffee, and greeted my friend at the end of the counter. As I begin to explain to her some random fact about my morning, I see him. JIM F-ING LEYLAND. He is seriously reading a paper and drinking a coffee at Starbucks. We exchanged words.
"Hey Skip," I say.
"Hi," he replies.
"Good Morning!" I yell in excitement.
"Good Morning," he replies with a friendly smirk.
Now, this seems like a very basic conversation. But I know it's so much more than that. This man LOVES fans like me. I let him enjoy his coffee, but acknowledged that he meant a great deal to me. He's the Skipper, the manager of my Detroit Tigers, whom I am more passionate about than any other sports team, or perhaps more than anything. And maybe it's interactions like ours that make him react like this.
That day was a great day. The Tigers won that night, and went on to clinch the AL central division just days later. And Thursday night, we won the ALDS, moving us on to face Boston in the ALCS. But I knew when I saw the calm and collected Leyland, just enjoying his life that day, that he was sure of his team. My brother asked me why I didn't say anything more to him. I told him that the Skipper knew what I wanted. And he obviously did - we are going to the ALCS for Christ's sake. Beating Oakland was no easy task; it wasn't last year either. And beating Boston will prove more challenging, but this Tigers team won't quit.
This season, I spent most nights in right field in my designated seat. I saw good games and bad games. I saw home runs bounce just feet away, and I saw great outfield grabs. I watched away games from the comfort of my home, and even went to Cleveland to see future Cy Young winner Max Scherzer shut down those Indians. I even met the (horrible) drum guy.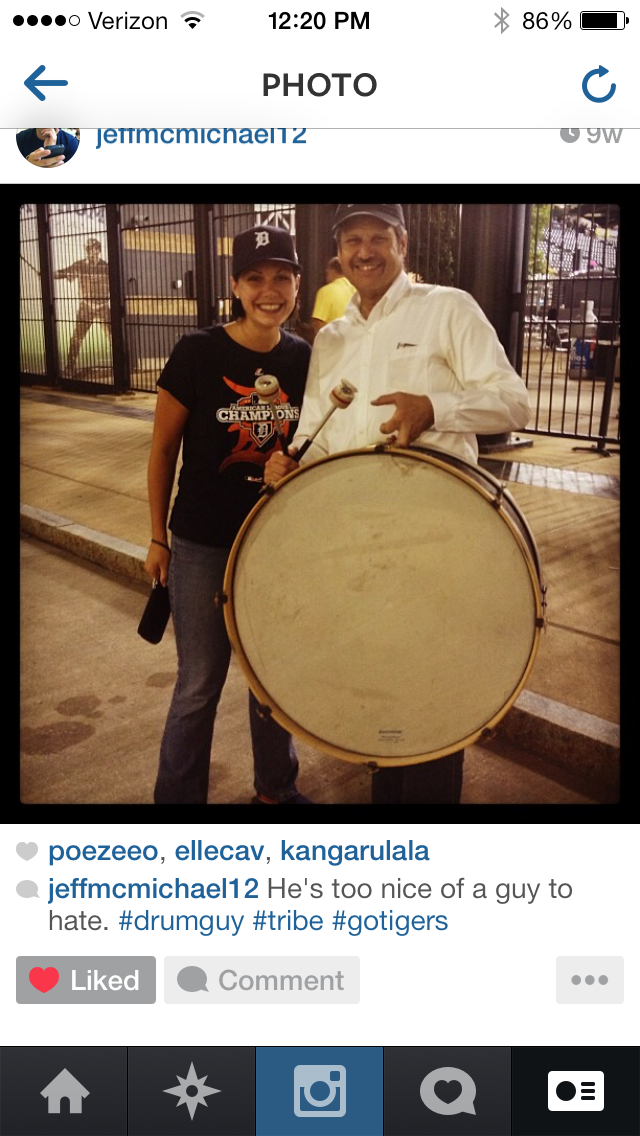 I have watched so much MLB TV commentary that I know all the pros think the Tigers are going all the way. And I have to say I tend to agree. I may have "quit" the Tigers some nights during the year when the hits never came, but I have never given up hope. And my extra dose of hope was found at Starbucks.
REAL LIFE. REAL NEWS. REAL VOICES.
Help us tell more of the stories that matter from voices that too often remain unheard.