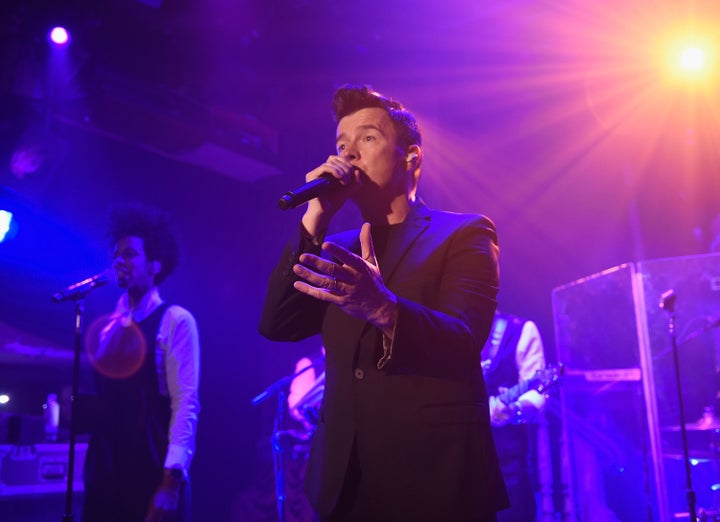 Rick Astley, '80s pop star and human meme, has a new album out.
It's called "50," because Rick Astley is now 50 years of age. It's the first album he's released in the U.S. since 1993. The lead single, "Keep Singing," gives John Newman and Sam Smith "a run for their money," according to the BBC. And it's the reason Rick Astley would be performing in New York City, where I live. 
Like other 27 year olds, I am deeply familiar with the smooth baritone through his 1987 earworm, "Never Gonna Give You Up." Yet it is not until he steps onto the stage Thursday night to greet the audience seated in assigned red velvet theater seats that I discover Rick Astley is English. 
The show starts at 8:15 p.m. with no opening act. Backed up by five bandmates who include a tall female singer-tambourinist, Rick Astley kicks off with an upbeat new track that brings all of the white people around me to their feet. They bob and sway, pull out their phones for pictures, and cheer at the song's end. I wonder when he would play The Song.
I figured that hearing The Song ― live, in person ― would be some kind of spiritual experience for the internet-meme era, where I would be brought to a fuller understanding of the Rickroll, the classic internet bait-and-switch prank that began in 2007 by a bored youth on 4Chan. I also wanted to Snapchat it.
"Bugger for you!" Rick Astley says after leading with new material. "You want the really old ones, don't you?" Yes.
Rick Astley, overall, is delightful. He doesn't mind being an "'80s pop star," a label he references with wry humor. He jokes that his mother wants to renovate her bathroom, so that's why we're all here, basking in synth keyboard, sitting for slower songs (those seats were comfortable, I'll tell ya) and helping one another up to better enjoy the fast-paced ones. The grey-haired man to my left seems anxious to dance more openly, but restrains himself to twitching his hip and tapping a pointer finger against the seat in front of his wife. There are no teens.
Rick Astley, though, with his nice eyes and a kind smile, looks closer to 21 ― his age when The Song blew up ― than 50.
He plays, with a surprising amount of soul, some tracks off his first and second albums mixed with new ones. He covers "Uptown Funk," because Rick Astley and his band think covers are fun. (They are correct.) He plays a mashup ― a word taught to him by his 24-year-old daughter ― of pop classics, during which his tall and bubbly backup singer pulls off a fabulous Whitney Houston impression. He holds her hand during the performance and together they look like a pair of otters that doesn't want to float away from one another. He sings a chorus by The Temptations during a period of sitting ― one that he "absolutely murdered in the '80s" ― and a woman two rows ahead jumps to her feet with applause.
Still, he does not play The Song. 
We witness Rick Astley's prizeworthy self-awareness by acknowledging that his new album's religious themes ― one new track, he explains, tells a story about God meeting the Devil ― might not resonate with all of his fans. (Indeed, the new album includes such tracks as "Angels On My Side" and "Pray With Me.") He shares a story about singing with a real, American gospel choir, feeling shocked by the genuine power of their voices. If the audience is put off, though, they don't show it.
As the band begins the traditional charade of playing its star offstage and pretending to conclude the concert, the audience politely continues their applause until the band reappears just a few seconds later. (Rick Astley was up at 4 a.m. to appear on the "Today Show." Rick Astley has no time for charades.) 
Surely, we all know what is coming. The couple that has been standing with their arms around one another throughout the entire show turns for a selfie with the stage behind them. A 20-something man behind me bows his head over an Instagram screen. But when the band picks up their instruments, they start in on a rendition of "Highway to Hell."
"You've been Rickrolled in a whole new way!" Rick Astley says, and I wonder at what point his daughter had to explain what a Rickroll was. 
"I'm 50 and I don't give a shit," adds the '80s pop star.
Finally, there is just one last song. Anticipation is nearly palpable before Rick Astley leads into the first line a cappella, letting the audience sing alternating lines back to him. Then, at long last, his bandmates join and Rick Astley sings "Never Gonna Give You Up," nearly 30 years after its release, for a group of people from the tri-state area who likely paid for parking in a garage. A grown adult inflates a massive yellow smiley face balloon and tosses it above the crowd's heads. 
When it gets to the stage, Rick Astley flashes a grin and head-butts it back.
"50" is now available on iTunes.
REAL LIFE. REAL NEWS. REAL VOICES.
Help us tell more of the stories that matter from voices that too often remain unheard.
BEFORE YOU GO
PHOTO GALLERY
Times The Internet Absolutely Blew Your Mind