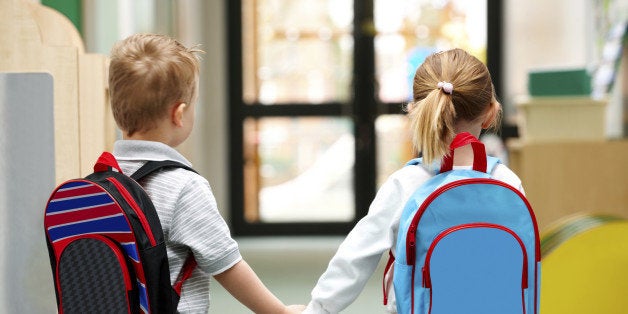 When it was time to sign up for kindergarten, I was not one of the parents that did it months before. I was the one that did it the day before. Yep, I was that person.
All through the summer up to kindergarten starting, whenever someone asked me about school I never could give them a straight answer because I couldn't bring myself to sign him up. I was in denial of what was to come.
When it was time to go to school, I was not one of the parents that were excited and relieved. I was the one that bawled their eyes out all the way home. Yep, I was that person.
I secretly wished my son hated kindergarten so I could keep him four years old forever.
The look of happiness on his face as his short little legs ran to his classroom door that first day still brings tears to my eyes. He was excited, nervous and ready to take on more independence away from mom and dad. I was a hot mess. I couldn't bear to think about not knowing everything that he experienced in his day. It tore me to pieces.
It turns out he loves school, which broke my heart initially. I put on my best smile and asked every day, "how was school?" The answer was always good. I am not really sure what answer I wanted or even if I was prepared for him to say he never wanted to go again. He is an only child so he thrives on the interactions between his peers. He immediately thrived at school. Every day he came home with new vocabulary, new ideas and phrases that surprised us. I found it both incredibly rewarding and painfully sad. Rewarding because he was growing and learning but sad he wasn't so reliant on us anymore. He was becoming his own person.
When my son was a baby I never thought about how hard it would be to say goodbye to him as a baby and then as a toddler. He was now a child and I couldn't keep up to the pace he was progressing at. I realized I had needed him much more then he needed me. Going to school meant saying goodbye to the last four years of life we had built together. I secretly wished my son hated kindergarten because I wasn't prepare to deal with him growing up. I wasn't prepared for how it would feel but I needed to process it so I could really be ready to start the new phase of life.
I eventually caught up about four months after school started. I got accustomed to the routine, the teacher and the new person he was becoming. His personality really started to come through and his ability to process complex problems is what has amazed me the most. He has flourished in ways that far exceed my sadness for having to say goodbye to the baby and toddler that he was.
He is not a baby anymore as he frequently reminds me but in my heart he will always be.