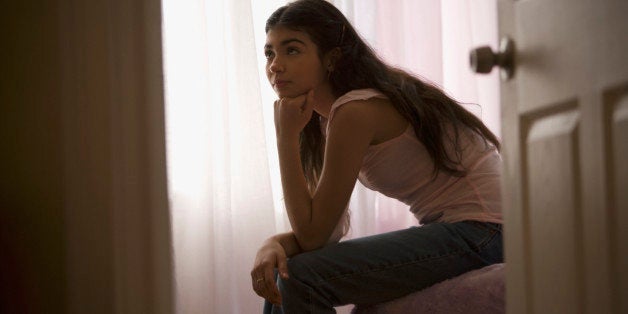 Throughout the months of September and October, HuffPost Teen is highlighting the way teens think and feel about sex through anecdotes written for our series, "Teen Sex: It's Complicated." All of the authors are teenagers who have agreed to be published anonymously. If you want to share your thoughts, join the conversation here.
I lost my virginity to a friend the night before I left for college. I was 18 and I've always prided myself on being mature and experienced. I know how to change a tire, travel by myself and impress at an interview. I didn't want to go to school feeling vulnerable and innocent. So, when my trusted friend kissed me and started taking my clothes off, I decided sleeping with him was my best opportunity to get rid of that nagging worry.
I went to college the next day feeling ready to face the transition as a full-fledged adult, but this was an ephemeral confidence. I had trouble making friends, then I slept around because sex didn't feel like a big deal anymore. It felt like a type of moral limbo. I had no idea what my values were, much less if my actions were violating them.
Coming back as a sophomore, I've settled down. I don't have one night stands anymore, but I haven't reclaimed my innocence -- and I don't want to. I realized I wasn't ready to have sex and it was not the ideal situation (being on a futon didn't help). But, in my perpetually practical and mature manner, I've dealt with it. I don't wish I could go back in time and save it for that magnificent first love that's apparently still on its way.
I hate stories like mine that end with "and then I found a boy who loves me for who I am, despite my past." As kitschy as it sounds, I've found love for myself instead. From time to time, I still struggle with the feeling that I've done something inherently wrong.
But, I don't need a guy to affirm that my past is okay and I'm still lovable, because it is and I am. I'm not looking for a boyfriend and I won't be for a while. I've evolved from who I was last year, but I'm still exploring what it's like to really accept myself.
Read more from "Teen Sex: It's Complicated":