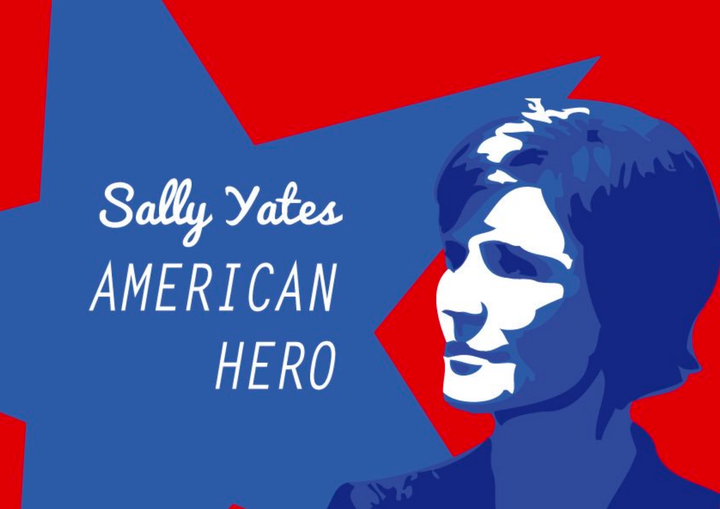 We're talking SALLY YATES, PEOPLE.
As moderator Lerer quipped, "Sally Yates might be best well known for what she didn't do — which was defend Trump's travel ban."
Yates made the decision not to enforce the travel ban in 72 hours. "Those hours in the eye of the storm were spent mostly reading cases and briefs, trying to figure out what this thing was. But my decision was really a product of the 27 yrs I spent at the Department of Justice (DOJ)."
Trump tried to fire her by email. After "an action-packed ten days" as Acting Attorney General, Yates heard a knock at her office door. Behind it was a deputy from the Trump administration, termination letter in hand. He had tried to fire her by email, but it had bounced back.
"The defining moments of our life don't come with advance warning." This one certainly didn't.
What worries her most right now? The breakdown in norms that protect the rule of law. Norms like equal protection under the law. Norms like "no involvement by the White House in criminal investigations, ever."
Getting to the bottom of #TrumpRussia shouldn't be a partisan tussle. Yates argues, "We all should care whether a foreign adversary was working with US citizens to impact our election. And the standard of conduct for the President should not be that anything short of a felony is ok."
As for Robert Mueller? We would all be better served if folks just backed off and let him do his job. "Everybody thinks we're gonna look to Robert Mueller to see if bad things happened. We already know bad things happened." Now, we just need to get out of the way and let his team of seasoned prosecutors do their thing.
Yates has "tremendous admiration" for Sen. Bob Corker and Jeff Flake for speaking out against Trump. "But it'd be great if people could speak up when they're not on the way out the door."
If indicted, could the President pardon himself? "I don't know the answer to that. I'm not sure anyone does."
We can't stay in this constant state of outrage. It's too exhausting; it wears you down. But at the same time, our complacency can enable more of this behavior. "We're in a world of hurt if this all isn't irreversible," which is why it's so crucial to stay vigilant and call it out.
Her heart is in public service, and she misses it. Yates admitted that it's been "a difficult ten months." After 27 years of service, she defined herself as a part of DOJ. It wasn't just a job. Her work there was "something I really believed in, to my core." So leaving the position was "not just changing jobs, but changing a big part of who I am, and how I define myself."
The greatest tragedy out of all this may be discouraging people from entering public service. Yates pleaded for disillusioned students to stay interested in public service. "One person, whether the President or not, does not define our country. The people out here, you define our country." She was heartened by the sight of protestors and lawyers flooding to airports to defend travelers. "What was so great about it was that, for the most part, these were not people who were personally impacted by the travel ban, yet nonetheless they felt moved to act. I never expected [my decision] would engender that kind of public reaction."
Where's the silver lining in all this? "If there's a silver lining — and you gotta work hard to find the silver lining in it — it's that young people are engaged. The number of people who are finding their voices and speaking out, the number of young women coming up to tell me they're running for office now. It's a really good thing that people are feeling inspired."
Nope, she's not running for governor. As for what happens next? Public service, definitely, but politics, no. Yates admitted "I'm a Democrat; I don't mind saying that," but she doesn't really consider herself a political person. "I'm not necessarily going to be out there doing campaign events."
As a woman in a position of power, what's her experience been of sexism? "The legal profession has changed dramatically from when I first started until now. When I was coming on, women were very self-conscious about how we were perceived by others. We had to be careful that we didn't act too strong. We constantly had to think about all that stuff. The good news is: you don't have to think about that. Be yourself. Be your authentic self. If you're an aggressive hard-charger, be it. We are most effective when we are our authentic selves, whatever that might be."
Rachel Meyer is a Boston-based writer and yoga teacher. Her work has appeared in The Washington Post, On Being, Yoga Journal, Tricycle, Yoga International, HuffPost, and more. You can find her at www.rachelmeyeryoga.com or @rachelmeyeryoga.
Related
Popular in the Community