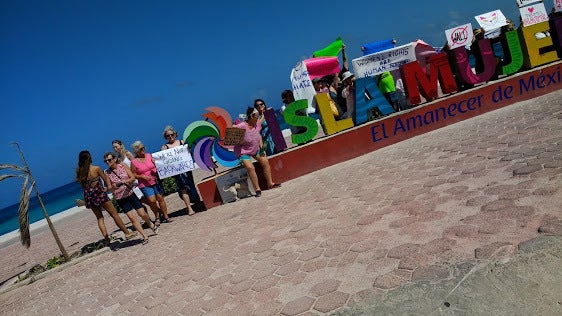 When my husband I started planning a birthday trip to Isla Mujeres, Mexico, the idea of a Trump presidency was on a distant radar. It was tucked away in the kind of alternative universe we simply didn't want to acknowledge. We didn't really see his election win actually happening, let alone a massive women's right's march calling for the respect of all human rights.
And so we found ourselves on Isla Mujeres, Mexico (the Island of Women) on January 21st on a bright and sunny day waiting by a scratched out sign taped to a wall. We had spotted it our first few hours on the island after sipping on a drink and rounding a corner of a souvenir store.
"Not My President People. Meet Here at 1 p.m. on January 21st to March Together".
"That's how I want to spend my 40th birthday." I said, pointing at the sign. My husband smiled and said, "Then that's what we'll do."
When we arrived shortly before 1 p.m., six or seven tourists and expats were gathered making signs. I recognized the woman who organized the march as someone I bumped into at the Rooster Cafe. She was telling the cafe owner about a sick friend in the hospital. He promised to bring food for her, and they parted ways in hugs. She seemed to be a heartbeat of the expat community, and I was moved by her kindness and sense of belonging on the island.
Our young children were safely at home and oblivious to the turmoil around them, playing happily at their grandparents while we slipped away for a moment of togetherness. Only it was a broader sense of togetherness than just the two of us. Suddenly we had this little community in Isla Mujeres welcoming us to speak up.
And as we set out to walk along the oceanfront in our own little Women's March, a group of about 50 or 60 people suddenly joined us who had rallied together at a different location. It was thrilling to see these tourists, expats and locals walking together with a common bond.
I knew the motley crew of us weren't there to make a profound statement to the world from our little corner of paradise, but we were all feeling the effects of being far from home. Some of us were torn about leaving the U.S. during such a pivotal time. Others were purposefully avoiding the transfer of power and all it symbolized. And still others just wanted to be together with fellow Americans who wanted more from their future than the Tweets and hatred coming from our new President.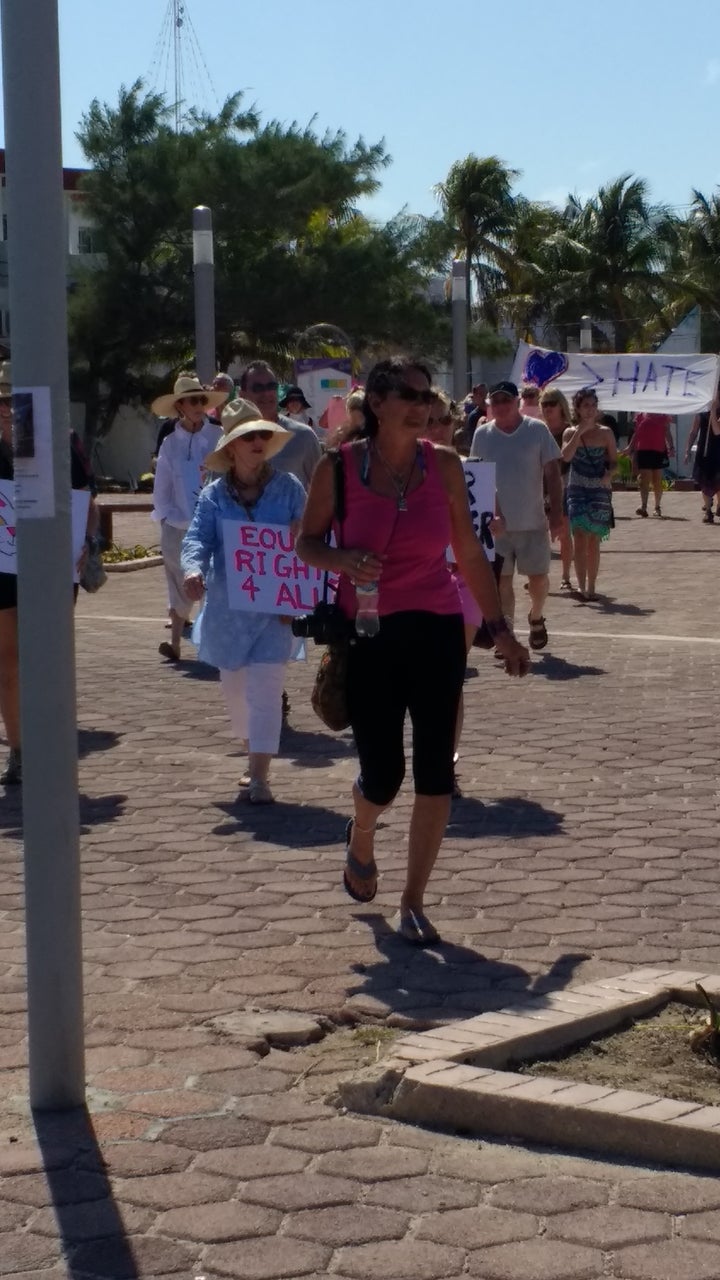 The Mexicans cheered and applauded for us, as did many tourists from around the world. They read our signs and pumped their fists while swimming in the ocean. They applauded while sunbathing and toasting beers. But it was the man from Massachusetts who came into our group and insisted we should give Trump a chance. "He's going to fix the deficit," he assured us, completely oblivious to the signs calling for equal rights and denouncing a world where women aren't respected.
He moved on right around the time people started reminding him of all the financial disasters of his businesses and failure to release tax returns.
And as I looked around, I realized I recognized everyone else too.
The expat who served as a heartbeat for her new community was like the people we had met in San Miguel de Allende, Mexico when we stayed for a month with our children. The people who cared for each other and knew each other from years of living together in their chosen expat community. The ones who met for coffee every day in the Jardin and ran charity projects, taught English at the library, and gave free tours.
The tourists in the women's march were much like the ones we had met in different countries who were troubled for their country and their world. Who had no idea what to say or do about their own politicians and presidents, and felt the gravity of things moving in dangerous directions. They wondered if their voices mattered.
None of us really knew what to do except find each other and march together. We wanted to tell our stories to each other and be heard.
We're not so different. Even the guy who believes in Trump's message wants to be heard and receive some kind of validation and respect. We all share a visceral need to have our voices heard, and enough voices piercing through the noise turns into a shout. And that's why it's important to keep supporting each other and banding together to make sure we succeed. Collectively our voices can be heard.
Popular in the Community